Chinese Entrepreneur Creates a Unique Market for Hy-Line W-36
A profile of the successful business built up by Hy-Line customer, Mr Hu. His company, Ningbo Weidalong Poultry Company, now imports grandparent stock, producing both parent stock and commercial layers for the Chinese market, and it has an innovative relationship with a vaccine manufacturer.
With over one billion birds in production, The People's Republic of China has the world's greatest number of commercial layers. According to official Chinese statistics, each person consumes over 340 eggs per year. By far, the vast majority of the eggs produced are brown (with the Hy-Line Brown leading the market), with some production of tinted eggs (Hy-Line Sonia/Gray).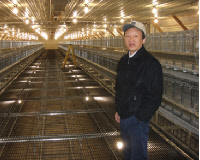 Mr Hu tours the new facilities of the Hy-Line Research & Development Farm.
To round out the colour selection, Mr Hu of Ningbo Weidalong Poultry Company, Ltd. offers parent stock and day-old chicks of the white egg bird, Hy-Line W-36.

However, Mr Hu has also developed a very interesting market that is closely tied to his largest customer. In fact, Ningbo built a dedicated hatchery adjacent to his customer's manufacturing plant. About half of Ningbo's parent stock produces fertile eggs used in the production of human influenza vaccines during six months a year. The 10-day embryonated eggs are inoculated with the flu virus and continue incubation until harvest. Also, Mr Hu sells a significant part of his production of the special white eggs as 15-day embryonated eggs for human consumption.

From a modest start in 1984 with a flock of 400 layers grown to supplement his income from a job in a shipping company, Mr Hu has seen many changes in the Chinese market. While there are many native breeds, and consequently, many colours of eggs sold in China, the brown egg has traditionally been the most popular. He started with brown layers producing on the floor.

Three years later, he was able to quit his job and dedicate himself to poultry production. His business has grown over the years and he now imports Hy-Line W-36 grandparent stock and produces parent stock for his own use as well as to sell to other producers. Additionally, he sells day-old commercial chicks. All his grandparent and parent stock produce in cages in blackout houses. His next planned farm improvement will be to grow the young flocks in cages in newly designed facilities.

Mr Hu's customers appreciate the Hy-Line W-36 for her high number of eggs and excellent feed conversion. He has built his business success by maintaining close relationships with both his parent stock and commercial layer customers.

When asked about his career, Mr Hu mentioned that the highlight has been the growth from a small flock of 400 commercial layers to now importing grandparent stock and producing both parent stock and commercial layers for the Chinese market.

And, of course, his innovative relationship with the vaccine manufacturer with a dedicated hatchery next to the factory is truly a unique accomplishment!

September 2011