Combining Salt With Heat Shows Way to Reduce Salmonella
Poultry processors who constantly engage in the battle to keep Salmonella contamination off their products may have a new procedure at their disposal: add some salt and turn up the heat, according to researcher, Dr Milillo of the University of Arkansas in the latest Food Safety Consortium newsletter.
It is more complex than just that, but it is the key point of recent Food Safety Consortium research by Sara Milillo, a post-doctoral research associate in food science at the University of Arkansas Division of Agriculture. Dr Milillo reached her findings with Steven C. Ricke, director of the university's Center for Food Safety, where Dr Milillo is conducting research under a two-year US Department of Agriculture fellowship grant.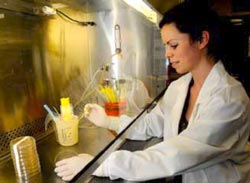 Post-doctoral research associate, Sara Milillo, streaks plates on which cultures of Salmonella will be grown.
"Our goal is to come up with a multiple hurdle treatment where we combine things to help prevent bacterial resistance by using different treatments that attack different functions or parts of the cells simultaneously," she explained.

Dr Milillo's study, which was published in the Journal of Food Science, examined the application of heat at 55 degrees Celsius (131 degrees Fahrenheit) plus an acidified organic acid salt solution as a way of reducing Salmonella on chicken. The combined treatment resulted in significant reduction of the pathogen, leading the researcher to conclude that it may represent an effective method for decontaminating poultry carcasses during processing.

Dr Milillo also tried heat and salt treatments separately and found that neither one was adequate standing alone to do the job. An application of 2.5 per cent organic acid salt solution did not reduce Salmonella appreciably. "We did heat alone to see if that had an effect by itself, and it didn't, even beyond 55 degrees C," she said.

These experiments were conducted using chicken juice, a raw chicken model medium, rather than chicken carcasses. The results tell enough of a story to draw valid conclusions, but more information will be available by taking the research to another level that uses chicken carcasses.

"We can screen treatments much faster in a broth-model type of situation," Dr Milillo said. "We're hoping the chicken juice gets us a step closer to an actual raw poultry system. But by using chicken juice initially we can screen lots of treatments and narrow down what's the most effective before we go into a more costly use of actual carcasses. I view this as using your resources efficiently."
---
*
"Our goal is to come up with a multiple hurdle treatment where we combine things to help prevent bacterial resistance."
---
Dr Milillo and industry personnel have reviewed processing procedures that could be adapted to the research findings. Heated washes are used in steps to clean carcasses, so the use of a salt additive in a heated rinse might be one place to implement new methods.

Experiments with carcasses will come later, possibly followed later by tests to determine how the combined heat and organic acid salt treatments would apply to poultry after it has been eviscerated in the processing plant.

"At any point where risk of a carcass being contaminated is higher there is a need for more effective antimicrobials," Dr Milillo added. "So save your most powerful antimicrobial interventions for those processing steps with the ultimate goal of an even safer product."

September 2010