Conserve Feed Pellet Quality at the Farm to Improve Feed Conversion and Flock Uniformity
By Edgar O. Oviedo, Broiler Extension Specialist, Department of Poultry Science, North Carolina State University - Feed conversion and flock uniformity are affected by several different management factors.
Introduction
Physical form of feed is essential to maintain optimum feed intake and broiler performance. The pelleting process increases feed intake and reduces the time and energy that broilers need to ingest feed compared to mash feed, leaving them more energy available for growth. Less time spent eating indicates more feeder space available for other birds to eat and consequently better flock uniformity.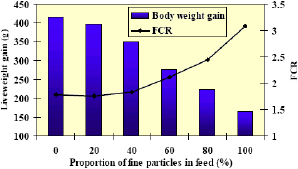 Fig.1: Effects of fine particles in the feed on Broiler performance. (Quentin et al., 2004)
Conversely, pellet breakage and accumulation of fine particles in the feed can be very detrimental for broiler performance as illustrated in Figure 1. Feed mills make considerable efforts to offer good pellet quality since integrator companies are conscious about the importance of this factor to their profitability. Transportation, storage in feed bins and automatic feeders normally degrade pellet quality to some extent. Nevertheless, it is expected that around 70% of the pellets should arrive intact to the feed pans to guarantee the best possible feed conversion.
Unfortunately, at some farms it is commonly observed that broilers receive the pelletized feed in a mash form. This leads to flock unevenness and lower broiler performance compared to other flocks fed the same type of feed but in a true pellet form. Growers can help maintain pellet quality at the farm by periodically inspecting their automatic feed conveyor equipment. It is important to guarantee a smooth transfer of feed throughout the system. Check feed equipment for loose hardware after every flock and make sure that maintenance and/or repairs are routinely done by skilful personnel.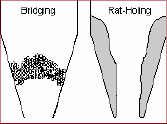 Fig. 2: Feed bin and hooper problems
Feed bin and hoopers should be checked frequently to avoid "rat holing" and "bridging" (Figure 2). Both of these are common problems of grain bulk transport and can be caused by a reduction in the cross sectional area when feed accumulates along the sides. This leads to the feed becoming compacted and forming stresses within the center that leads to a breakage of feed pellets that are able to still flow to the feeder line. Some common causes of these problems are the accumulation of feed fines from previous batches, elevated humidity that causes clogging in the boot of the feed bin or hoopers, or too much feed brought from the feed bin to hooper and not delivered to the feeder line and pans at the same velocity.
To prevent "over packing" in the hooper and auger, assess the rates of unloading feed from the feed bin to hooper and then to the line. Allow the feed hopper to empty for 30 seconds. Agitator arms in the hopper and adequate calibration of the control pans can also help to reduce pellet breakdown at this stage. When the feed reaches the control pan, the feeder line should shut-off. It is important that the feed setting at the end control pan be the same as the other feeder pans so that the birds activate the feeder.
Keep the feed line level and check for uniform delivery of feed. Uniformly adjust the feed line height to bird size across the house. The telescoping drop tubes, available in some feed systems, should be used to compensate for uneven floor conditions. However, do not make these adjustments by bending feed lines. Repair broken cables in the suspension system as soon as possible and keep hangers centered. Grease the winch every 6 months with 1 to 2 shots of common industrial or automotive grease. Do not over grease the winch. The oil in the gear heads should be replaced every 12 months.
Avoid kinking the feed lines and augers. Kinks create stresses, friction and wear in the auger that will act as a grinder increasing feed breakdown and separation. Small kinks may be straightened. Large kinks must be removed and the auger brazed back together. Use extreme caution when working with the auger. The auger is under tension and may spring back causing personal injury. Wear protective clothing, gloves, and safety glasses when working with the auger. Initial selection of feed equipment is very important to facilitate these management practices. Coreless (centerless) augers in the feeder line are more effective at maintaining pellet quality than solid core screw augers.
Paying attention to these small details along with your periodic observations and creativity can help in maintaining the necessary pellet quality to assure the best flock uniformity and feed conversion possible under your farm conditions.
Reproduced Courtesy

Fall 2006