Discoveries on Headland-Stacked Poultry Manure
Kevan Klingberg, Dennis Frame and Paul Kivlin of the University of Wisconsin Extension/Discovery Farms report their studies into the effects on surface water and groundwater of stacking used poultry litter in fields prior to its spreading. They also provide practical tips to preserve the nutrients in the manure for as long as possible and so maximise its fertilising potential of the litter.

Poultry litter (manure and bedding) is a valuable by-product of the broiler and egg industry. At the time of writing (February 2009), a ton of poultry litter is worth $42 to $58 per ton, depending on nutrient needs.

Poultry litter is a dry material that is easily handled and most often applied to fields as a source of nutrients. There are times when litter needs to be removed from barns when land is not available due to growing crops. At these times, it is common for producers to stack litter on field edges, waiting until crops are harvested or the season changes to accommodate manure application. This is referred to as 'headland stacking'.

Recently, questions have been raised concerning the environmental impact of this practice.

Pastures or crop land are the first choice for spreading poultry litter. With proper nutrient crediting and the use of best application strategies, poultry litter can supply a significant amount of nitrogen, phosphorus, potassium, micro-nutrients and organic matter for crop production and can improve soil quality. Timing can be a key limitation to field application because poultry litter is generated year-round, while fields and pastures are only available for spreading on a seasonal basis.
Field Study
The UW Discovery Farms Program conducted a five-year field study to better understand poultry manure and determine whether headland stacking posed a significant risk to surface or groundwater.

The study objectives were to:
characterise poultry manure relative to nutrient content, percentage dry matter, water holding capacity and infiltration rates
evaluate potential environmental impacts to surface water by monitoring run-off from headland stacks, and
evaluate potential environmental impacts to groundwater by monitoring nutrient movement from the stack into the groundwater.
Study Methods
The study was done in three phases, beginning with an evaluation of the nutrient concentrations in poultry manure. Laboratory analysis for 600 manure samples were compiled, summarised and compared to standard livestock manure book values to determine if the general recommendations adequately described poultry manure. The range of nutrient concentration was compared to manure from other species to determine if poultry manure had greater variations.

Another part of this study was to determine the water-holding capacity and water infiltration rate of poultry litter. These values were determined by running water through four-inch PVC columns packed with poultry litter.

To determine the potential for headland stacks to negatively impact surface water quality, a 100-ton 'typical stack' was created (4 to 6 feet high × 10 to 20 feet wide × 50 to 100 feet long) in a field with soils acceptable for stacking. The stack was put in place perpendicular to the slope so that run-off water would flow in one direction. A plywood perimeter was constructed around the stack to channel run-off toward a flume that measured the amount of water running off the pile. The headland stack remained in place for one year, which is longer than normal, but represents the highest risk condition that headland stacks could have in Wisconsin.

The final phase of the project was to determine the potential impacts of headland stacks on groundwater.

Site selection was biased toward sites that had the highest potential for nutrient losses to groundwater. (In other words, the authors selected the soils with the highest infiltration rates and shallow depths to groundwater.)

The study design utilised a set of six well nests at each location. Three sets of wells were placed up-gradient of the manure pile to represent water samples not influenced by the stack. Three more sets of wells were placed down-gradient of the pile, representing wells that may be influenced by the manure. Well water was sampled and analysed on a routine basis.
Results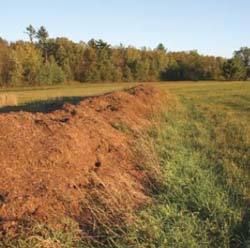 The researchers found that poultry manure has less variation in nutrient content than most other types of livestock manure, and that season has little effect on nutrient content for manure coming out of poultry barns.

They remarked that poultry manure absorbs and holds tremendous amounts of water: 37 per cent of its weight as water.

In the surface water study, they found that no surface water run-off occurred: in fact, precipitation soaked into the monitored manure stack. However, stacked manure produced plant-toxic levels of soluble salts in the soil directly beneath the pile, explaining why producers have issues establishing vegetation after piles are removed.

During the groundwater study, groundwater nitrate nitrogen levels did not change as a result of headland-stacked poultry manure on coarse textured soil with groundwater at 24 feet deep, even after a 25-year/24-hour storm event. However, the levels did rise and fluctuate as a result of headland-stacked poultry manure on coarse textured soil with groundwater at 12 feet deep. This was a direct result of a 10.5-inch rain, which is more than twice as much as a 100-year/24-hour storm event.
Conclusion and Recommendations
Poultry manure (or manure with similar dry matter content) can absorb and hold large amounts of water, suggesting that headland stacks have limited potential to pollute surface or groundwater if stacked in the proper manner and on proper sites. The emphasis should remain on choosing proper stack locations, as well as proper stack construction.

Klingberg and his colleagues offer advice on a few simple management practices that producers can adopt to reduce the potential impacts of headland stacks of poultry manure on water quality.

Stacks should be located with the appropriate distance from wells, sinkholes, areas of concentrated flow, streams, wetlands and water bodies. (Review NRCS 313 standard.) They should also be sited on soils with low leaching potential and as great a distance to bedrock and groundwater as possible.

The manure should be stacked as deep as possible to minimise the potential for rain to saturate the pile. Bales or other products could be used to hold the manure.

A small but important point is to avoid creating pockets on top of the stack that could collect and hold precipitation.

The stack should be removed and the manure applied as soon as the field is available and the ground is fit.

Finally, the authors recommend determining the nutrient content of poultry manure and credit the nutrients towards the needs of the particular crop.

July 2009