Egg Force Reader – Measure the force needed to crack your eggshells
Poor eggshell quality can represent a substantial loss to poultry operations. A myriad of factors, both nutritional and non-nutritional, can influence eggshell quality. In an interview with Josh Yoshida, Co-CEO at Orka Food Technology, he explains why monitoring eggshell strength is so important.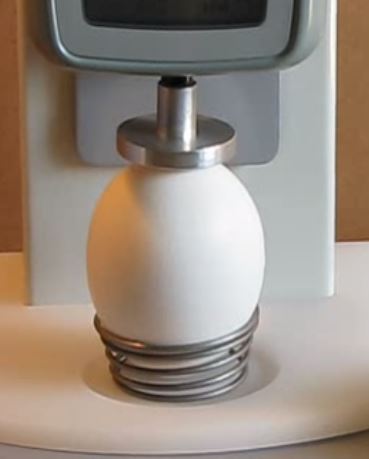 What is eggshell strength?

Eggshell strength is the destruction strength (breaking strength) of eggshell which can be measured in kg.f (kilogram force), N (Newton) or lb.f (pound force).
Why is it important to monitor eggshell strength?
Eggshell quality is very important due to the economic losses of cracked and damaged eggs which account for 6% to 8% of total egg production (Hamilton et al. 1979). The shell also provides a path for microorganisms to penetrate and move into the eggs. Therefore, improving overall eggshell quality can have a significant economic impact on the egg production industry.

Eggshell quality also plays an important role because only eggs with an intact shell are considered for hatching or as table eggs. Therefore, if the eggshell quality is guaranteed, the egg industry could increase the number of eggs produced by each hen housed.
There are two ways to measure eggshell quality: eggshell thickness and eggshell strength. Based on our experience, layers and suppliers of feed, minerals, premix, etc. tend to prefer to measure eggshell strength in terms of eggshell quality.
How do you measure eggshell strength with Egg Force Reader?
Egg Force Reader is very easy to use. Place an egg on the egg cradle and press a button. The probe will move down to press the eggshell until it slightly cracks, then the probe will go up automatically. The entire procedure takes less than 10 seconds.
What makes Egg Force Reader unique?
In addition to a high level of accuracy, ease of operation and exceptionally convenient measurement with digital control and displays, the true uniqueness of Egg Force Reader is its mobility and compactness. It is small and light (net weight is only 4.5 kg = 10 lbs.), and it comes with a stout carrying case with which makes travel easy and secure. For example, we provide Egg Force Reader to many feed companies, and their sales and technical teams travel with it to their customers and field visits to measure and demonstrate the improvement of eggshell quality after using their feeds.
Another unique feature is our maintenance-free feature. Egg Force Reader does not require calibration or any special care before, during use or after use. Many customers have been using this machine for more than 10 years, and they've never needed to contact us for maintenance.
Can I benchmark and then track my eggshell strength?
To be clear, there is no universal standard for egg breaking point. We can only give references from our experience that eggs with a breaking point of 3.5 kgf (kilogram force) or higher have a good, healthy shell that will endure most of the shipping and transportation vibrations or shocks that eggs endure.
We have found that many of our customers set their own standard based on their facilities or transportation means (how they transfer eggs from one place to another).
Some found that 3 kgf is good enough for them. However, one of our customers in Latin America has an extensive case study. They believe that below 3.0 kgf is not strong enough; they deem above 4.2 kgf a very good result.
Who should purchase and use an Egg Force Reader?
Our typical customers are quality control (QC) laboratories operated by egg producers, packers, universities, regulatory authorities, primary breeders, hatcheries and feeds/premix/minerals companies. As noted earlier, many sales and technical staff from these types of companies and organizations will travel with an Egg Force Reader so they can demonstrate the improvement of eggshell quality after using their products.