Establishing new hatchery and GP Poultry Farm
By Asian Poultry Magazine - Paragon Poultry Limited (PPL) located in Gazipur, near Dhaka, is a pioneer of modern commercial poultry production, and one of the largest integrated poultry farms in Bangladesh. Conny Pereira and Chakrit Ridmontri report on the company's expansion and modernisation.
Paragon Group has opened a new GP farm in Bangladesh. According to Moshiur Rahman, Managing Director of Paragon Group, the project is situated on a 500-acre plot in the northeastern division of Sylhet.

The project consists of six closed sheds equipped with ventilation systems from KPI of Thailand and drinkers and feeders from Roxell of Belgium. Each shed, measuring 45x350 feet, has a capacity of 11,000 birds. The first three sheds were completed in late 2004 and house the first batch of about 10,000 Hubbard Classic GP. The remaining three sheds are under construction and are due for completion before June 2005 when the second batch of the GP arrives.

Paragon has also built a brand new hatchery in Sylhet exclusively for hatching eggs from the GP farm. The hatchery is equipped with a set of incubators and setters from Pas Reform and has a capacity of 30,000 eggs per batch. For this hatchery, Paragon chose Pas Reform's newly launched Smart Incubation System. The new Smart incubators were installed at the Group's new Grand Parent stock hatchery when exterior construction was completed in April 2005.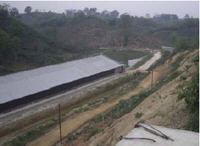 Paragon's new GP farm is situated on a 500-acre plot in the northeastern division of Sylhet.
"We produce Hubbard breeders at the new hatchery. We studied the different options that were available to us in terms of equipment and support and found that the new Smart machines from Pas Reform, combined with the company's commitment to the Bangladeshi market, were front-runners in both these respects," said Mr Rahman. "Market response to our first batch of Hubbard Classic chicks produced at our GP hatchery has been good. Chick quality, uniformity, FCR, cost effectiveness etc. have all been credited. Because of this quality assurance, our PS chicks have been completely booked-out up to March, 2006," he added.
Pas Reform will deliver a tailored combination of SmartSet setters and SmartHatch hatchers to the project. The company has also designed the entire layout of the new facility, with a keen focus on Paragon Group's future needs and expansion plans. Pas Reform will also deliver the hatchery automation and hatchery ventilation system, and when installation is complete, a tailor made training program through the Pas Reform Academy will ensure that Paragon hatchery personnel are fully conversant with the system, to optimise performance throughout the hatchery.
"We look forward to hatching the first chicks from the new hatchery, which will be the pinnacle of modern incubation in Bangladesh," said Mr Rahman. "To provide optimum support for the embryonic development of modern breeds in the Bangladesh climate - and indeed in any country which presents such challenging climatic conditions - an incubator must have sufficient water cooling capacity."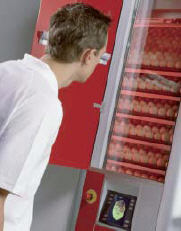 SmartSet Setter features include a reduced heat-up time, increased cooling capacity and an integrated heating & cooling system.
Modern breeds generate more metabolic heat now than in the past - and detailed work to forecast future developments has enabled Pas Reform to calculate cooling capacities not only for today's breeds, but also for their offspring 20 years from now. In SmartSet, cooling capacity has been increased by 40% - which will, says Mr Rahman, optimise results even in extreme Bangladeshi temperatures. "Choosing Smart will help us to overcome these challenges," he says, "and we expect to significantly improve spread of hatch, which will certainly be appreciated by our customers, as it will ensure the supply of even more uniform flocks".
Consistently high levels of uniformity per batch is also assured by Pas Reform's Automated Hatching System (AHS), which automates the hatching process from the day of transfer through to the last chicks hatching. The system is based on the systematic measurement and control of temperature, humidity and O2/CO2 production, combined with the use of current and historical data to adjust the hatcher environment automatically. Paragon Group has also built a new feedmill in the outskirts of Dhaka for making sterilised feeds for GP.
When the GP project is fully operational, Mr Rahman said Paragon would be able to produce 800,000 PS/year. About 300,000 PS will be used within the group and the remaining 500,000 PS sold. He added that the locally produced PS would be sold at USD 2/chick, which is 25-50% cheaper than the imported chicks. The company's initial GP operation took off in December 2004 when they received the first batch of D-line 5000 birds and ABCD 9000 birds. Production and marketing of the first batch of PS is underway. A second consignment of the same quantity was scheduled to arrive in July.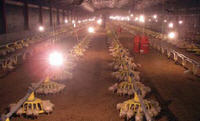 Paragon's new GP farm consists of six closed sheds equipped with ventilation systems from KPI of Thailand and drinkers and feeders from Roxell of Belgium. Each shed, measuring 45x350 feet, has a capacity of 11,000 birds
Under this first phase, the company has also installed one grower and two breeder houses. Both breeder houses are equipped with systems for artificial insemination. Mr Rahman added that the company is in the midst of preparing for the second phase of progress of its GP operations. Target for start-up has been set for the end of 2005 and this phase too will have one grower and two breeder houses equipped with artificial insemination systems. Emphasising safety and biosecurity in the midst of modernization, Mr Rahman said the GP farm has been established in an environmentally safe area, in a 500-acre garden area that is surrounded by more than 500 square miles of a tea cultivation zone.
"The air here is fresh and there is good airflow too. There are no human habitats nearby and we are very strict about our biosecurity protocols here," he added. The Group in total produces 500,000 commercial broiler and layer day old chicks each week from its two hatcheries, 30,000 table eggs per day and 500 MT of poultry, shrimp and fish feed per day from five different feedmills, operated by a separate division in Bangladesh.
PPL was founded in 1993 with its first commercial layer operation at Gazipur. The company is now a strong market leader, recognised for pioneering modern concepts of poultry production in Bangladesh. Over the last 10 years, PPL has expanded into the production of day old chicks, poultry, shrimp and fish feed.
November 2006