European Poultry Club Panel Discusses Future Perspectives
ThePoultrySite Editor, Jackie Linden, reports the highlights of the panel discussion at the European Poultry Club (EPC) meeting, held earlier this month in Hanover, Germany.
The meeting was introduced by EPC president Gerhard Wagner, who commented on the high level of international attendance at this meeting, indicating how global the poultry industry has become and how valuable it has become as a platform to exchange ideas.

Discussion moderator, Professor Hans-Wilhelm Windhorst, gave a brief overview of the poultry industry, highlighting the rapid growth in the global production of poultry meat and eggs, and how production had shifted over the last 5-10 years from Europe and, to a lesser extent, the USA towards China and Brazil, such that Brazil has become the world's number 1 poultry meat exporter.

Perspectives for poultry markets over the coming years include the impact of new regulations, e.g. layer cage bans in California and EU-27, and the bioenergy boom.

Two countries that have been particularly successful in raising both poultry meat output and exports are the US and Brazil, whose views of the future were expressed in the following two presentations.
US Perspective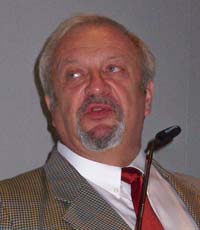 Jim Sumner
Jim Sumner, president of the International Poultry Council (IPC), which was founded in October 2005, and also of the US Poultry and Egg Export Council (USAPEEC).

USAPEEC is a non-profit-making trade association. It currently has 215 members (including 49 poultry meat processors) that account for 95 per cent of US poultry meat exports.

IPC was founded in October 2005. Its next meeting will be on 30 April to 1 May 2009 in Rome, Italy.

Mr Sumner presented data on world meat consumption and production figures that show that production of the most popular meat worldwide - pork - has levelled off over the last years, and is being caught up by poultry meat. Of total global production, around 11.4 % of poultry meat is exported.

Demand is increasing year-on-year because of increases in both human population and per-capita consumption. Prior to the present economic crisis, it was estimated that demand will increase by 3.2 per cent in 2009 compared to this year.

Looking to the future, Mr Sumner predicted that the global economic crisis will slow the growth of both poultry meat production and consumption but only in the short term. In the longer term, he said that poultry's efficiencies will prevail and consumption will continue to grow.

He added that he expects US production to return to more profitable levels, and that the US and Brazil will continue to grow in their domination of the worldwide poultry export market.
Future of Brazil's Poultry Industry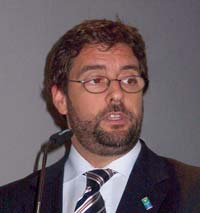 Christian Lohbauer
Christian Lohbauer, executive director of the Association of Brazilian Poultrymeat Exporters Federation (Abef) gave his outlook for the world poultry meat market from the Brazilian perspective. Abef members account for 92 per cent of the country's production.

Poultry meat production is expected to reach 10.88 million tonnes (mt) in 2008. Around two-thirds is consumed locally and 35 per cent is exported - a figure forecast to be 3.88 mt (US$ 7 million) this year. Mr Lohbauer says that the focus on exports has benefitted the local population and economy by providing jobs and income from taxes.

There has been a trend for the poultry industry to move within the country in recent years from the traditional concentration in the southern states of Santa Caterina and Parana to the corn- and soy-growing states of the centre-west where costs are up to 20 per cent less.

The main exports markets are Japan, Hong Kong, Saudi Arabia, Venezuela and the Netherlands. Despite the undoubted success in exporting over recent years, Mr Lohbauer warned that there are problems ahead in the leading markets, and it is becoming increasingly hard to open up new markets.

Summing up the perspectives for 2009, Mr Lohbauer predicts reductions in the cost of energy and fertilisers, which should have knock-on effects to reduce prices of these inputs as well as other commodities.

He also expects a period of global over-production of poultry meat, as well as a devaluation of the Brazilian real against the US dollar. New markets will be difficult to open, while European markets are unstable. The trend towards consolidation in the Brazilian industry is likely to continue, Mr Lohbauer concluded.
Future of the Global Egg Industry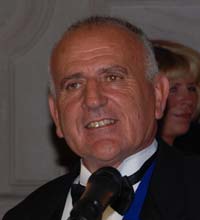 Frank Pace
"It's not all bad: people will always want to eat eggs," were the positive statement opening the presentation by Frank Pace, International Egg Commission chairman and founder of Pace Farms in Australia.

He went on to describe the report by the IEC's Economics and Statistics team, Professor Windhorst and Peter van Horne, which describes the factors driving future egg consumption, such as population growth, age and per-capita income. Between 1970 and 2005, egg production increased by more than 200 per cent (compared to 58 per cent for beef, 186% for pork and 436 per cent for poultry meat).

So it is clear that there will be growth in future but where? And by how much? And where? Mr Pace said that much of the growth would come in developing countries, which already accounted for 68 per cent of global production in 2005. Per capita consumption will go up from the present 9.1 kg per person to 9.8kg in 2012.

He also foresees a big growth in exports of eggs, which currently takes place mostly within Europe, and from the Netherlands to Germany. He expects cage production to continue to predominate in most countries. Switzerland is the only country to have a ban on all cages although this is due to come in in the European Union form 2012 and Australia has increased its space allowance for caged hens.

China is an interesting case in point here, said Mr PAce. In 2007, 60 per cent of hens were in cages and 40 per cent on the floor. Since the reforms of the 1980s, the Chinese government has encouraged industrial farming with subsidies and training in a move away from traditional backyard flocks. Modern farms are seen as cleaner and more welfare-friendly. The largest egg producer in China uses EU cage standards, and has a large biogas facility aimed at zero carbon emissions. Its products are marketed towards the growing middle class in China.

Ukraine's egg industry has also experienced growth as the result of its location in the grain belt and cheap labour. There is no 'interference' from politicians or welfare bodies. Whilst the EU will have an egg deficit after 2012, growth will continue in Ukraine (and elsewhere) as the focus of production moves eastwards. Interestingly, on Indian producer is marketing free-range eggs to the growing middle classes in Delhi, and achieving a significant margin.

"The way we farm is crucial," said Mr Pace, "not the production method," and he highlighted the need to emphasise good farming methods. International Egg Commission has discussed with the World Organisation for Animal Health (OIE) the likely future shifts in egg production.
Germany's Egg Industry: Present and Future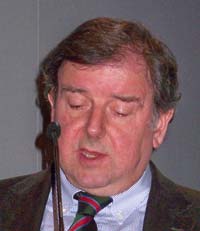 Gerd Stuke
The future prospects of the egg industry in Germany were given by Gerd Stuke, chairman and CEO of Deutsche Fruhstucksei and president of EUWEP.

Mr Stuke predicts that the changes in the German industry as the results of the coming ban on conventional layer cages will spread throughout Europe and beyond in the coming years. H is an advocate of free trade.

EU egg production stands at around 7 million tonnes, which equates to 100 per cent self-sufficiency, and per capita consumption is stable.

"The myth that eggs are cholesterol 'bomb' has finally been dispelled," he said, adding that there is a need to continue the PR campaign that eggs are a good source of nutrients.

There are two causes of concern for the industry. Firstly, despite an EU-wide directive on production methods, the rules differ widely between countries. Mr Stuke is in favour of clarity and a level playing field, based on scientific evidence. He added that he favours colony cages (enriched cages) because they offer improved animal welfare and maintain consumer choice. He called for better labelling and a new code for colony cages.

Deutsche Fruhstucksei also processes eggs, and Mr Stuke expressed concern that production of non-cage eggs will be insufficient to feed a growing world population. He also pointed out, "Food safety is essential - and it can't be achieved on floors and free-range," adding that this is crucial for trade with Japan, which imports large amounts of egg white.

Mr Stuke concluded that the EU directive has had positive impacts on science and research into welfare. "Everyone wants safe eggs from happy hens," he said.
Poultry - Good Future Prospects but Changes Ahead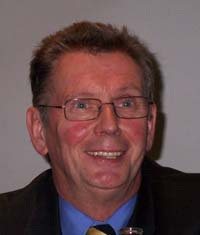 Professor Windhorst
Meeting moderator, Professor Windhorst, summarised the meeting by emphasising that the global poultry industry is very dynamic and that it will continue to grow, especially in developing countries. Future prospects are good in these more environment-conscious times because feed conversion is so efficient, and both poultry meat and eggs are good sources of protein.

He identified a number of challenges, however. Leading among these is rising feed costs, resulting from the rise of bioenergy and the risks of poor harvests. Diseases, especially avian influenza, also pose a significant risk in the future. Welfare issues in the US and EU will have far-reaching impacts, and cause a shift in production away from the EU generally and Germany in particular because of higher costs.

He concluded, "We are all convinced that the industry will play an important role in growing the growing world population."

November 2008