EuroTier 2021: IPC's Horel is bullish for 2021 and beyond
Robin Horel, president of the International Poultry Council, told EuroTier 2021 participants he's bullish on poultry production in the North America and globally
Poultry production is growing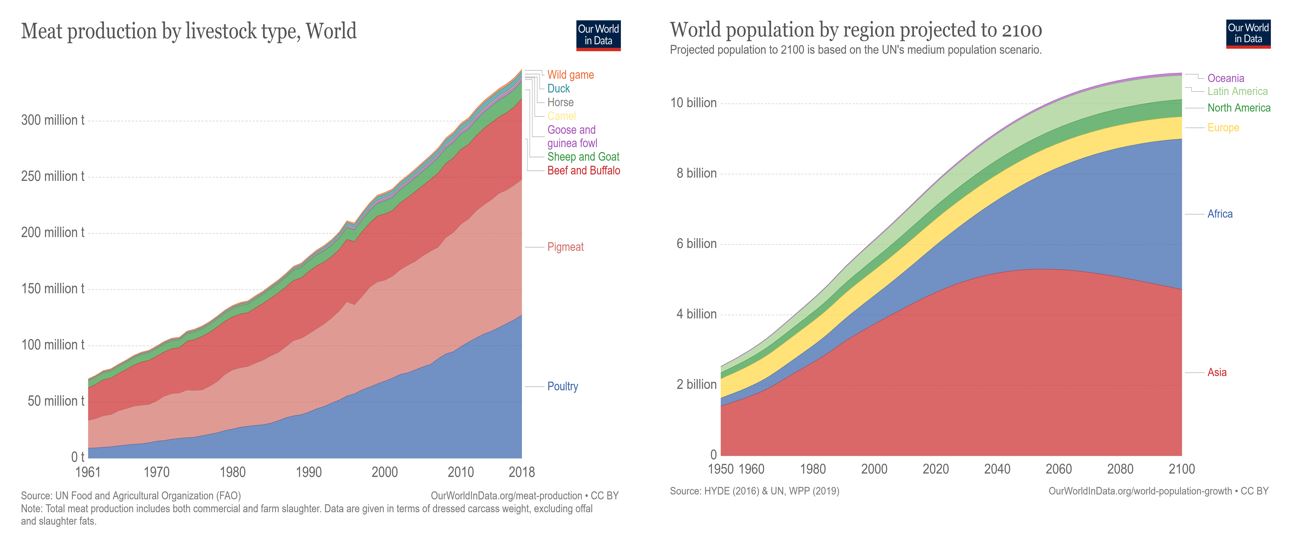 The data above highlights the overall increase in meat production over the last 60 years. Beef (red) production has remained relatively steady; pork (pink) has grown. But the largest growth has come from the poultry (blue) industry.

Over the last few years, poultry production has surpassed pork production, due in part because of African swine fever.
"The fact is we are now the world's most popular meat, and I cannot imagine that we will ever lose that position," said Horel.
Population growth trends seen in the chart above are striking. The world clearly will have more people to feed in the future. North America's (dark green) population is expect to grow slightly. Europe (yellow) is projected to remain flat. Africa (blue) is expected to grow at the highest rate. Asia (red) is expected to peak around 2040 and then decline. With overall growth projected, expect more demand for meat.
"With poultry having a cost advantage over beef and pork, we're well positioned for the future. So I'm bullish," he said.

Seen below, the orange bars across the bottom represent beef, which is flat at 0.7% growth. The yellow bars are pork, and they have flattened out since the turn of the century, showing 2% growth. Poultry is represented by the red bars, which continue to grow and indicate 3.4% growth over the last two decades.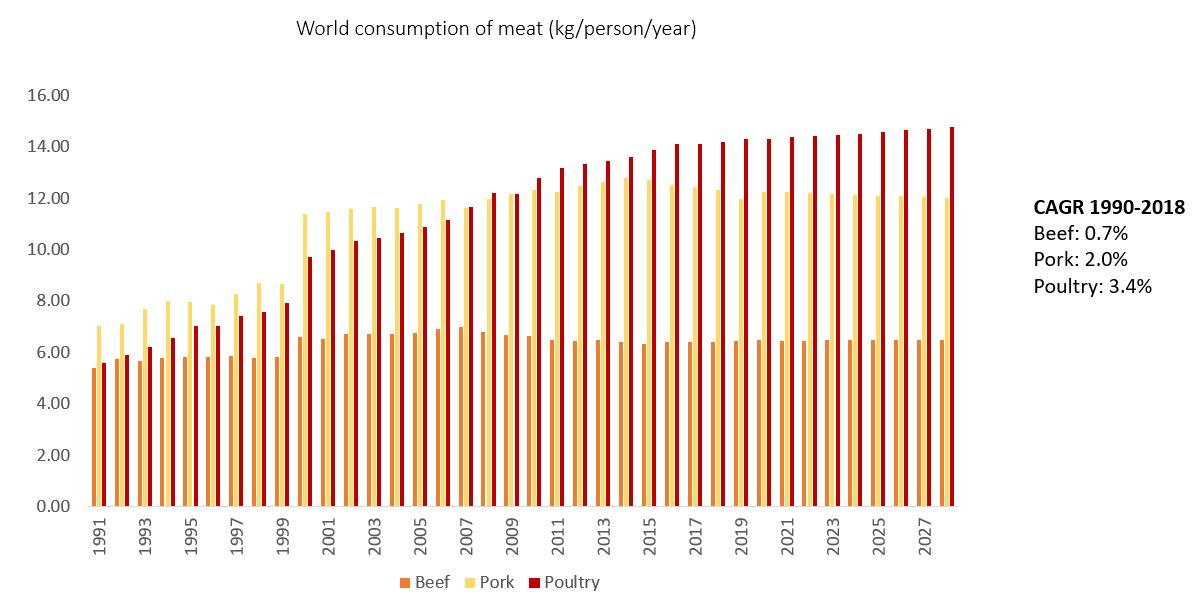 "We expect world poultry production in 2020 to be flat to slightly positive overall. That's actually not a bad result, given the pandemic," he said. "Poultry companies around the world have done a remarkable job, keeping plants and supply chains functioning. Most of our country members report that there has been a fairly cooperative situation between themselves, industry and their governments. Most countries have realized that food production, including poultry production is an essential service."
Food service demand has really taken the brunt of the pandemic. This varies by country and restaurant type. For example, more formal dining establishments have been hit exceptionally hard, while some quick service restaurants are managing pretty well. Retail demand has increased with more families cooking and eating at home, but it was not enough to make up for the decrease in food service. As expected, international trade has also suffered over the course of 2020.
US Production
Chicken production in the US has increased 19.5% over the last decade. It increased 1.4% in 2020, which came as a bit of a surprise, but at a slower rate per capita. Consumption did increase in 2020 by 0.8% to 51 kg.
Turkey production is a different story; it has decreased over the course of the last decade by about 1%, and it decreased 1.3% in 2020. Per capita consumption has also decreased over the last decade by about 3.5%. Consumption in 2020 decreased by about 2.7% to 7.1 kg.
The US is a significant chicken exporting country. However, in the last decade chicken exports have only increased by 1.9%. This takes into account a 16% decrease in 2015 due to avian influenza, but from 2015 – 2019, export grews by 11.8%, climbing back from the AI lows. Turkey, again is another story – exports have decreased by about 18.7% over the last decade and by about 10% in 2020.
Canadian Production
The Canadian industry operates under a system called supply management. The poultry industry is domestically focused and a net importer of 5% to 10% depending on the specific commodity. Production has increased by about 24% over the last decade, but decreased about 2% in 2020. Food service is just over 40% of Canadian demand, but retail couldn't make up for the shortfall when the food service demand was crushed by the pandemic. While per capita consumption has increased by 4.6% since 2011, consumption decreased by about 2% in 2020 to 37.2%.
Similar to the US, turkey production and per capita consumption has decreased over the last decade. Per capita turkey consumption in 2020 was 3.8 kg. Comparatively, Canada sits with about half the US turkey consumption.
Forecast for 2021
"In 2021, expect some recovery in demand worldwide by the second half of the year," Horel said. "Production growth is forecast for 2021 to varying degrees by country. Feed costs are definitely going to be high, and trade will continue to be challenged."
In the US, chicken production and per capita consumption are forecast to increase in 2021, and turkey production and consumption will continue to be challenged. Trade challenges will also continue, but the forecast is for growth in chicken exports for a number of reasons:
US currently does not have any cases of avian influenza.
US should hold a global advantage being among the first countries in the world to have most of their meat and poultry plant workers fully vaccinated.
US poultry exports are going to continue to benefit from a reduced global supply of pork.
High grain prices will increase costs far less for poultry than for beef or pork.
US is a big producer of corn and soy, so they can rely less on imported feedstocks in 2021.
Beyond the numbers
Some consumer trends changed in 2020, driven by COVID-19. Online shopping for food took off, including for fresh poultry. There's a renewed focus in many countries on food security, due to hoarding and food shortages in the early days of the pandemic.
"A lot of changes happened, but the key for poultry companies is going to be to determine which of these changes will mark a new trend and are going to continue post-2020, and which changes were just a one-off and whatever the pattern was prior to 2020, will that come back into play again?" he noted.
The US and Canadian consumers are certainly becoming more concerned about where their food comes from. Animal welfare is also important.
"Sustainability is a concern, but not to the extent that we hear from our EU colleagues," he said. "Our industry is going to continue to face pressure from NGOs, for example slow growing broilers - this is not a consumer issue in Canada or the US, but the NGOs are putting pressure on and getting more traction with politicians."
In the US and Canada, meat consumption is flattening out, similar to what's been seen in Europe. However, poultry consumption is rising.
"Poultry is king, and we are claiming a larger share of a smaller pie domestically. When you talk about the US opportunity for poultry exports, particularly where the population in Africa in Asia is expected to continue to grow. The question on the domestic side for Canada and the US is 'how long can we continue to see poultry consumption increase on a per capita basis in a background where meat consumption is flat or to some extent down?' I don't know the answer to that, but we don't expect to see flattening out of poultry consumption yet."
Building consumer trust is most important, according to Horel. The value chain must operate with more open doors and be more transparent.
"The industry needs to market its products based on what's true and what's real. If we do, consumers are going to continue to support the industry," he said.
Learn more about the International Poultry Council.