Food Outlook: Meat and Meat Products
High feed prices, adverse weather, disease outbreaks and livestock herd rebuilding have kept meat prices at record levels in 2011, according to the latest Food Outlook report from FAO.
International Meat Prices
Meat prices ease in recent months but remain at historically high levels
In April, the FAO meat price index rose to 180 points, the highest value registered in its more than 20-year existence. Since April, prices have eased, and as of October 2011, the FAO meat price index was down to 177. However, despite the softening, meat prices remain 12 per cent above October 2010. Price gains have points the highest for sheep meat, up 35 per cent, followed by poultry and beef, up 16 and 12 per cent, respectively. The price strength principally reflects robust import demand, particularly from Asian markets and the Russian Federation, which have propelled world meat trade up by 3.6 per cent, to 27.4 million tonnes.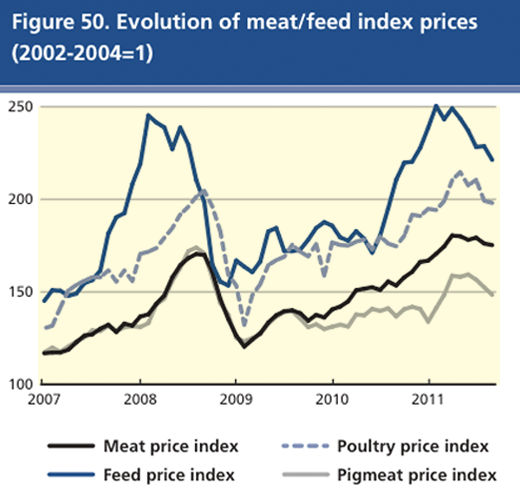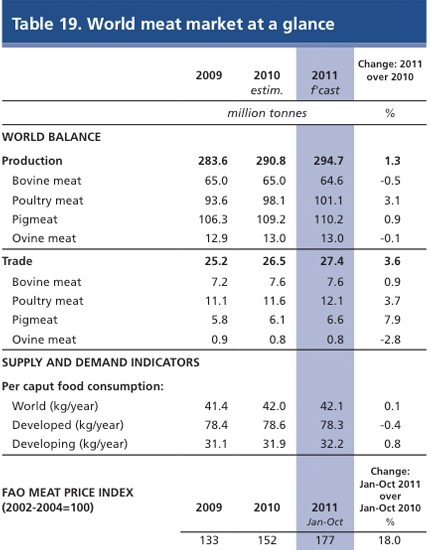 Poultry Meat
High feed prices halve production gains
Global poultry production is on track to exceed 101 million tonnes in 2011, which would raise poultry's contribution to global meat supplies by half a point to 34 per cent. However, reduced profitability due to high feed prices and disease outbreaks may limit the global output gain to only three per cent, compared with nearly five per cent in 2010. In the United States, the supplier of one-fifth of global output, high feed prices and more difficult access to the Chinese market following the imposition of anti-dumping tariffs have contributed greatly to a 30 per cent reduction in estimated returns, and has resulted in some company closures. As a result, production is forecast to grow by only one per cent to 19.9 million tonnes, down from over three per cent last year. A stronger, two per cent expansion is anticipated in the EU, as robust export demand is supporting prices and output, compensating for the rise in production costs stemming from tighter animal welfare regulations. In the Russian Federation, government interventions to keep feed costs low, combined with restrictions on poultry imports, have stimulated production to grow at a double-digit rate. Similar measures are supporting investment and production in Kazakhstan and Ukraine.

In Asia, the high price of pig meat relative to poultry is fostering a shift of consumers towards poultry. However, the sector's growth in Asia continues to be challenged by a resurgence of the highly pathogenic avian influenza virus (HPAI; H5N1). As a result, output in the region, which accounts for one-third of global production, is expanding at 3.5 per cent, well below recent trends. The slowdown is largely caused by low or negative growth in countries where H5N1 is still firmly entrenched, such as Bangladesh, Indonesia and Viet Nam. In other endemic countries, such as China and India, but also Thailand where the disease has been controlled, an expansion of larger and more biosecure operations is supporting an increase of output but at a slower rate. Non-endemic Malaysia, on the other hand, has facilitated an expansion of poultry output by raising the retail ceiling price for poultry. While feed and food safety concerns in Japan are depressing output, the circulation of a mutant strain of the H5N1 virus in countries that had been virus-free for several years is raising output and human health concerns in Mongolia and Nepal but also in non-Asian countries such as Bulgaria, Israel and Romania.

South America is expected to witness the strongest output gains of all regions. Tight supplies and rising prices of beef in the region are stimulating demand for poultry, which has translated into a nearly five per cent jump in output, to 18 million tonnes. In Argentina, the provision of subsidised loans as well as strong export growth are pushing output up by 10 per cent. Poultry production also looks set to expand in Brazil, Chile, Colombia and Peru. The regional exception is Venezuela, where the imposition of controls on consumer prices is deterring investment in the sector.
Poultry trade growth slows in the context of trade restriction and disputes
Although trade in poultry meat is forecast to increase by four per cent to over 12 million tonnes in 2011, the international environment for poultry continues to be characterised by the imposition of trade-restricting measures and escalating disputes. While Canada and Mexico are expected to increase imports in 2011, reductions in the Russian Federation tariff rate quotas on poultry are undermining global poultry trade prospects. The Russian Federation, the world's largest poultry importer until 2008, is anticipated to cut its purchases by 30 per cent from 2010 levels, to only one-third the level of 2008. Similarly, shipments to the Ukraine have fallen by 70 per cent from its 2010 level. In Asia, growing imports by Japan, the Philippines and Viet Nam are more than compensating for a three-year decline in imports by China, pressured down by anti-dumping and countervailing duties on shipments from the United States, which filed a complaint in September at the WTO.

Unlike the United Sates, where poultry exports are expected to decline for the third consecutive year amid more difficult access to traditional markets, shipments from Brazil and the EU are benefiting from strong demand for poultry meat in Hong Kong SAR and Saudi Arabia as well as many countries in Africa, a region accounting for only 10 per cent of global trade, but which is registering the fastest import growth. Strong import demand stems from Angola, Benin, Egypt, Namibia and especially, South Africa, where a currency appreciation has stimulated purchases despite the imposition of anti-dumping duties on poultry from the United States. A strong pace of imports is also reported by Iraq, the Islamic Republic of Iran and Kuwait, sourced from South American exporters, in particular Argentina, Brazil and Chile. On the other hand, the EU is expanding its net export position, amid increased poultry meat availabilities, associated with the restructuring of the sector facing stricter animal welfare regulations, and the maintenance of quota restrictions on imports.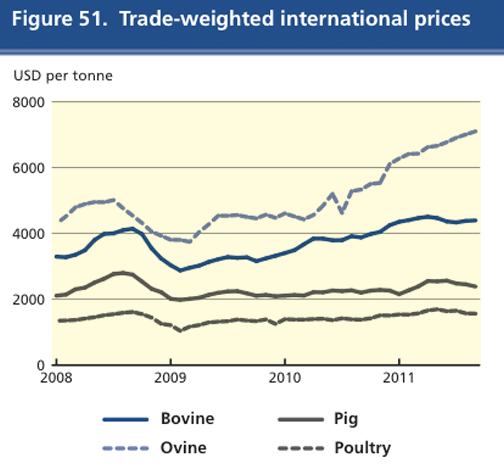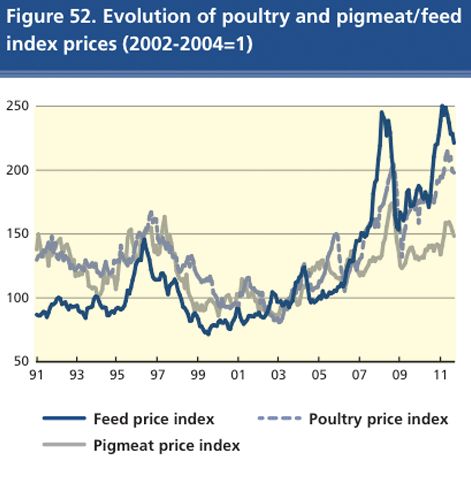 Further Reading
November 2011