GB Emerging Threats Report – Avian Diseases – April to June 2011
Among the highlights of this report – previously known as the Quarterly Surveillance Report from VLA – are an outbreak of encephalitic listeriosis in red-legged partridges and an investigation of suspected Eggshell Apex Abnormalities (EAA) in a free-range layer flock.
Highlights
Submission trends: Numbers of avian diagnostic submissions received by AHVLA and SAC lower than Q2-2010 by 10 per cent. The number of non-carcase avian diagnostic submissions to AHVLA and SAC during Q2-2011 was the same as in Q2-2010. Since 2007, approximately one-third of Q2 avian diagnostic submissions come from game bird flocks with onset of seasonal breeding and rearing and some 60 per cent from chicken flocks.


New & Emerging diseases: Investigation of an outbreak of encephalitic listeriosis in red-legged partridges. Ongoing investigation of suspected Eggshell Apex Abnormalities (EAA) in a free-range layer flock.


Unusual diagnoses: Rodenticide toxicity and an unusual intracellular infection in ducks.


Changes in poultry industry demographics: Pressurised margins due to high feed prices and production costs. Continued over-supply of free-range eggs and low wholesale and retail prices. National layer flock size reducing.
New and Emerging Diseases
During Q2-2011 no new and emerging diseases were identified from analysis of available avian scanning surveillance data and information for broilers, broiler breeders, layer breeders, turkeys, ducks, geese and backyard flocks. However, one new and emerging disease investigation was undertaken in game birds.
Encephalitic listeriosis in red-legged partridges
Following scanning surveillance investigations by an AHVLA Surveillance Centre, a rare clinical manifestation of avian listeriosis was diagnosed. This comprised an outbreak of encephalitis due to Listeria monocytogenes infection in a batch of red-legged partridges (Alectoris rufa). This represents the first reported detection of this form of the disease in reared game birds and poultry in GB. Outbreaks of clinical disease due to L. monocytogenes have only sporadically been described in birds, and very rarely in game birds (Gray, 1958). The majority of the reported outbreaks of avian listeriosis presented as septicaemias, and reports of outbreaks of avian encephalitic listeriosis are scarce, originating from chickens in the USA and Japan. In these reports, wet weather/flooding, de-beaking or injections into the neck were considered predisposing factors (Cooper, 1989; Cooper et al 1992; Kurazono et al 2003). L. monocytogenes is also a well-recognised zoonotic pathogen, but transmission to man is predominately food-borne and/or associated with food processing rather than from infected animals.

Therefore, the public health risks associated with this case were considered low, supported by HAIRS assessments. No human health incidents were associated with this outbreak.

Clinical signs were first observed affecting birds from nine days of age. These included torticollis, head tilt and incoordination (Figures 3 and 4). Avian notifiable disease, specifically Newcastle disease (ND), could not be ruled out on clinical grounds, but subsequent official laboratory investigations were negative. Over a three-week period, approximately 30 to 40 poults from a batch of 25,000 were lost daily, despite treatment with various antimicrobials. This resulted in total losses of 5.2 per cent by eight weeks of age, more than double the cumulative mortality compared with previous years. Three subsequent batches of red-legged partridges and a few pheasant poults from the same supplier were also affected with a similar age of onset, though with a much lower morbidity and mortality.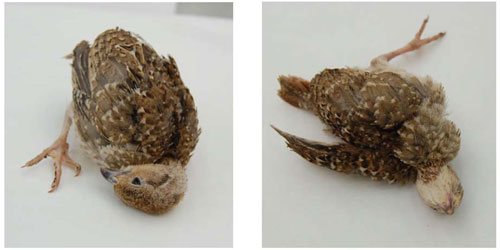 Figures 3 and 4. Head tilt and torticollis respectively in affected 16-day-old red-legged partridge poults
Investigations continue to try to identify the source of infection and risk factors for the development of disease. A farm visit revealed the affected farm to be well-run and no obvious risk factors for the development of disease could be identified. The partridges were bedded on cardboard squares and had no access to outdoors or soil prior to disease development. No Listeria spp. could be isolated from water or feed, but L. monocytogenes was isolated by selective culture from environmental samples from the sheds, both affected and not affected by disease. L. monocytogenes was also isolated from a pooled organ sample of day-old red-legged partridges that had died in transit. This raised the possibility that the birds may have been infected either at the hatchery or during transit and unknown risk factors enabled disease to develop. AHVLA scanning surveillance investigations have not identified any similar cases from other farms. AHVLA have also contacted the Game & Wildfowl Conservancy Trust and specialist poultry veterinarians, and there have been no reports of any cases from other premises to date.

Additional investigations include more specific molecular characterisation of the organism and attempts to identify if more farms have been affected by this disease with striking clinical signs. AHVLA would be very interested to hear of any similar cases that colleagues in practice may have seen or heard of either this year or in previous years. The situation will continue to be monitored.

It is important to note that the nature and severity of the clinical signs shown by poultry, including game birds, infected with Newcastle disease (ND) and avian influenza (AI) viruses are variable and none are pathognomonic. Furthermore, the diagnosis of ND and AI relies on statutory reporting and official laboratory investigations. Clinical signs in poultry and game birds that include progressive neurological signs coupled with unexplained rising mortality and/or production problems should prompt the consideration of avian notifiable disease as a key differential diagnosis (Irvine and others, 2009). Any suspicion of avian notifiable disease must be immediately notified to the local Animal Health Office.

AHVLA avian disease scanning surveillance activities, funded by Defra and in partnership with PVSs, continue to detect avian disease threats in GB (Irvine and others, 2010). In turn, this highlights hazards and risk pathways that may exist for the poultry industry and poultry populations in general. The situation will continue to be monitored through routine scanning surveillance activities and PVS contact.
Ongoing New and Emerging Disease Investigations
Suspected Eggshell Apex Abnormalities (EAA) in a free-range layer flock
Preliminary findings from this investigation were described in the Q1-2011 GB avian Emerging Threats Report (Vol.15, No.1): click here. This included discussion of the key features and impact of EAA as a disease syndrome in layer flocks. In the affected flock in GB, which is subject to ongoing investigations, the eggshell defects, associated pattern of reduced egg production and pathological features closely resembled reports from affected layer flocks in Europe for which the term EAA has been used (Feberwee and others 2009; Catania and others 2010). In these reports, EAA was associated with infection of the oviduct by certain strains of Mycoplasma synoviae (Ms) and a synergistic effect with IBV infection was also reported. However, whilst the clinical features in the affected GB flock appear consistent with descriptions of EAA, it has not been possible to date to detect Ms from the oviducts of affected birds. Therefore, whilst very distinctive, the eggshell lesions may not be pathognomonic for any specific pathogen or combination of pathogens.

This investigation represents the first reported occurrence of an EAA-like syndrome as a new and emerging disease in layer flocks in GB (Strugnell and others, 2011). To date, there have been no further submissions to AHVLA or SAC, or information regarding any other suspected cases in GB layer flocks. Veterinarians should be aware of such EAA-like presentations and consider the syndrome in differential diagnosis of eggshell quality problems in layer flocks in GB, particularly if eggs with the characteristic 'glass top' or EAA-like appearance are described (Figures 5, 6 and 7). AHVLA would also be very interested to hear of any other suspected EAA cases investigated or reported in UK flocks.

Figures 5-7. Abnormal and normal eggs from affected GB free-range layer flock. The characteristic apical eggshell defects affecting the abnormal eggs, consistent with reports of EAA, can be seen
Unusual Diagnoses
Rodenticide poisoning in backyard flocks
Poultry deaths due to rodenticide poisoning were diagnosed on two separate occasions, highlighting the need to be particularly careful with the laying of poisonous baits for rodents in a backyard situation. In the first case, 10 birds, including chickens and ducks, had died within a group of 50 over a few days. Gross examinations revealed signs typical of rodenticide toxicity, and access to rodent bait was confirmed. In the second case, two chickens had escaped from their pen and gained access to rodent bait. The food safety implications of both cases were assessed and the owners advised accordingly. Further information relating to these and other potential chemical food safety incidents that were investigated during Q2-2011 is available by clicking here.
Unusual intracellular infection in ducks
Intracellular organisms were seen in numerous tissues of a five-week-old Muscovy duckling with gross lesions of pulmonary oedema. Sixteen birds were in the group, which progressively developed lethargy and died over a period of days. This condition has been recognised previously based on characteristic histopathology findings (Randall and others, 1987) and may have a seasonal component in ducks.

More recent work has reported that the cause may be an intracellular yeast infection (Millins and others, 2010). No wider threats were recognised and no specific actions required other than for producers and veterinarians to maintain vigilance for disease problems and investigate as appropriate. Further work on elucidating the causal agent and epidemiology of this disease is proposed and preliminary collaboration with the University of Glasgow is underway.
Further Reading
Further Reading
| | | |
| --- | --- | --- |
| | - | Find out more information on the diseases mentioned in this report by clicking here. |
September 2011