GB Emerging Threats Report – Avian Diseases – April-June 2012
Fatty Liver Haemorrhagic Syndrome in backyard hens is one of the 'Unusual Diagnoses' reported in the AHLVA surveillance report for the second quarter of 2012. The report also investigates the impact of rising feed prices on the British poultry industry.
Highlights
Submission trends: During the second quarter of 2012 (Q2-2012), the total number of avian diagnostic submissions increased by three per cent, with non-carcass diagnostic submissions up by six per cent and nearly identical carcass submission numbers compared with Q2-2011. Twnety-five per cent of Q2 avian diagnostic submissions were from game bird flocks with onset of breeding and rearing season, and two-thirds from chicken flocks.


New & Emerging diseases: None identified during the quarter. However, continued detections of new and emerging diseases identified previously by AHVLA including Infectious Coryza and Eggshell Apex Abnormalities.


Unusual diagnoses: Fatty Liver Haemorrhagic Syndrome diagnosed in separate backyard flocks.


Changes in disease patterns and risk factors: Industry concerns regarding high costs of production, including feed price volatility and recent sharp rises. Therefore, efficiency and cost-saving measures may be introduced as costs of production exceed income, which could include changes to disease control, biosecurity/hygiene practices and levels of veterinary consultation.
New and Emerging Diseases
During Q2-2012 no new and emerging diseases were identified from analysis of available avian scanning surveillance information for broilers, broiler breeders, layer breeders, layers, turkey breeders, turkeys, ducks, geese, game birds and backyard flocks.
Ongoing New and Emerging Disease Investigations
Laboratory and/or field investigations continued into reported cases of ventriculitis in commercial free-range layer flocks and myocarditis associated with reovirus infection in fattening turkeys in GB. Further updates will be provided in due course.

Other new and emerging diseases that were previously investigated and confirmed through AHVLA scanning surveillance activities in partnership with industry and private veterinary surgeons also continue to be reported and diagnosed. Specifically, continued detections of the European QX-like variant of Infectious Bronchitis virus from both backyard/hobby and commercial flocks (Irvine and others, 2010), Infectious Coryza from backyard/hobby flocks (Welchman and others, 2010; Anon, 2011) and Eggshell Apex Abnormalities in commercial free-range layer flocks (Strugnell and others, 2011).

Clinical and laboratory findings for all of these investigations are also described more fully in previous quarterly avian disease 'Emerging Threats Reports'. These reports and further information about a number of these diseases are also available online: click here.

AHVLA avian disease scanning surveillance activities, in partnership with private veterinary surgeons (PVS), continue to detect disease threats, thereby highlighting hazards and risk pathways that may exist for the poultry industry and poultry populations in general. Maintaining good biosecurity standards, disease awareness and vigilance and prompt investigation of problems are essential to limit both the risk of introduction and spread of infection and the impact of disease outbreaks. The situation will continue to be monitored through routine scanning surveillance activities and PVS contact.
Unusual Diagnoses
Fatty Liver Haemorrhagic Syndrome
Postmortem examination of hens from two separate backyard flocks resulted in the diagnosis of Fatty Liver Haemorrhagic Syndrome (FLHS). This was associated with mortality due to rupture of the liver and subsequent haemorrhage. FLHS is a well-recognised syndrome in laying hen flocks that can arise in backyard chickens that are not in-lay but are maintained on a high-energy diet. This can result in the development of 'fatty liver'. The physiology of fat metabolism in birds differs from that in mammals with a tendency for excess fat deposition in the liver, which can lead to an increased predisposition for fatal liver rupture. Hot weather may also increase the risk of disease. Although it is not an infectious disease, lack of knowledge in the backyard sector may lead to excess calorie provision to birds not in-lay with subsequent losses due to FLHS.

No wider threats were recognised and no specific actions required other than for owners/producers and veterinarians to maintain vigilance for disease problems and investigate as appropriate.
Changes in Disease Patterns, Industry and Risk Factors
Impact of rising feed prices on poultry industry
Feed represents one of the major costs of production in all sectors of the poultry industry in the United Kingdom (UK), comprising approximately 60 per cent of direct input costs. It is estimated that at least 5.5 million tonnes of compound feed are used annually in the layer, broiler, turkey and breeder sectors of the UK poultry industry, of which approximately 60 per cent is wheat and 20 per cent soya. Feed price volatility has been a continuing problem since sharp feed price rises were seen in 2008. In addition, over recent months concerns relating to lower predicted yields of UK and European, North American and Black Sea region wheat, maize and soyabean harvests due to unfavourable weather conditions (wet or drought respectively) have further driven up raw material commodity prices, including feed wheat (Figure 3), the major component of UK poultry compound feed (NFU, 2012a).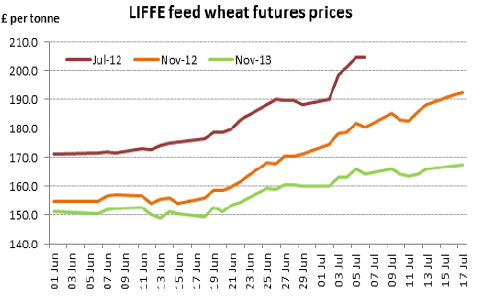 Figure 3. UK feed wheat futures market price trends for July 2012 and November deliveries (HGCA)
Overall, feed commodity prices reflect concerns of tightening supply over demand and financial speculation on global markets. This is coupled with substantial rises in other input costs, notably for energy supplies and also labour. Whilst input costs have risen markedly since 2005, prices paid to poultry meat and egg producers largely exceeded costs of production from 2008 to 2010. However, over the 18-month period since the beginning of 2011 this trend has been reversed in the poultry industry (Figure 4). As described in previous quarterly avian disease Emerging Threats Reports (http://vla.defra.gov.uk/reports/rep_surv_avian.htm) sustained financial pressure on layer producers during 2011 resulted in cost-saving measures, particularly in the free-range sector. This included a general reduction in levels of veterinary consultation and submissions as costs of production exceeded income. During 2012, feed prices have risen sharply again in the face of fluctuations in egg prices (Anon, 2012) resulting in renewed pressure on layer producer margins since March (Figure 5) and broiler producers since May 2012 (Figure 6).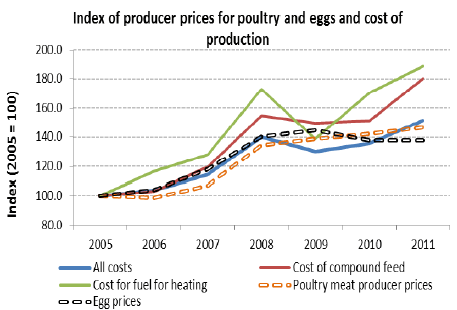 Figure 4. Comparison of input and output price indices for poultry meat and egg production in the UK, 2005-2011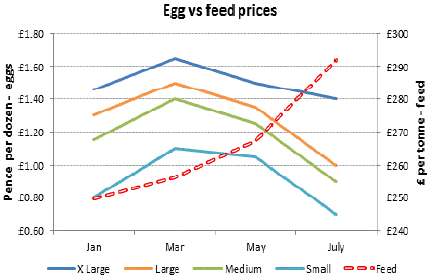 Figure 5. UK egg and feed price trends, January-July 2012 (NFU, 2012a)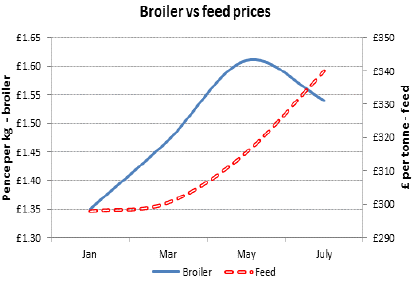 Figure 6. UK broiler meat and feed price trends, January-July 2012 (NFU, 2012a)
In the face of increasing input costs and associated pressure on producer margins, industry sector bodies have lobbied retailers to provide a sustainable margin over variable, rising costs of production such that any negative impacts on the poultry supply chain and sustainable intensification investments are minimised (NFU, 2012b). It is also relevant to note that economic uncertainty continues, affecting retail prices and consumer confidence. Further drives for increased efficiency across the industry are expected, which could include closure of some facilities.

If producer margins reduce it is also conceivable that further cost-saving measures will be introduced which may include changes to patterns of veterinary consultation and the investigation of production/disease problems. Equally, financial pressures may lead to increased risk-taking in the conduct of normal business by poultry producers and keepers. For example, changes to biosecurity, hygiene and disease control practices (e.g. vaccination, shorter downtime between crops, etc.) may occur with negative effects.

Avian diagnostic submission rates and surveillance information will continue to be monitored to assess, where possible, the impact of financial and poultry demographic changes on scanning surveillance activities and endemic, exotic, new and emerging or re-emerging avian disease threats.
References
Further Reading

You can view the full report by clicking here.

Find out more information on the diseases mentioned in this article by clicking here.


October 2012