GB Emerging Threats Report: Avian Diseases: July-September (Q3) 2014
Among the new and emerging diseases reported are blackhead (histomonosis) in chickens and turkeys, an unusual form of blackhead in partridges, suspected goose parvovirus infection and respiratory cryptosporidiosis in red grouse.
Highlights
Submission trends: Decrease of 10 per cent in the total number of avian diagnostic submissions to APHA and SAC during Q3-2014 compared with Q3-2013. This includes a fall in the total number of avian carcase submissions but a rise in noncarcase submissions.


New & Re-emerging diseases: Blackhead (histomonosis) in chickens and turkeys, 'atypical blackhead' in partridges, suspected goose parvovirus infection, respiratory cryptosporidiosis in red grouse.


Changes in the industry and disease patterns: Egg output has increased slightly but broiler placements have fluctuated.
New and Emerging Diseases & Threats
Maintaining good biosecurity and hygiene standards, disease awareness and vigilance and prompt investigation of problems are essential to limit both the risk of introduction and spread of infection and the impact of disease outbreaks. Surveillance activities and PVS and industry contact continue to monitor for the presence of any potential new or re-emergent threats in the GB poultry and game bird population.
Ongoing New and Re-Emerging Disease Investigations
LPAI virus infections in GB
There were no further incidents recorded in Q3 of non-notifiable low pathogenicity avian influenza (LPAI), following the two incidents seen in Q2, as described in the previous report (anon, 2014). The 12- month pilot scheme enabling private veterinary surgeons in Great Britain (GB) to request chargeable Notifiable Avian Disease (NAD) exclusion testing has continued (AHVLA, 2014; Gibbens and others, 2014). One submission was tested in Q3, and no evidence of LPAI was detected.
Blackhead (histomonosis) in chickens and turkeys
Histomonosis (caused by the protozoan parasite Histomonas meleagridis) has been diagnosed regularly by APHA (formerly AHVLA) and SAC in turkeys, and to a lesser extent chickens, in recent years in GB. However anecdotal reports from both the UK and from Europe suggest that the disease is becoming more prevalent in both species; for example a high seroprevalence has been reported in Dutch layer chickens (van der Heijden & Landman, 2011). VIDA data show consistent numbers of diagnoses in turkeys in Q3 in recent years, but an increase in diagnoses in chickens in Q3 of 2014 (Figures 3 and 4). Cases of histomonosis have been reported in outdoor birds where they may be explained by transmission of H. meleagridis by the intermediate host caecal worm Heterakis gallinarum, or by earthworms acting as transport hosts.
However anecdotal reports indicate that cases have also been seen in indoor birds on units where transmission by H. gallinarum or earthworms is less plausible. The reasons for the apparent changes in the prevalence of histomonosis and its appearance on indoor units are not understood, but could include changes in virulence of the parasite, emergence of different strains (genetic heterogeneity) and interaction with other disease agents. The discovery of potentially resistant cyst-like stages of the parasite (Munsch and others, 2009) raises the possibility of transmission by hitherto unrecognized routes. The control of histomonosis can be problematical as there are currently no licensed treatments available in the EU. Cases of histomonosis will continue to be monitored by means of scanning surveillance.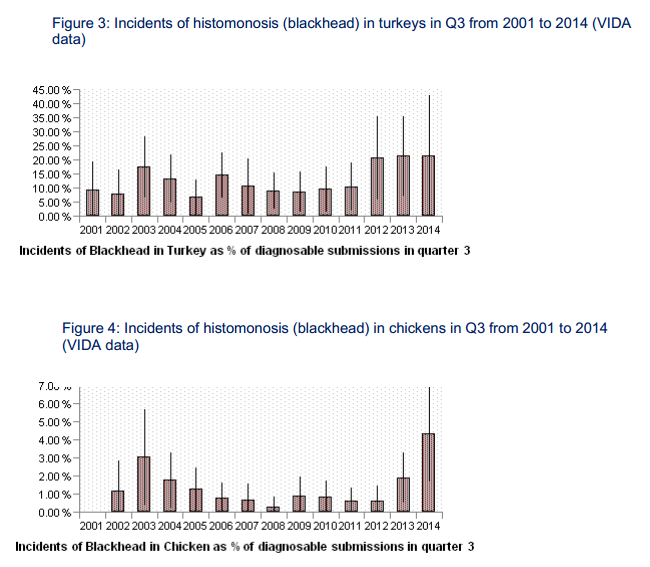 Atypical blackhead' (tetratrichomonosis) in red-legged partridges
In 2013 cases were reported of mortality in a flock of 2,500 red-legged partridges, where 15 birds aged ten weeks died over a two-day period. Post-mortem examination showed profuse pale foci throughout the liver in the birds (Figure 5) accompanied by changes in the caecum, indicating a typhlohepatitis. Histological examination of both organs showed the presence of amoeboid–like protozoa, not typical of blackhead. The use of molecular techniques (PCR and in-situ hybridisation) resulted in the identification of the protozoa as Tetratrichomonas gallinarum (Liebhart and others, 2014). Archived tissues from cases seen in 2007 and 2008 were also found to be positive for this parasite.
In Q3 of 2014 similar cases were seen in another red-legged partridge flock, where a mortality of 25 per cent was recorded in affected pens of 11-week old birds. The cases appear to be caused by a single strain of T. gallinarum. Typhlohepatitis associated with this organism has previously been recorded in some other bird species, for example in captive ducks in Germany (Richter and others, 2010), but this is the first time the disease has been described in partridges, and the first time in GB.
Trichomonad organisms are not uncommonly seen on microscopy of intestinal smears taken on post-mortem examination of game birds, and are usually considered of little significance; the reasons for the more severe manifestation of disease in the cases described are not understood. There are no medicinal treatments licensed that are likely to be effective in the treatment and control of this disease. The disease will continue to be monitored by scanning surveillance. There are no known public health implications.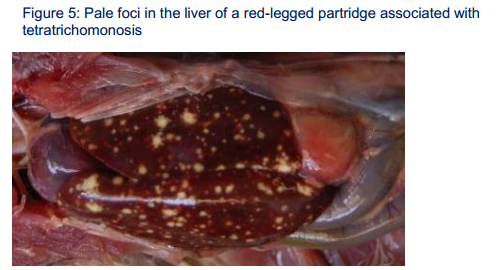 Suspected goose parvovirus infection (Derzsy's disease)
A former dairy farm, with a beef suckler and heifer rearing enterprise, also reared geese for Christmas from their own eggs and others bought in from other farms. Twelve goslings died within the first week of life, often with no premonitory signs, although those that lived for longer showed signs of sleepiness.
Post mortem examination revealed a mild catarrhal enteritis and lung oedema in the goslings. Histopathological examination demonstrated intestinal pathology, including intranuclear inclusions bodies, typical of goose parvovirus infection, although the virus was not detected in this case. The disease can be transmitted both vertically through the egg and horizontally between goslings, and the highest mortality is seen in goslings in the first week of life.
Derzsy's disease reappeared in GB in 2004 (Holmes and others, 2004) after an interval of several years. The disease is spread by the introduction and purchase of infected stock, and by the retention of survivors and exposed birds from one breeding season to the next. Sporadic cases have been reported in the intervening years since 2004.
Spread of Cryptosporidium baileyi in red grouse
Respiratory cryptosporidiosis due to Cryptosporidium baileyi was reported as the cause of 'bulgy eye' in red grouse on moors in northern England in 2012. A recent report (Baines and others, 2014) describes the results of a questionnaire survey for bulgy eye on 102 managed grouse moors which showed that the condition has become widespread on moors in northern England, and was seen in 48 per cent of the moors surveyed. Affected birds were five to seven per cent lighter than their unaffected counterparts, and disease prevalence ranged from 0.6 to 7.0 per cent.
Unusual Diagnoses
A variety of endemic poultry diseases continued to be diagnosed in backyard and commercial poultry during Q3-2014 in GB. A selection has also been described in the AHVLA and SAC C VS surveillance highlight reports published in the Veterinary Record. In these cases no wider threats were recognised and no specific actions required other than for producers and veterinarians to maintain vigilance for disease problems and investigate as appropriate.
Further Reading
You can view the full report by clicking here.
Find out more information on the diseases mentioned by clicking here.
December 2014