GLOBAL POULTRY TRENDS - Asian Chicken Meat Trade Trends 2010
Continuing our series of special features entitled Global Poultry Trends for ThePoultrySite, Terry Evans explains that Asia accounts for much of the world trade in chicken meat.
While any assessment of chicken meat production is difficult, establishing complete data on trade is almost impossible. FAO data indicate that the global trade in fresh, chilled and frozen poultry meat will be around 10 million tonnes this year, of which Asia will account for around five million tonnes of imports and just under two million tonnes of exports. A major problem here is assessing whether trade in chicken paws has been included, or not. Import/export data supplied to the FAO includes chicken paws. In 2007, China's chicken meat imports amounted to 900,000 tonnes, while the United States Department of Agriculture's Foreign Agriculture Service (USDA-FAS) data for Chinese imports, which excludes paws, puts the figure for that year at only 358,000 tonnes (see Table 1 - click on the table to enlarge).
Another problem relates to the reporting of exports that are re-exported. This is particularly the case with trade between Hong Kong and China, as much of Hong Kong's exports will have already been counted as exports to Hong Kong in the global scenario.

Another aspect that can colour the total trade picture is sales/purchases of canned chicken. This is a rapidly expanding business with global sales having escalated from around 600,000 tonnes in 2000 to more than 1.5 million tonnes in 2007.

When account is taken of shipments of chicken meat, turkey meat, duck and goose meat and canned chicken, then the total annual figure for exports in 2007 is in the region of 12.7 million tonnes.

According to the FAS, the recession has resulted in a stagnant global chicken meat trade. However, the current global economic recovery will help stimulate the demand for chicken and this will likely be reflected in an expansion in sales of fresh and frozen chicken meat in Asia, though the global total for this year could contract to some 8.2 million tonnes because of an anticipated sharp drop in shipments from the US to Russia, following a ban on US poultry meat imports to Russia from 1 January 2010.

The leading exporter in Asia is Thailand. This country's industry was dramatically hit by outbreaks of HPAI around the middle of the current decade, which resulted in import bans being imposed on Thai fresh chicken. This is underlined by the massive slump shown in the data presented by the FAO (Table 2 - click on the table to enlarge). However, as a counter to the bans, Thai processors/exporters switched to the production of cooked or further-processed chicken products which, as is indicated by the data in Table 2, brought about a steady recovery in shipments, such that this year the total at 410,000 tonnes will be almost in-line with the pre-HPAI period. Looking ahead, the USDA foresees Thai exports continuing to climb, reaching 610,000 tonnes by 2019.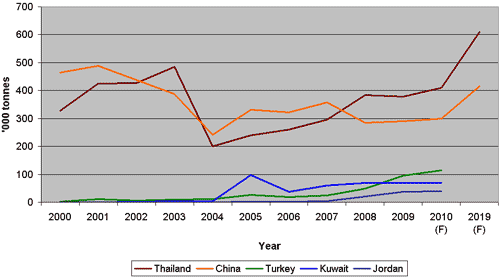 Figure 1. Major Asian chicken meat exporters
At the time of writing, discussions are still taking place regarding Thailand's request to the European Union to have its export quota based on country-specific export data. Currently, the EU's processed chicken quota for Thailand is 160,033 tonnes, this being taxed at 10.2 per cent. The Thais not only want the quota to be increased but they are also concerned that imports above that quota could incur a very high duty as the EU endeavours to protect its domestic market.

China, Asia's other major exporter, has recorded fewer exports in the second half of the current decade. However, a more optimistic picture is painted for the next ten years, with shipments climbing towards 415,000 tonnes, though this will still be less than the quantities traded from 2000 to 2003.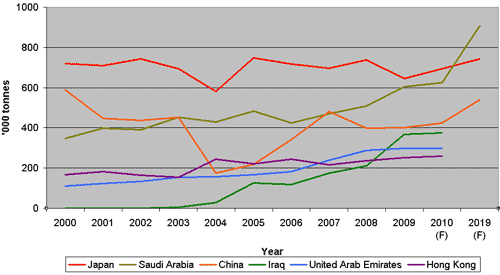 Figure 2. Major Asian chicken meat importers
Although Japan has historically been the leading importer in Asia, the forecasts for the next 10 years show no significant change in the volumes purchased and as a result, Saudi Arabia will soon become the number one importer in the region as receipts are forecast to exceed 900,000 tonnes by 2019 (Table 3 - click on the table to enlarge).

Third in the importing league is China whose purchases are expected to increase towards the 540,000 tonnes mark towards the end of the next decade.

The launch of the tariff-free trade agreement between China and the 10-country Association of South East Asian Nations (ASEAN) on 1 January this year marked the start of the world's biggest regional trade agreement which covers more than two billion people. Earlier deals between ASEAN countries and India, Japan and South Korea will eventually lead to a huge future bloc where goods are traded tariff-free.
Further Reading
| | | |
| --- | --- | --- |
| | - | You can view other articles in our series Global Poultry Trends by clicking here. |
June 2010