GLOBAL POULTRY TRENDS - Chicken Meat Production Trends in the Americas
Continuing the Global Poultry Trends series exclusive to ThePoultrySite, we turn the spotlight on the Americas. This region is the world's largest producer and exporter of chicken, writes Terry Evans.
Having two out of the three biggest chicken growing countries, it is not surprising to find that the Americas is the largest chicken meat producing region in the world with an estimated annual output this year of some 39 million tonnes, or almost 48 per cent of the global total, which we assess will approach 82 million tonnes.

The US and Brazil account for more than 71 per cent of the region's total, producing an estimated 16.5 million tonnes and 11.4 million tonnes, respectively.
Although the US is easily the world's number one producer, it is noteworthy that, while output there has expanded by just 19 per cent since 2000, in Brazil the growth has been much more dramatic at a massive 90 per cent, as production has escalated from just 6 million tonnes to around 11.5 million tonnes. According to the 2010 World Agriculture Outlook report from America's Food and Agricultural Policy Research Institute (FAPRI), the slowdown in the world economy in 2009 proved to be deeper and more widespread than originally anticipated with an annual rate of real GDP growth of -1.9 per cent. On a more cheerful note, FAPRI has projected a significant improvement for 2010, with GDP growth reaching 3.3 per cent in 2011.

While the recovery from the economic recession continues, incomes and population growth will raise per-capita meat consumption, which should stimulate world trade.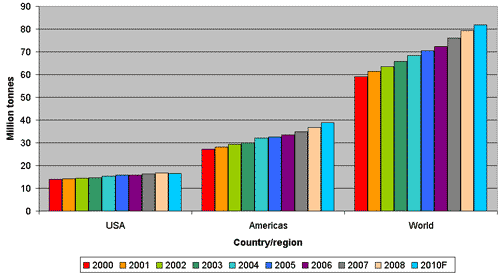 Figure 1. Chicken meat production in the US and the Americas compared to world output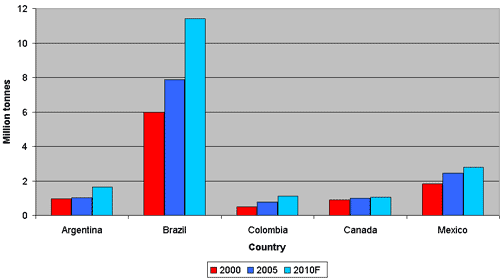 Figure 2. Chicken meat production in selected Latin American countries
Between now and 2019, the US chicken industry will likely expand by no more than two per cent per year, which compares with an average growth rate of 4.5 per cent from 1990 to 2005, pushing annual output to around 19.2 million tonnes. However, according to FAPRI much slower growth is predicted for Brazil with production rising to only a little over 12 million tonnes.

Earlier this year, to help strengthen Brazil's poultry meat sector, the Brazilian Poultry Union (UBA) and the Brazilian Poultry Producers and Exporters Association (ABEF) merged to form the Brazilian Poultry Union (UBABEF). In addition, it is generally believed that fiscal incentives and subsidies will continue to encourage further large new investments in broiler production in Brazil, which would appear to indicate that production growth will surely outstrip the FAPRI forecast.

Colombia has more than doubled output during the current decade to over a million tonnes and looks to have overtaken Canada in the production rankings (see Table 2). Indeed, the projected output data for Canada to 2019 shows little change from the current level of around 1.2 million tonnes.
Argentina's industry has registered a gain of almost 700,000 tonnes to an estimated 1.7 million tonnes this year.

Other countries, with annual outputs of more than 100,000 tonnes, that have recorded an annual growth rate of more than five per cent since 2000 are Chile, the Dominican Republic, Ecuador and Honduras.
Further Reading
| | | |
| --- | --- | --- |
| | - | You can view other articles in our series Global Poultry Trends by clicking here. |
July 2010