GLOBAL POULTRY TRENDS - Contrasting Prospects for Chicken Production in Africa & Oceania
Our last series of Global Poultry Trends about chicken meat covers the two very different regions of Africa and Oceania. Long-time industry watcher, Terry Evans, begins by contrasting the prospects for chicken meat production in these two areas exclusively for ThePoultrySite.
Of the 49 economies classified as low income (GNI per person per year of US$935 or less) in 2007, 33 were in sub-Saharan Africa. The 1.3 billion people living in low-income economies worldwide had an average annual income of just $578 and some earned as little as $110. Africa has more countries with high poverty rates than any other developing region. The population of sub-Saharan Africa has more than trebled since 1980 and currently stands at around 860 million out of a total for the continent of just over one billion.

By 2050, the population of this region will, at 1.75 billion, represent 19 per cent of the world total of around 9.5 billion, compared with about 13 per cent today. In the future, sub-Saharan Africa – which comprises all that continent's nations except Algeria, Egypt, Libya, Morocco and Tunisia – will experience dramatic urbanisation as its urban population increases from some 270 million to more than one billion in the next four decades.
Faster growth in many developing economies is succeeding in reducing poverty rates and slowly closing the income gap with high-income countries. But this growth must be sustained over the long-term and shared among the people to make lasting improvements to the well being of everyone.

Gross domestic product (GDP) growth in sub-Saharan countries has fallen behind that achieved in other regions, and the poverty rate has declined only slightly from 54 per cent in 1981 to 51 per cent in 2005. Sadly, rises in food and fuel prices since then are likely to have increased the number of poor people. Nevertheless, according to the World Bank, some of these sub-Saharan nations have experienced good economic growth despite formidable challenges such as conflict and disease epidemics. As there is a direct correlation between an increase in real incomes and a growth in the demand for protein, clear improvements in living standards are essential for expanding the demand for poultry.

Should our forecast for 2010 of an annual output of chicken meat for the whole of Africa of 3.9 million tonnes be realised, then the industry will have managed to expand by one million tonnes or 3.3 per cent a year since 2000. Nevertheless, this will not match the near four per cent a year gain likely to have been achieved in Oceania, but will be broadly in line with our anticipated global expansion. Consequently, Africa's share of global chicken meat production has been maintained over the past decade at around 4.7 per cent.

Chicken meat production in Oceania should exceed a million tonnes this year, representing around 1.3 per cent of the world total of around 82 million tonnes.
As with our appraisal of the other regions – Asia, the Americas and Europe – the bulk of production in Africa/Oceania occurs in just a few countries. Indeed, in 2008, nearly 60 per cent of Africa's output came from only three countries – South Africa, Egypt and Morocco. Two other significant producing countries, Algeria and Nigeria, have annual outputs of 250,000 tonnes or so.

We estimate that output in South Africa, the number one ranking country in the region (table 3), will exceed 1.3 million tonnes this year, while medium- to long-term forecasts point to this figure climbing to around 1.5 million tonnes by 2019 as producers gear up their enterprises to further capitalise on economies of scale.
In South Africa, the expansion in broiler production slowed to just one per cent in 2009, which compares with an annual average growth of more than five per cent over the past six years. During the first seven months of 2010, a production increase of a little less than three per cent was anticipated. It should be noted that the data released by the Southern African Poultry Association (SAPA) are considerably higher than that presented by FAOSTAT. For example, the estimate by SAPA for 2008 is 1.24 million tonnes.

South Africa's industry is facing some big challenges, which could have a major impact on the rate of further expansion. A major concern will be how to offset higher input costs through greater efficiency, as there is little likelihood that they can be recouped from the market. Additionally, the industry is facing increased competition from imports of predominantly Brazilian chicken meat that enjoys a favourable price differential. The spread of avian influenza elsewhere in the world is of great concern to South African producers as they are well aware that any outbreak would have a major impact on production and also on consumer demand for chicken. It is considered essential that the industry embraces food safety practices quickly to ensure consumer confidence is maintained in its products. And lastly, the Southern African Poultry Association is greatly aware of the threat posed by the possible removal of anti-dumping duties as this could 'bring the industry to its knees'.

Currently, just four companies are estimated to account for around 70 per cent of domestic production, and it is envisaged that shortly, this number will be cut to three.

It is clear that FAOSTAT is experiencing some difficulties in obtaining chicken meat production data from Egypt (table 1). However, another source has indicated that poultry meat output in that country actually reached a 'high' of around 735,000 tonnes in the middle of the current decade but then contracted somewhat to 616,000 tonnes in 2009 as a result of avian influenza, recovering to around 630,000 tonnes this year. Looking towards the end of the next decade, one forecast points to fairly static output of around 660,000 tonnes a year while another envisages it climbing to around 750,000 tonnes. The industry has undergone a transition in the past 20 years or so as the government has pulled out of the sector. However, despite and expansion in commercial production, it is still operating on a relatively small scale by western standards. As mentioned earlier, bird flu has hit the industry hard since the first outbreak in 2006 and is now considered to be endemic there. In an attempt to control the movement of live birds, a ban on selling live poultry, which was applied to five Governorates in May 2009, was implemented nationwide as of 1 July 2010. However, there are doubts as to how effectively this ban will be enforced. In the near future, it is envisaged that the larger more modern units will expand at the expense of smaller producers.

Production in Morocco has escalated in leaps and bounds this decade, such that it could top the half a million tonnes mark this year.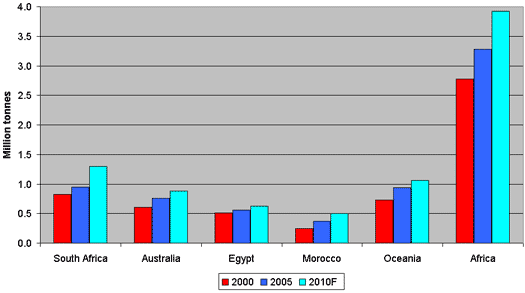 Figure 1. Chicken meat production in selected countries in Africa and Oceania
Two countries – Australia and New Zealand – account for 98 per cent of chicken meat production in Oceania. Indeed, Australia alone represents 83 per cent of the total and the region's future growth will be entirely dependent upon what happens in this country, as output in New Zealand has declined in recent years.

Australia's poultry meat industry has experienced strong growth over the past 20 years or so as it has expanded by almost four per cent a year. Chickens account for some 96 per cent of poultry meat. Between 1991-92 and 2008-09, average chicken slaughter weights increased by slightly more than one per cent a year – a trend that is expected to continue over the medium term. As a result, Australia's Bureau of Statistics (ABARE) foresees chicken meat output approaching one million tonnes by 2014-15. The industry is highly concentrated with just two major companies supplying 70 per cent of the domestic market.

Since peaking in 2005 at 155,000 tonnes broiler production in New Zealand slipped to a little over 145,000 tonnes in 2008. Over the next 10 years, one forecast expects to see little change in output, while a more optimistic vision hints at a possible expansion of around two per cent a year, pushing production towards 190,000 tonnes.
Further Reading
| | | |
| --- | --- | --- |
| | - | You can view other articles in our series Global Poultry Trends by clicking here. |
September 2010