GLOBAL POULTRY TRENDS – European Chicken Meat Trade
Much of the trade in chicken meat in Europe takes place between EU Member States and the total is expected to remain steady throughout this decade, writes Terry Evans in the second of a series of articles on trends in the region's broiler industry.
At first glance, it looks as though Europe is a sizeable trader in chicken meat with annual exports of up to 2.3 million tonnes and imports in excess of 3.0 million tonnes in the period 2000-2007. In fact, virtually all exports are from EU member states with virtually no sales from the other European countries. Additionally, if intra-EU Community trade is excluded, then exports from the EU to third countries amount to only some 700,000 tonnes or so a year (table 1).
In other words, more than two-thirds of exports from EU-member countries are made within the EU. Between 2000 and 2007, EU exports grew by nearly 30 per cent but, if extra-EU trade is excluded, then the combined total shipped has changed little over time. Not surprisingly, the leading European exporters are all EU community members. In recent years, the volumes traded have increased from the Netherlands, Poland and the UK, but declined sharply from France.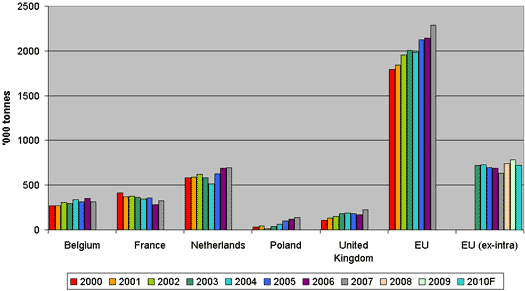 Figure 1. Major chicken meat exporters in Europe
The picture is similar, though not identical, on the import side of the trade balance sheet. Again, of imports into the EU amounting to 1.7 million tonnes in 2007, if intra-Community trade is excluded then purchases from outside the 27 amounted to just 673,000 tonnes. The big difference regarding imports is that EU purchases accounted for only just over half of the total for Europe. Main reason for this has been the large volumes imported by Russia, which in the peak years exceeded 1.2 million tonnes, and in 2007 represented nearly 38 per cent of the total for Europe.
Figure 2. Major chicken meat importers in Europe
However, as was alluded to earlier, it is anticipated that this situation will change dramatically if Russia manages to boost domestic production rapidly in the next few years leading to a corresponding reduction in imports. From peak receipts of around 1.2 million tonnes just a few years ago, in 2010 Russia's imports could decline to 750,000 tonnes. While not in line with the Russian view of imports falling to nil in the foreseeable future, at least one external forecast points to Russia's purchases of chicken meat continuing to decline to the 500,000 tonnes level. At the start of this year. Russia imposed a ban on imports of chlorine-treated US chicken, though this was rescinded towards the end of June. The US quota for 2010 was 600,000 tonnes but this could now be reduced.

The Russian quota on poultry meat from Turkey this year is 57,000 tonnes but it has been increased to 150,000 tonnes for 2011.

European chicken meat exports represent about one-quarter of the real global total although the corresponding figure for imports is closer to one-third, when viewed against global total exports of 9.3 million tonnes. It should be noted that the official figures for global totals of exports and imports do not equate due to data collection difficulties. Also, that they are both likely to be overstated because of the problem of allowing for re-exports or trans-shipments between countries.
---
*
"European chicken meat exports represent about one-quarter of the real global total although the corresponding figure for imports is closer to one-third"
---
By 2019, exports of poultry meat (chicken and turkeys) from the EU are not expected to change significantly from a level of around 800,000 to 900,000 tonnes although one forecast suggests that trade will decline towards 700,000 tonnes. However, imports (excluding intra-Community trade) are now postulated to increase from around 830,000 tonnes this year to some 900,000 tonnes.

USDA forecasts to 2019 suggest that the combined exports of broilers and turkeys from the leading exporters could climb by some 14 per cent to reach 9.6 million tonnes against its estimate for 2008 of 8.4 million tonnes.

Showing a similar trend, the OECD-FAO report anticipates global total poultry meat exports of 13.2 million tonnes by 2019 against 10.6 million tonnes for 2008.

A possible factor which could impact markedly on imports if poultry meat into the EU is the outcome of the current negotiations in the trade talks between the EU and Mercosur – a regional bloc comprising Argentina, Brazil, Paraguay and Uruguay. However, it is anticipated that no conclusions will emerge in the near future.
Further Reading
| | | |
| --- | --- | --- |
| | - | You can view other articles in our series Global Poultry Trends by clicking here. |
August 2010