High Pressure Pasteurisation: Reducing Pathogens Extending Shelf Life
New non-thermal food processing technologies aim to provide safe, high quality foods with desirable nutritional, physio-chemical and sensorial properties, writes Chris Harris.
More recently with the use of minimal processing treatment concepts have been added to the already existing food processing requirements.
Some of them might be beneficial for the improvement of hygiene and the extension of shelf life, according to a report by Volker Heinz and Roman Buckow in Journal of Consumer Protection and Food Safety.
Hydrostatic high pressure technology is relatively new to food industry and is more and more considered as an alternative to traditional preservation methods like heat processing.
This relatively new processing system has demonstrated the inactivation of bacteria, spores and viruses.
High Pressure Processing (HPP) is a system to provide food safety in products after they have been processed cooked and packaged.
The process extends the quality and shelf life of products and also reduces the need to extra preservatives.
With HPP, food producers can meet the increasing consumer demand for foods that are safe and nutritious, free from additives, good tasting and have a long shelf life.
This gives customers extra convenience and fresh and processed food or ready-to-eat meals with a superior quality can be stored and consumed over an extended period of time, according to packaging giant Multivac, whose system is pictured right.
HPP kills pathogens and helps significantly to reduce the numbers of spoilage organisms on the product.
RTE meats can see a log-104 colony-forming units per gramme (CFU/g) reduction in Listeria monocytogenes, and raw sausage complete inactivation (log-108 CFU/g) of E. coli and Listeria innuocua and no Salmonella or Listeria in samples according to research.
However, at the same time, high-pressure processed meats retain their original sensory qualities of texture, colour and nutritional content.
HPP can also more than double the shelf-life of products using alternative preservation methods.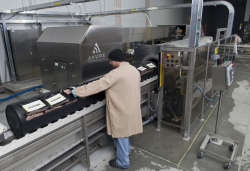 As an HPP contract service provider, Universal Pasteurization Co. in Lincoln, Nebraska, has installed multiple Avure 350L systems to handle its growing volume. (Photo © Matt Ryerson, courtesy of Avure Technologies)
According one of the developers of the process, Avure: "High pressure processing is a science-based post-lethality intervention step for ready-to-eat meats.
"HPP is not merely a surface treatment, but effective throughout the product package, whatever its size or shape. This is especially important to those meat processors producing sliced deli meats, where the risk of re-contamination with harmful pathogens, particularly Listeria monocytogenes, may be greatest."
The process is a cold pasteurisation technique in which products, already sealed in its final package, are introduced into a vessel and subjected to a high level of isostatic pressure (300–600MPa / 43,500-87,000psi) transmitted by water, according to one of the pioneers of the process, Spanish company, Hiperbaric.
Every product is placed under a specific pressure for a specific length of time.
The system takes away the need for the processor to use a thermal system of pasteurisation, which is traditionally used in the food industry for the preservation of products, which helps with labels such as 'natural' or 'organic'.
However, thermal pasteurisation can also have a destructive effect on vitamins and can change flavour.
According to Multivac, high pressure processing is in principle suitable both for modified atmosphere (MAP) and vacuum packaging and in many cases, MAP outperforms a vacuum package, such as in terms of product appearance or convenience.
However, the company said that it can be technologically more challenging in combination with HPP. On the other hand, it can lead to positive effects in terms of shelf life extension.
July 2013