How can broccoli improve free-range broiler production?
As the industry searches for alternatives to antibiotics, probiotics have become popular in broiler production for how they strengthen the natural immunity of a flock.
Free-range broilers are constantly exposed to harmful bacteria due to the dirty environments which normally surrounds them. To provide them with long-term protection from infection, the feed industry is continually looking for sustainable alternatives to antibiotics. One of those might be fermented broccoli (Brassica oleracea) residue, which has effects on the growth performance, harmful bacterial loads and meat antioxidation of free-range broilers. Fermented broccoli waste is rich in acetate, yeast, lactic acid bacteria, and Bacillus subtilis.
Due to animal welfare concerns, animal-derived foods produced under free-range conditions are increasingly popular among consumers. But the flocks' frequent exposure to dirt or excreta will likely result in increases to the birds' gut bacteria, such as Salmonella, Campylobacter, Clostridium perfringens and Escherichia coli which, consequently, induces enterotoxicity, as well as organ and meat oxidation. This can result in a higher prevalence of gastroenteritis in the humans who consume them.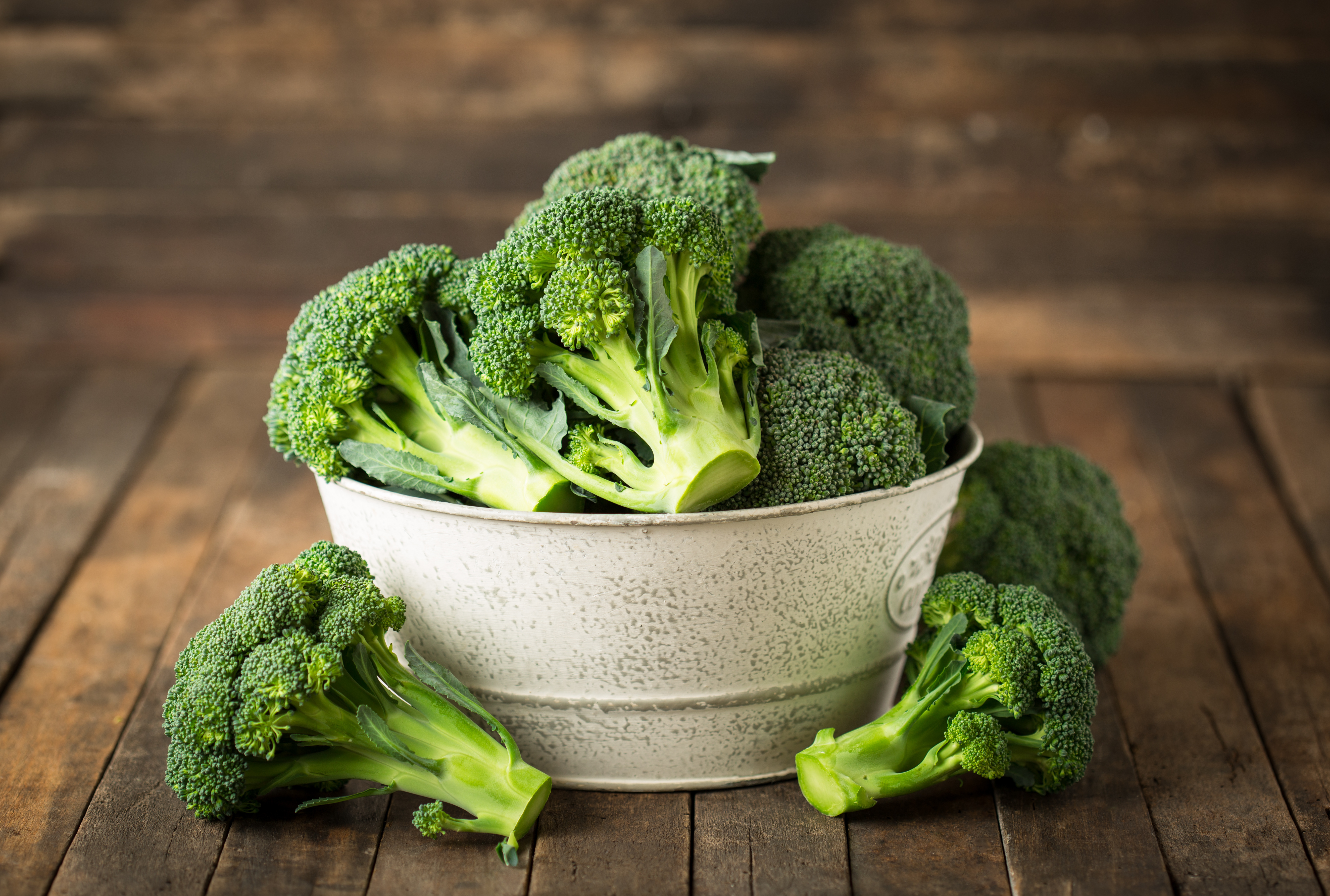 Broccoli properties

Brassica vegetables, the family that includes cabbage, swede and mustard, along with broccoli, are usually consumed as cooked foods. The nutritious stems and leaves of broccoli often go to landfills as by-products after the florets have been harvested and processed. Besides dietary fibres and vitamins, which are common health-promoting components in vegetables, they are known to contain glucosinolates which are sulphur-containing compounds. In addition to glucosinolates, broccoli florets contain high levels of: β-carotene and vitamin C, as well as vitamin E (Danish Food Composition Bank, 2002). Broccoli heads are also reported to contain high levels of flavonoids. Most of these active components have strong antioxidant properties, and their interactions with products of glucosinolates hydrolysis, sulforaphane and indole-3-carbinol give additional health benefits (Horbowicz, 2003). The stems and leaves, meanwhile, contain specific carotenoids that are noted to have antiallergic, anti-cancer and anti-obesity bioactivity (Pedroza et al, 2015).
Free-range broilers
Recent research, conducted by Liu et al in 2018, has looked at the effects of fermented broccoli on free-range broilers' growth performance, bacterial loads and meat quality (oxidative status). Below are some highlights from their findings, along with important results from other research in the field.
The properties of fermented broccoli:
Fermented broccoli waste is rich in acetate, yeast, lactic acid bacteria and Bacillus subtilis. Research showed that supplementation of organic acids or probiotics caused a slight or significant reduction of Salmonella, E. coli and Campylobacter in the gut of broilers.
Suido and Miyao (2008) observed that fermented broccoli inhibits the growth of Candida albicans, Streptococcus mutans and Porphyrlomonas gingivalis in vitro.
Effects on growth performance and mortality
Although the weight gain, feed intake and FCR were not affected by the inclusion of fermented broccoli at 5 percent or 10 percent in this study, in 2016 Mustafa et al reported that dried broccoli floret residues incorporated at 3 percent and 6 percent increased weight gain and FCR. But at high levels (eg, 9 percent), reported Mustafa et al, ileal and total tract nutrient digestibility might be compromised.
Effect on bacterial loads
In this study , the populations of Campylobacter, E. coli, and gram-negative bacteria in the cecal digesta and on the neck skin were decreased by fermented broccoli at levels of 5 percent or 10 percent in the birds' diet. The decrease in Salmonella and C. perfringens in cecal digesta was more pronounced at the 10 percent level. See the results from Liu et al in Table 1 below.
It was suggested that the significant decreases in potentially harmful bacterial loads may be caused by the organic acids, probiotics, flavonoids and vitamins in fermented broccoli. This is also observed in broilers where supplementation of organic acids or probiotics causes the reduction of intestinal Salmonella, E. coli, and Campylobacter (Bourassa et al, 2018, Emami et al, 2017 & Guyard-Nicodeme et al, 2017).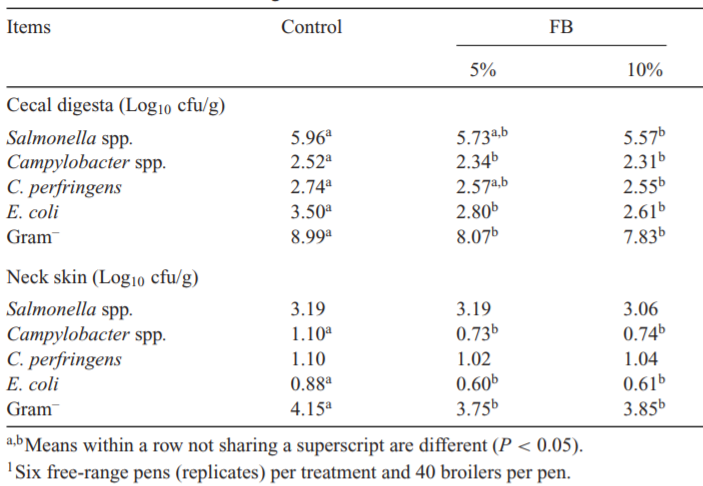 Effect on meat antioxidant status
Fermented broccoli added at 5 percent or 10 percent increased the activities of superoxide dismutase, glutathione peroxidase, catalase and the total antioxidant capacity, in the pectoralis major muscles.
In the gastrocnemius muscle, both levels of fermented broccoli increased the activities of superoxide dismutase, glutathione peroxidase and total antioxidant capacity, but did not affect catalase.
In both muscle types, a 10 percent inclusion showed greater effects on superoxide dismutase activity.
The higher activities of antioxidative parameters in fermented broccoli treatments may be attributed to probiotics, organic acids, and other bioactive components.
In another study, Mueller et al (2012) reported that broccoli extract increases the expression of xenobiotic enzymes and the antioxidant enzyme heme oxygenase in the jejunum of broilers.
Broilers
In a paper published in 2012, Hu et al studied the effects of broccoli stem and leaf meal (BSLM) on broiler performance, skin pigmentation, antioxidant function, and meat quality.
The results indicated that dietary supplementation of BSLM in broiler chickens improved the poultry products' quality with the more skin pigmentation and the less drip loss percentage of breast meat.
The increase in skin pigmentation was mainly related to the high amounts of xanthophylls in BSLM.
BSLM improved total antioxidant capability, lowering malondialdehyde concentration and increased the activities of superoxide dismutase and catalase of breast muscle.
The decreased meat drip loss was attributed to the antioxidative function of BSLM.
Laying hens
In 2015 Pedroza et al added a relatively high percentage (15 percent) of broccoli stems and leaf meal (BSLM) to the corn-soy diets of White Leghorn inbred crosses. They found that:
Yolk colour scores were significantly higher with the addition of the meal (see Figure 1 below).
However, growth performance and egg production parameters were not statistically different from the unenhanced diet.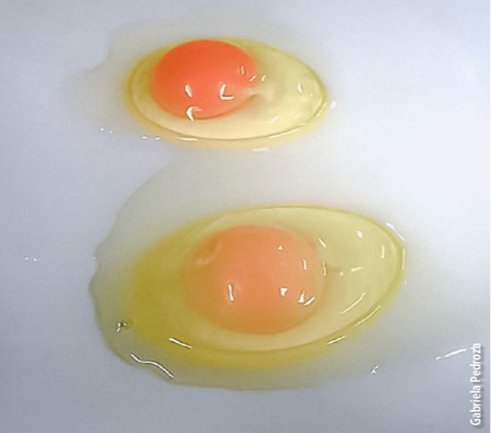 Remarks
Fermented broccoli has been shown to have potential in preventing bacterial disease of free-range broilers, and food-borne bacterial infection as well as meat antioxidation, without compromising growth performance.
Studies have shown that broccoli stems and leaves meal have the capacity to increase the nutrients in eggs and deepen the colour of yolks.
Proper inclusion levels must be established to avoid possible suppression of nutrient digestibility, which might occur at high levels.
With its antibacterial and probiotic properties, dietary fermented broccoli might be a potential alternative to antibiotics in animals.
With the ever-increasing pressure of feed-food resources, the utilisation of residues is a sustainable move in animal production – that reduces a negative environmental impact.
References
References
Bourassa, D. V., K. M. Wilson, C. R. Ritz, B. K. Kiepper, and Buhr, R. J.
(2018)
Evaluation of the addition of organic acids in the feed and/or water for broilers and the subsequent recovery of Salmonella Typhimurium from litter and ceca
Danish Food Composition Bank
(2002)
Emami, N. K., A. Daneshmand, S. Z. Naeini, E. N. Graystone, and Broom. L. J.
(2017)
Effects of commercial organic acid blends on male broilers challenged with E. coli K88: Performance, microbiology, intestinal morphology, and immune response
Guyard-Nicod`eme, M., A. Huneau-Sala¨un, F. A. Tatone, F. Skiba, M. Quentin, S. Quesne, T. Poezevara, and Chemaly. M.
(2017)
Effect of feed additives on productivity and Campylobacter spp. loads in broilers reared under free range conditions
Horbowicz, M.
(2003)
Occurence, role and contents of glucosinolates in brassica vegetables
Hu, C. H., D. G. Wang, H. Y. Pan, W. B. Zheng, A. Y. Zuo, and Liu, J. X.
(2012)
Effects of broccoli stem and leaf meal on broiler performance, skin pigmentation, antioxidant function, and meat quality
Liu, N., Deng, X. J., Liang, C. Y., and Cai, H. Y.
(2018)
Fermented Broccoli Residue Reduced Harmful Bacterial Loads and Improved Meat Antioxidation of Free-Range Broilers
Mueller, K., N. M. Blum, H. Kluge, and Mueller, A. S.
(2012)
Influence of broccoli extract and various essential oils on performance and expression of xenobiotic and antioxidant enzymes in broiler chickens
Mustafa, A. F., and Baurhoo, B.
(2016)
Effects of feeding dried broccoli floret residues on performance, ileal and total digestive tract nutrient digestibility, and selected microbial populations in broiler chickens
Pedroza, G., Famula, T., and King, A.
(2015)
Broccoli meal fed to laying hens increases nutrients in eggs and deepens the yolk color
Suido, H., and Miyao, M.
(2008)
Bifidobacterium longum-fermented broccoli supernatant inhibited the growth of Candida albicans and some pathogenic bacteria in vitro