Investigating Hatchery Practice - Monitoring the Hatch Window
In the sixth article in this series, Dr Steve Tullett, consultant for Aviagen specialising in incubation and fertility, describes the importance of monitoring the hatch window, and how to do so. The article forms part of a recently published Ross Tech publication, Investigating Hatchery Practice.
The term 'hatch window' describes the period of time over which chicks are actually coming out of the eggs. The 'hatch window' has also been called the 'spread of hatch' and it is assessed relative to the time of taking the chicks out of the hatcher. The spread of hatch is influenced by the variability in temperature in the setters.

In Ross products, the total spread of hatch (from one per cent of chicks being hatched to 99 per cent of the chicks being hatched) is about 30 hours. Ideally, no more than about one per cent of the chicks should have hatched 30 hours before chick take-off. If take-off is delayed once all the chicks are hatched, then growth and uniformity of the flock on farm will suffer, so it is important to monitor the window, and adjust either the egg setting or chick take-off times accordingly.

In order to take account of the variations in temperature that occur in setters, the trays used for monitoring the hatch window should come from several different locations. For example, top, middle and bottom trays, front and back, left and right of the setter. Check the hatcher 30 hours before the chicks are due to be taken off. There should be no more than one or two hatched chicks out on each tray at this time.

At chick take-off, some chicks (about five per cent) should still be damp on the neck (Figure 23) and the inside of recently hatched shells should still be moist.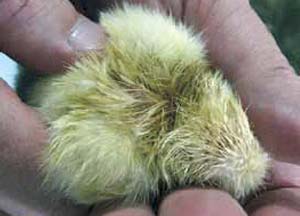 Figure 23. Five per cent of chicks should still be damp at the back of the neck at take-off
Other observations may be made that will help the hatchery manager judge if the hatch has occurred too early or too late. For example, if the insides of all the shells are very dry and all the shells can be easily crushed into little pieces (Figure 24), if there is a lot of meconium on the shells (Figure 25) or if all the chicks are dry and the wing feathers of the chicks have spread a lot from the end of their sheaths, then the hatch is probably occurring too early.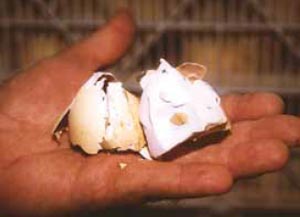 Figure 24. Dried out shell membrane in the egg on the right shows the chick hatched very early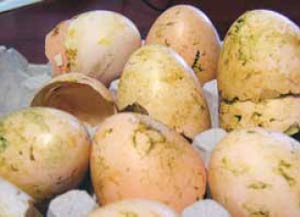 Figure 25. Meconium on egg shells after delayed take-off
An even spread of hatched chicks on the hatcher trays during monitoring of the hatch window and reasonably clean egg shells at chick take-off are indicators of good conditions during incubation and the correct take-off time.
Further Reading
| | | |
| --- | --- | --- |
| | - | You can see other articles in this series Investigating Hatchery Practice by clicking here. |
January 2010