Italy – Poultry Outlook 2011
Following good supply and demand performances in 2010, the Italian broiler market is expected to level off in 2011, according to Stefano Baldi in the latest GAIN report from the USDA Foreign Agricultural Service.
General Information
Italy is the sixth largest poultry producer in the EU-27, with approximately 10 per cent of total EU production. Domestically, poultry production, mainly broiler meat, ranks behind beef and pork production in terms of volume and importance. Even so, the poultry industry is very efficient and vertically integrated and has been doing very well despite the negative effects of the economic crisis and the Bird flu epidemic. Most of the farms raising broilers and turkeys are located in the northern regions of Italy (Veneto, Emilia-Romagna, Lombardia and Piemonte).
Italian poultry meat production by species (2010)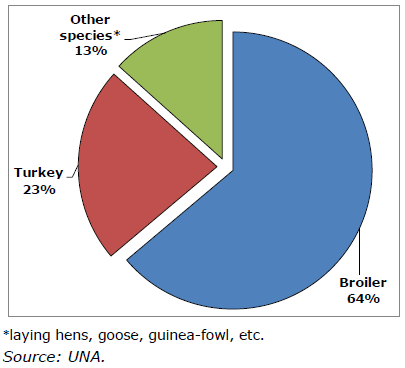 Broiler meat production, supply and demand
('000 metric tons; MT)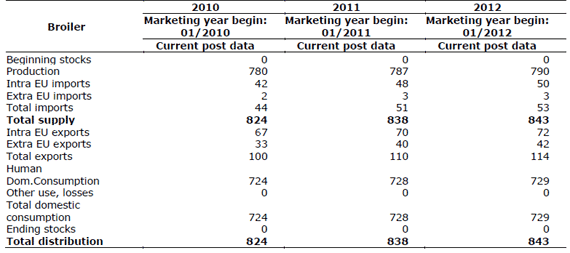 Broiler Production
According to first projections, the Italian broiler market is expected to level off in MY 2011 with a slight production and consumption increase (around one per cent). MY 2010 can be recorded as the 'broiler year' due to good production and export performances compared to other meat products such as beef and pork. Both domestic production and exports increased by five per cent and 51 per cent, respectively.

Better performances are largely due to an increase in domestic demand due to the relatively lower prices for broiler meat compared to other kinds of meat. Beef and pork producers either increased or kept prices stable over MY 2010 in order to protect margins from declining domestic demand, while broiler producers and retailers lowered prices to pull in consumers. However, this strategy made broiler prices decline to a minimum level of €0.80 per kg which, combined with the increase in input costs (mainly feed), severely threatened producers' margins. Farmers are still quite concerned about the feed price trend in coming months although prices have been gradually recovered since the beginning of the year.
Italian broiler meat cost and price index trend
(2000=100)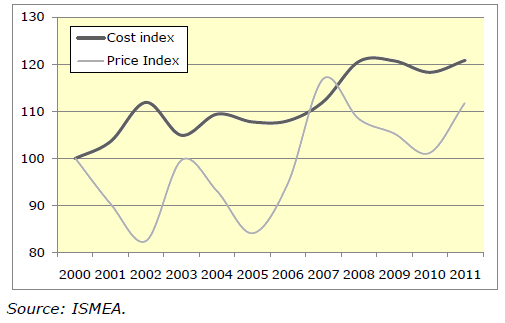 Broiler Meat Consumption
Total Italian meat consumption has been significantly restrained by the negative effects of the economic crisis. However, broiler demand has increased in the last three years due to lower prices which made consumers shift their preferences. Per capita consumption increased in 2010 to 11.93kg, reaching a record high, excluding the 2001 level (12.21kg) when the first BSE case was discovered in Italy.

A recent survey states that the four main reasons affecting Italian consumer purchasing choice for meat are: innovation, freshness, functionality and, of course, price. Approximately 78 per cent of Italian households generally purchase broiler meat and 14.4 per cent of them purchase it once a week. The industry assesses broiler meat consumption by type of cut: 64 per cent legs and legs and breasts, 21 per cent processed products (stuffed chicken, sausages and hot dogs) and 15 per cent whole birds.
Italian broiler meat production and consumption trends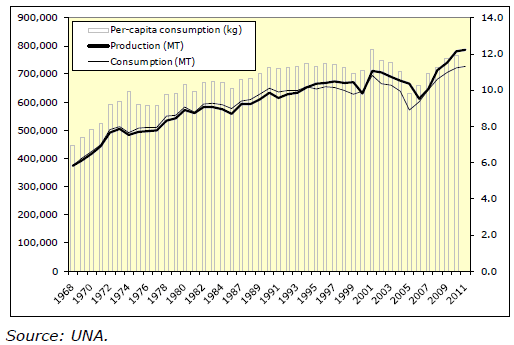 Broiler Meat Trade
Italy is more-or-less self-sufficient in broiler meat trade, and the small amount of trade is largely intra-EU trade. However, Italian broiler producers have recently started to explore new extra-EU markets exporting increasing quantities to Hong Kong and Viet Nam.
Italian broiler meat exports by country
('000 MT)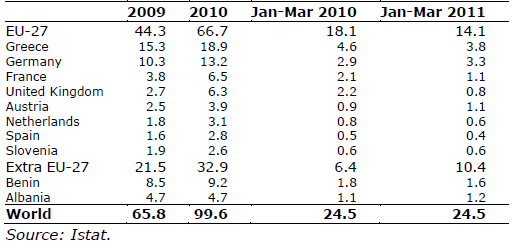 Broiler meat production, supply and demand
('000 MT)
Turkey Meat Production
The turkey industry does not expect significant production and consumption changes in MY 2011, despite domestic production will highly depend on feed prices in coming months. MY 2010 production decreased by 4.6 per cent compared to the previous year.
Turkey Meat Consumption
MY 2010 Italian turkey meat demand further declined by five per cent with per capita consumption falling to 3.9kg after the previous two years of positive performance.

According to a recent market survey, around 48 per cent of Italian households usually purchase turkey meat and six per cent of them purchase it once a week. About 79 per cent of turkey meat is sold as 'selected pieces' (legs, breasts, etc.), 19 per cent as processed products (such as stuffed or roasted turkey, sausages, wurstel and so on), and two per cent as whole birds.
Italian Poultry Association
UNA (Unione Nazionale dell'Avicoltura) is the Italian poultry and egg producers association.

It represents: breeding farms; hatcheries; poultry and layer farms; slaughterhouses, cutting and processing houses; and packaging and eggs product processing.
Further Reading
July 2011