Keeping Coccidiosis in Check is Yielding Healthier, More Efficient Broilers
Maintaining optimum gut health and feed conversion is important for any poultry operation, but it is particularly critical when growing birds to eight pounds. Pilgrim's field operations manager, John Haas, talks about his experiences developing a more sustainable approach to coccidiosis control in Broiler Health from Merck Animal Health.
When asked about his responsibilities at Pilgrim's, John Haas thoughtfully pauses and smiles, but then chooses to spare listeners from the many bullet points in his official job description.

"Basically, my purpose here is to put a perfect bird in the plant," says the field operations manager for the Pilgrim's broiler facility in Douglas, Georgia, US.

That is never an easy task, however. Since reopening in 2009, the Douglas plant now exclusively processes big birds, typically about eight pounds grown over eight weeks. And the longer birds live, the more time they have to develop health problems that could set back performance, quality and profitability.
---
*
"If you can keep coccidiosis under control, you can get good feed conversion. And that's what the coccidiosis vaccine has done for us."
John Haas
---
The Douglas operation cycles about 4.7 times a year, allowing 14 days of down time between each clean out and prep for the next group of birds.

Maintaining good feed conversion is key to the success of any broiler operation, but it is particularly critical when feeding birds to eight pounds. Like most other commercial growers, Pilgrim's has turned to dried distillers' grains (DDG) – usually 12 to 15 per cent of the ration – to help cope with record-high grain prices.

DDG has helped reduce feed costs, but Mr Haas quickly acknowledges there are trade–offs. It can irritate delicate intestinal tissue and reduce the birds' ability to absorb nutrients. DDG can also cause problems with pellet quality, he adds, which in turn can hurt feed conversion.

"We pay nutritionists to figure out least–cost formulas, and their calculations tell us that what we lose in feed conversion we more than gain back in lower feed costs," he says. "It's a balancing act."
Hidden Losses
One other threat to good feed conversion is subclinical coccidiosis. When Mr Haas joined Pilgrim's in 2002, the Douglas operation was having persistent problems with coccidiosis. Farm managers shuttled and rotated various in-feed anticoccidials to help break the resistance cycle and keep the costly disease at bay. Still, their feed conversion was suffering. With the high volume at Pilgrim's – the Douglas operation has 650 broiler houses and typically processes 1.3 million birds each week – those losses were mounting exponentially.

"Typically, what would happen is that we'd plan on using a coccidiostat, rotating it in two to three times a year," Mr Haas says. "But then it would fail before the end of its rotation and we'd have to short cycle [the flock]."

They tried other shuttling strategies, all to no avail. "It was going on and on and it was killing our performance. [Subclinical] coccidiosis was really a major issue for us. It had become a constant battle," Mr Haas recalls.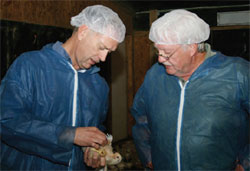 John Haas (left) and broiler manager Steve Lee. "Now when we do posting sessions, we don't see any cocci problems in our older birds."
Pilgrim's began consulting with poultry veterinarians at what is now Merck Animal Health. Following a detailed analysis of the Douglas operation's production and medication records, Merck Animal Health veterinarians convinced Pilgrim's to add a live coccidiosis vaccine to the rotation.

Coccivac-B, the veterinarians explained, contained a controlled, balanced dose of Eimeria oocysts to stimulate the flock's natural immunity to the disease. Using the vaccine would also give the in-feed anticoccidials a much-needed rest while shifting the Eimeria populations in the broiler houses from more aggressive, wild strains to more susceptible vaccinal strains.

But there was one caveat: "They told us that with the first round or two of the vaccine, we may not see immediate improvements; they explained how it takes a while to seed the house [with vaccinal strains of Eimeria organisms] and for the full benefits of that to kick in," Mr Haas says.

And that is exactly what happened.

"The first cycle, we didn't see much of a difference in performance. But by the next cycle and the one after that, we got significant boosts in our performance," Mr Haas says. "Now when we do posting sessions, we don't see any cocci problems in our older birds.

"With that positive experience," he continues, "We revamped our strategies and now we're running Coccivac-B at least six months of the year – sometimes a bit longer – then using a coccidiostat during the winter."
Cost of Vaccine Versus Coccidiostats?
As for the cost difference between vaccination and medications, Mr Haas says it was "a wash," adding "you simply unplug the cost of coccidiostats at the feed mill and plug it back in at the hatchery."

For a big-bird operation like Pilgrim's has in Douglas, the advantages of coccidiosis vaccination are especially significant because they are no longer seeing downturns in feed conversion from coccidiosis leakage often associated with ionophore programmes.

About 70 per cent of the cost of putting a bird in the store is feed, Mr Haas says, and it takes 16 million pounds of rations to feed the chickens Pilgrim's processes each week. "That's why it's so important for us to protect our birds' ability to absorb nutrients," Mr Haas says. "If you can keep coccidiosis under control, you can get good feed conversion. And that's what the coccidiosis vaccine has done for us."
---
*
"There are not a lot of tricks to this. It's just a matter of how close you can come to doing absolutely 100 per cent of the basics – and doing them right."
John Haas
---
But vaccination with Coccivac-B is only one part of Pilgrim's effective strategy for controlling coccidiosis and keeping bird guts healthy. They also pay close attention to maintaining ideal ventilation, temperature, humidity and lighting. Management of litter is also a key component.

"With our big birds spending more time in grow–out, we have to keep a close eye on the quality of our litter," Mr Haas says. "We try to work on built-up litter – six inches is ideal, but we have to have at least four. We also use various litter amendments to maintain the quality."
Healthy Litter, Healthy Paws
Good litter management also helps ensure healthy paws, or what Mr Haas describes as the most expensive part of the chicken. "Paws only account for about two per cent of the bird but they represent huge money for us – a couple of hundred-thousand dollars a week here, just in this division," he says, adding that Pilgrim's gets about a dollar a pound to process the paws, which are shipped to China.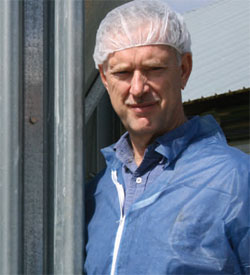 Paw health is sort of a 'canary in a coal mine' for Pilgrim's, Mr Haas explains. "If we have healthy, A-grade paws, it lets us know that we're ventilating the houses right, that the temperature's right, and that everything else is in place to help us get top feed conversion. If we begin having problems with our paws, we know we have to look into it," he says.

The overall key to Pilgrim's success, Mr Haas emphasises, is making sure all bases are covered. "It's starting with good animal husbandry, having good people and good training," he says. "And that's got to come together in the hatchery, in the feed mill and in live haul. And even the guy who's running the dump cage can ruin you if he mishandles birds."

He adds, "There are not a lot of tricks to this. It's just a matter of how close you can come to doing absolutely 100 per cent of the basics – and doing them right."

March 2012