US Poultry Industry Manual - Movement of game birds
Learn more about the movement of eggs, chicks, started birds, mature birds and flight-ready birds
Editor's Note: The following content is an excerpt from Poultry Industry Manual: The Foreign Animal Disease Preparedness and Response Plan (FAD PReP)/National Animal Health Emergency Management System (NAHEMS) Guidelines which is designed to provide a framework for dealing with an animal health emergency in the United States. Additional content from the manual will be provided as an article series.

Products being moved can be classified according to the following categories: eggs, chicks, started birds, mature birds, and flight-ready birds.

Many different transport containers are used, including plastic crates, wooden crates, and cardboard boxes. Vehicles used to move game birds include small trucks with cabs, semi trucks, or specially designed trailers.
Eggs
Eggs are typically sold from March through July. They could be sent anywhere in the world, because eggs can remain in transit up to 5 days without major effects on their hatchability. Eggs are either picked up, delivered, or shipped using Fed Ex, UPS, United States Postal Service, or an airline.
Chicks
Chicks are typically sold from April through August. They can be shipped to any destination within a 3 day journey without seeing any major effects on livability. However, a 1 to 2 day trip is preferable. Chicks are picked up, delivered, or shipped by the United States Postal Service.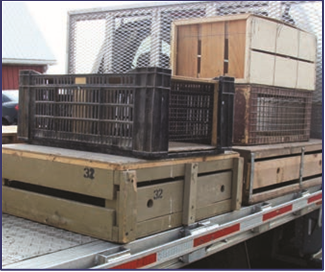 Started birds
Started birds are typically sold from June through September. Started birds usually move regionally because they are either picked up or delivered to locations that can be reached within 24 hours.
Mature birds
Mature birds are typically sold from September through mid-April. They usually move regionally. Mature game birds are either picked up or delivered to locations that can be reached within 48 hours. Hobby operations send birds much shorter distances compared to larger commercial operations because it is not cost effective for them. Due to higher costs to drive long distances, a lot of birds need to be delivered at one time to minimize the cost per bird for delivery.
Reference: "USDA APHIS | FAD Prep Industry Manuals". Aphis.Usda.Gov. 2013. https://www.aphis.usda.gov/aph...
The manual was produced by the Center for Food Security and Public Health, Iowa State University of Science and Technology, College of Veterinary Medicine, in collaboration with the USDA Animal and Plant Health Inspection Service through a cooperative agreement.