Nepal Celebrates its First National Poultry Day
Dr Krishna Kaphle, Associate Professor at the Institute of Agriculture and Animal Science at Tribhuvan University in Nepal reports on the progress made and challenges ahead for his country's poultry industry following its first National Chicken Day in January 2014.
Nepal is situated in the Central Himalayan region. Major parts of this kingdom are hills and mountains. They cover about 83 per cent of the total land area of 114,181 square kilometres and the rest is plain land called 'Terai'. The kingdom is classified into three levels or belts by altitudes. The mountain belts have elevations of 4,877 to 8,844 metres above sea level, the hill belts from 305 to 4,887 metres and the terai belt or plains where the levels are up to 305 metres in altitiude.
Nepal is predominately an agricultural country with 91 per cent of its population dependent upon farming. It is one of the least developed countries of the world. Nepal has integrated farming systems, involving the integration of crops, livestock, poultry and forestry. Poultry have been a major success story of Nepal with the private sector involved in this field the most dynamic and united in its interest and ably led by far-sighted entrepreneurs.
The association of Nepalese communities with chicken rearing goes back to prehistoric times, the attempt to initiate commercial, hybrid rearing happened with the far sighted vision of late King. It was the patriotic and visionary move by Late King Mahendra Bir Bikram Saha Dev who inaugurated first hatching unit in 2017 BS (Bikram Sambat, Nepalese Calendar) - end of 1960 AD at Parwanipur, Nepal. The initiation was with around 1,000 New Hampshire poultry imported from the United Kingdom. However, the adoption of poultry farming was not as rapid as had been hoped.
Realising the folly and futility of the then government approach, a strategy was made to encourage the government technicians themselves to undertake poultry farming privately and hence promote commercial farming through demonstration and extension services. This approach along with plans to involve the feed supply, housing and individual traders in marketing of chicks and also encourage them to undertake chicken farming on a commercial scale started to yield dividends.
On an experimental basis,credit and banking facilities were provided to those individual who agreed to take the risk in the new venture. In addition, the government continued its training and extension services to individual farmers.
Some prominent poultry farmers including the 'Father of Modern Poultry in Nepal', Guna Chandra Bista, were "graduates" of this training system.
This uniquely coordinated tripartite effort of the government, individual technicians and private sector resulted into rapid growth and market demand of poultry products in valleys of Chitwan-Makwanpur, Kathmandu, Surkhet. His Majesty's Government's priority in policy matters for poultry farming and immediate profits within a short time attracted ambitious farmers and in 1962, commercial poultry was recognised as an industry sector.
The highway construction in Chitwan, industries in Makwanpur and increasing population of Kathmandu all created markets for the products of high-yielding layer and broiler breeds; production as well as consumption of egg and meat increased unprecedentedly. Research and formulation of low-cost and high-energy feed based on the use of agriculture and animal byproducts, advanced management, processing technologies brought significant reductions in production cost, resulting in considerable growth in output.
This effort was supported by animal scientists and veterinarians located at Institute of Agriculture and Animal Science (IAAS).
Taking advantage of His Majesty's Government decision to support the establishment of private hatcheries and feed mills, Hetauda and Narayanghat saw their emergence. The hard work is evident now in the scale of the industry to meet the national need for poultry meat and eggs. With 1.68 million table eggs daily, one million broiler chicks per week, 73,000 layer chicks per week and 400 tonnes of chicken meat per day, this industry is expanding. This industry have huge contribution towards employment in the nation of around 27 million people.
First National Poultry Day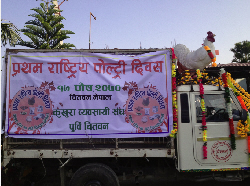 The First National Poultry Day was celebrated on 17 Poush 2070 (January 1st 2014) at Chitwan, Nepal. The selection of Chitwan rightly did justice to the valley known as the "egg-nest" of Nepal and the main pocket for poultry activities.
The programme was chaired by Guna Chandra Bista (Swami Krishnananda), Chairperson of the Nepal Poultry Federation, with the local Member of Parliament (MP), Seshnath Adhikari as the chief guest and other MPs of the Chitwan district as special guests, Director and Deputy Directors of Department of Livestock Services, Nepal as special invited guests. Several other dignitaries representing the government, universities, private sector and journalists were also invited.
The programme was divided into several sections with presentations, seminars and epidemiology training to name some spread over the two days (1 and 2 January 2014). During the formal session conducted by Shankar Kandel, the speakers mentioned history of poultry farming in Nepal, current scenarios, difficulties faced, future course of actions, all rantings of promises, complaints, exchange of blames and all, the formal session concluded.
The technical session chaired by the director of livestock services and co-chaired by Guna Chandra Bista was conducted by Shiva Baral (Officer at Nepal Poultry Forum, Chitwan). Two papers were presented by Professor I.P. Dhakal and Dr T.C. Bhattarai. 'Challenges of Poultry Industry in Nepal' was presented by Professor Dhakal, who is the Dean of Veterinary, Animal Science and Fisheries, Agriculture and Forestry University in Chitwan. He explained the history of the poultry industry and how currently, poultry accounts for about 11.5 per cent of livestock Gross Domestic Product (GDP) and four per cent of total national GDP of Nepal. He addressed the current situation of avian influenza (AI; bird flu) in the country, increasing production costs and so on. Likewise, he stressed the need to adopt closed housing as in his opinion, this will improve animal welfare and reduce diseases such as Litchi (Inclusion Body Hepatitis), Avian Encephalomyelitis (AE), Infectious Laryngotracheitis (ILT) and Egg Drop Syndrome (EDS). He stated that 225 recorded outbreaks of AI in Nepal had led to the loss of 1,965,315 birds and that the Government of Nepal has paid NPR259,516,331 (around US$2.6 million) in compensation.
Current trends in the industry were presented by Dr. T.C. Bhattarai, chairperson of the Federation of Commerce and Industries in Chitwan. He showed the growth of poultry industry in a wave-like pattern of growth with slight dip in the year 2013 owing to the menace of AI. He said annual per-capita consumption is now 65 eggs and 4.8kg poultry meat consumption (per-capita), openbing up huge potential for the industry in Nepal. Reducing days for marketable weight from 40 days to now 38 days at the feed conversion ratio from 2.0 to 1.8 demonstrates the progress that has been made.
The evening dinner at KC's Restaurant at Shaurah in Chitwan was an ideal opportunity for those from academia, industry and government to share their views and discuss issues related to the poultry industry. The topics ranged from recent concerns of genetically modified (GM) corn to the purchasing behaviour of Nepalese consumers.
The Nepalese poultry industry is influential and shares a good rapport with the Department of Livestock, Government of Nepal, hence the diverse groups gel well for common interest of poultry development in Nepal.
The next day morning, delegates had a session on the epidemiology, which was focused on educating about AI. The event was supported by AI control project in Nepal and the Epidemiology Unit at the Department of Livestock.
This two-day First National Poultry Day Celebration in Nepal was a great success and the credit to host it in East Chitwan goes to Shivaram KC who is senior member of the Federation of Poultry Industries in Nepal. The East Chitwan Poultry Producers Association and the Chitwan District Livestock Office were the local hosts. This event had full backing of the Government of Nepal through the Ministry of Agriculture as represented by the Department of Livestock.
Participants included more than 20 district livestock and veterinary officials, as well as top officials at the department of livestock, industry, university and farmers, bringing total attendance to almost 1,000.
On the morning of the New Year (1 January 2014), led by a huge chicken statue on top of a jeep, as pictured above, a procession of more than 200 people rallied for couple of hours around the city of Ratnagar, Chitwan in East Chitwan. It was here in a hotel hall that the successful First National Poultry Day celebration in Nepal 2014 (2070 BS) was celebrated.
For more information, contact Nepal Poultry Forum ([email protected]).
January 2014