Paying attention to design pays off
By Conny Bakker, Info-Eco on behalf of BNO, the Association of Dutch Designers, The Netherlands. For every £100 a business spends on design, turnover increases £225, says the British Design Council. Companies increasingly use design to add value to their products and services in order to differentiate themselves in highly competitive markets. This strategy pays off. The Dutch hatchery technology company, Pas Reform, tripled its turnover and affirms its commitment to design: "It is much more than just decoration."
A sparkling white with strong red accents emphasises Pas Reform's recently refurbished interior. In the spacious showroom, which doubles as a training centre, an incubator and a hatcher are on display. The whole setup conveys an air of cool professionalism. Appearance, as are first impressions, very important. Speaking with the responsible designer, I realise how much work has gone into creating the new look. "We had to tear down every non load-bearing wall just to get to the right look and feel," said the designer.

Nuts and bolts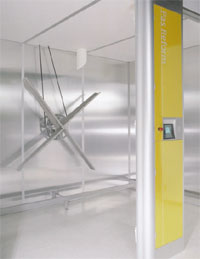 The cooling system of the SmartHatch™ hatcher has been designed for cooling capacities not only for today's breeds, but also for projected breed requirements in 20 years from now.
The designer's story is almost a metaphor for the transition Pas Reform went through in the last six years. In 2000, the company had come to a virtual standstill. It was selling its technology, but there was no growth and the prospects looked bleak. A new CEO, Bart Aangenendt, was appointed. He decided that the company needed a strategic makeover. "In those days," says marketing manager Henry Arts, "we were a production company selling machines. Our focus was on nuts and bolts, on delivering high technical quality at a low price." But competing on price can only take you so far. Pas Reform, operating in a highly competitive sector globally, took action.

Putting the chick's needs first
"It started with the development of a vision. From now on we would put the chick's needs first," says Arts. "This seems rather straightforward, but for us it implied a radical rethinking of the business we were in. The focus would no longer be on nuts and bolts, but on how to ensure the best conditions for a healthy growth of embryos and chicks. We wanted our setters and hatchers to reliably deliver healthy, vital day-old chicks. In order to make this vision a reality, we had to learn more about what actually happens inside an egg during incubation. We were dealing with livestock we knew embarrassingly little about!"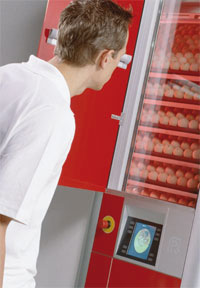 The design of the SmartSet™ setter includes an inspection window, which allows for total system control from outside the closed-door, single-stage incubator.
Pas Reform appointed embryologist Dr Marleen Boerjan to study the development of the chicken embryo in its various stages. Her research results soon led to improvements in the setters and hatchers, and also to the establishment of the Pas Reform Academy, where hatchery managers from all over the world can receive updates on the latest scientific insights in embryonic development.

Pas Reform was adding value to its products. The scientific underpinning of the business was in place, but something was missing...

Communicating the vision
"We needed to find a way to visualise our new approach," says Arts "to make it tangible for our customers worldwide. We were looking for a design consultancy that could offer us the full range, from design services to strategic consulting. We were lucky to find LaVerbe, a Dutch consultancy specialising in corporate identities. They were working for a breeder at the time and were familiar with our business environment." The relationship with LaVerbe grew over time. "We started with a brochure, and we took it from there. You can't pin on a new identity like you would a brooch. It is a process of change involving all our employees, from our sales managers to the guys in production and maintenance. It was, and still is, an exciting period. Designing a new corporate identity is like a journey, not a blueprint."

Not superficial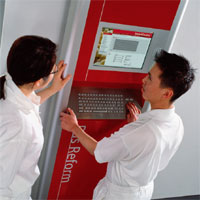 The position and design of the SmartCenter™ allows easy communication with every SmartDrive™ to continuously monitor each incubator.
Design is starting to gain attention from corporations all over the world. The discipline itself is expanding beyond the 'form' and 'look' to include processes and business strategy. But there is still an important myth related to design: the notion that design is something superficial. In most people's vocabularies, design means veneer. It's the fabric of the curtains and the sofa, the logo in the letterhead. But nothing could be further from the meaning of design. Design should be at the core of every commercial activity. Steve Jobs, CEO of Apple Computer, says "On our latest iMac, I was adamant that we get rid of the fan, because it is much more pleasant to work on a computer that doesn't drone all the time. It required an enormous engineering effort to figure out how to do this. That is the furthest thing from veneer. It was at the core of the product the day we started."


Similarly, at Pas Reform a lot of effort went into the development of an improved incubation system; the modular design, for instance. Each module (incubation section) has a capacity of 19,200 hen eggs, and is equipped with separate heating, cooling and ventilation controls. During incubation some sections may be cooling, while others are heating - the only way to guarantee an even incubation temperature and to create a stabilised micro-environment around the eggs; an important parameter for a successful incubation. Another interesting aspect is the 'future-proofing' of the incubation system with builtin extra cooling capacity, anticipating the development of new races of hens with a higher metabolic heat production during incubation.

Proud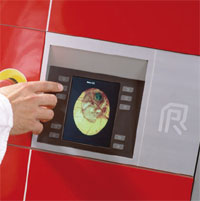 Through the control panel it is possible to follow the day-by-day development of the chick embryos in the machine.
"We hesitated for a long time about a name for our improved product range," says Arts, "we liked 'Smart' but at first we rejected it, thinking it was too banal. However, no matter how many alternatives we came up with, we kept coming back to 'Smart'. It somehow captured the essence of what we were doing with our products: we were indeed making them more efficient, more intelligent, and hence smarter. Looking back, I think we made the right decision. We hear of people in our business environment referring to 'a Smart' when they refer to our systems. That's a sure sign the name has done well."


Van Berlo Studios, an industrial design consultancy, handled the technical and ergonomical redesign, working with Pas Reform and LaVerbe to ensure the Smart incubation system would convey the right corporate image. They put emphasis on the central consoles: the setter's console is red, the hatcher's yellow, both with details in aluminium and brushed stainless steel. The design is asymmetric, giving the systems a quality of their own. At the Hannover trade fair in 2004, Pas Reform presented its Smart product range for the first time at a prominent stand. "You should have seen our crew. They were so proud of their products, everybody was just beaming." With a smile, Arts tells the story of how a client came to their stand and said: "You guys have finally understood! An incubator should have sex-appeal too!"

Today, the full Smart incubation system comprises SmartSet™ (setter), SmartHatch™ (hatcher) combined with the SmartDrive™ incubator control system, allowing careful management of individual conditions per egg type, SmartCenter™, a hatchery management information system and SmartPortal™ for online hatchery support.

Attractive egg packaging
Huhtamaki Nederland also understands the importance of industrial design, and developed new egg packaging: Attract! 'Helping our customers sell more' is Huhtamaki's mission, and this moulded fibre egg carton definitely stands out from the pack. Dutch industrial designer Leon van Spijk created the egg carton's futuristic look with a touch of humour. According to marketing manager Alex d'Enjou from Huhtamaki Nederland, the distinct form, wrap-around label and colour palette (22 different colours, including a shocking pink) all work together to give the egg carton the much-needed added value. "We cannot do without product differentiation nowadays," he says, "and we needed an egg carton suitable for special eggs, aimed at a high end market segment." The family of six Attract! egg cartons were introduced in 2006, and according to d'Enjou, Huhtamaki is currently struggling to keep up with demand, particularly for the UK and France.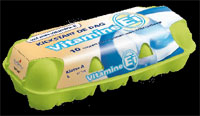 Use it or lose it
From 2001, the British Design Council has been conducting annual surveys among 1500 UK-based companies about design. "There is unmistakeable proof that businesses that use design perform better than their rivals," the Design Council says. The survey shows that 80% of design-led businesses have opened up new markets in the last three years, but only 42% of UK business overall have done so. The report concludes with a stern warning to all British businesses: "Use design or risk failure!"

What's true for the UK, is probably true for most Western European countries. Design is needed to turn ordinary products into extraordinary experiences, and gain a competitive edge. Pas Reform has shown it can be done: turnover tripled and the profits grew equally fast. Several years ago, Pas Reform had difficulties recruiting foreign sales agents, but now they come knocking on their door.

"Everything has to fit: the products, our employees, our service. We really have to deliver what we promise, and design has been, and will be, an integral part in all this," concludes Arts.

July 2007