Prevention is Key to Controlling Marek's Disease
Early immunisation of breeder chicks is a vital part of controlling an ever-virulent Marek's Disease, according to a Spanish veterinary expert speaking at a technical poultry symposium held last month, supported by Pfizer Poultry Health.
Dr Juan Carlos Abad of Cobb in Spain, says the industry has witnessed the disease grow in virulence over time, meaning a strategic control programme is more important than ever.

"From breeder suppliers to farmers and vaccine suppliers, the industry partners need to work together to control the virus. Many efforts have been made to control Marek's since it was first recognised, but nonetheless the virus has increased in virulence over the years and this has provoked outbreaks of the disease even in flocks that were previously vaccinated."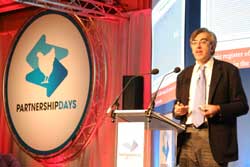 Dr Juan Carlos Abad
The virus is a lymphoproliferative disease that, if not controlled, is capable of causing enormous economic losses in breeders due to the increased mortality and the negative impact on performance.

Dr Abad says route of vaccine administration also plays a role in disease control.

"We know that early immunisation of breeder chicks is a key factor in the control of the disease, and in ovo vaccination is a very important tool for this control.

"Classical vaccination programmes are based in the application of a bivalent vaccine in day-old chicks via subcutaneous injection, but in some cases subcutaneous administration has not been proven to produce the best immunity level – particularly when there is significant disease challenge. In-ovo typically produces better protection in early challenges."

In-ovo vaccination enables the delivery of biologicals and pharmaceuticals to chick embryos through the egg shell.

"There are a number of options including vaccine serotype and the possibility of re-vaccinating after hatch, but in-ovo vaccination is one of our main strategies to control Marek's disease," Dr Abad says.

In addition to administration route, there are several other key figures that should play key roles in a control programme.

"Preventing the chick from having contact with the field virus until it has developed an adequate immune response is critical and therefore the hygienic conditions of the rearing farm must be optimal. Likewise, the environmental conditions for chicks must be such that they do not create stressful situations which can slow down or reduce the immune response to vaccination."
Further Reading
December 2010