Salmonella control: protecting eggs and people
By Brian Sheehan and Rick van Oort, Intervet International, Boxmeer, Netherlands. Published in World Poultry.
A European Food Safety Agency (EFSA) study recently showed that the percentage of layer flocks infected with Salmonella is still very high in some countries. Many EU member states therefore have to increase their efforts to reduce these levels. Vaccination is an important tool in a Salmonella control programme.
The recent EFSA study on the prevalence of salmonella in laying hens showed that, despite many efforts to reduce the incidence, many European countries still have a high percentage of
Salmonella enteritidis
(Se) and
Salmonella typhimurium
(St) positive layer flocks.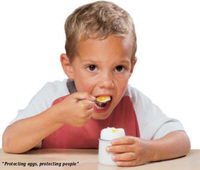 The cornerstones to reduce the number of salmonella positive flocks are strict hygiene, decontaminated feed and improved poultry management. Re-infection with Salmonella could also take place via other sources such as rodents, wild birds and visitors.
Another important tool to reduce the incidence of salmonella in poultry is vaccination. The salmonella vaccines currently on the market can be categorised as either live or inactivated. Their use will be determined by their individual features, benefits, and end market requirements.
Live salmonella vaccines, as the name suggests, contain live attenuated strains of salmonella serotypes. Individual products are available that protect against either Se or St, so the first question is against which serotype protection is required.
Some European countries require compulsory vaccination against Se and St.
To continue reading this article please click here (PDF)
Further Reading
For more information on salmonella in poultry visit
www.safe-poultry.com
September 2006