Scandinavians Focus on Food Safety and Welfare
Representatives of the Danish and Swedish poultry industries highlighted food safety in their presentations at World Poultry 2008 conference organised last month in London by Agra Informa, writes ThePoultrySite editor, Jackie Linden.
Danes Aim High for Freedom from Salmonella
Agra Europe reported on its web site that the Danish poultry sector is still pushing the European Union (EU) to award the country an official salmonella-free status, said Henrik Bunkenborg, chief consultant to the Danish Meat Association.

He explained that Sweden and Finland were given the salmonella-free status when they joined the EU. Denmark has applied to the EU for the salmonella-free and campylobacter-free status but it has so far been turned down on both counts. "We have an extremely low use of antibiotics in our poultry flocks and have an excellent record of fighting salmonella and campylobacter," he said.

"Our testing programme shows that we can deliver chickens free from salmonella." It also covers footpad scoring as an indication of animal welfare, and shows that the testing is among the best in the world. Although most poultry processors are not integrated in Denmark, poultry farms and slaughterhouses work closely together.

There were currently 225 poultry farms in Denmark, producing around 108 million chickens. In 2007, some 171,000 tonnes of chicken were produced. Of this total, 102,000 tonnes were exported, and 19 per cent of poultry exports were sold outside of the EU. The country no longer produces any commercial turkeys or ducks.

Denmark has set itself to supply quality poultry at the high end of the market and all salmonella-free. These standards make it uncompetitive as a supplier of bulk poultry products, Mr Bunkenborg explained.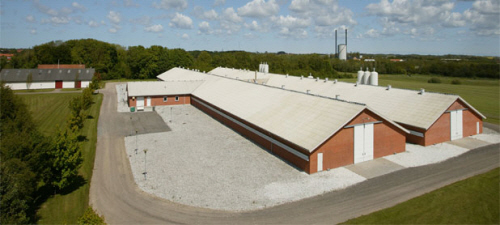 A Danish Hatchery
Food Safety and Welfare in Sweden
'Ensuring food safety and broiler welfare in Sweden' was the title of the presentation at the same conference by Roger Synnerdahl, area manager for Big Dutchman in Scandinavia.

He explained that the Swedish industry is controlled by one organisation, Jordbruks Verket, and that all poultry producers are member either of Svenska ägg (for egg producers) or Svensk Fågel (broiler producers). Members of the latter group produce 98 per cent of the broilers in Sweden. Production in 2007 was 72.4 million birds or 78,427 tonnes of poultry meat. Production was up 5.3 per cent compared to the previous year, due to an increase in average slaughter weight. Annual consumption in 2006 was 12.9kg per capita, continuing an upward trend in consumption, some of which was met by imports.

Mr Synnerdahl emphasised what he saw as the unique conditions in Sweden saying, "Rewards are based on the farmer's efforts and classification."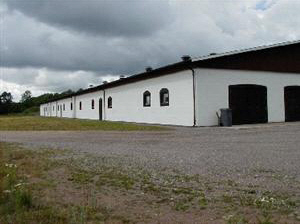 A Swedish Broiler House
Minimum standard are set for all broilers in Sweden, covering space allowance for the floor (20 kg/m2), feed trough and drinker for birds based on age (up to 7 weeks and 8 weeks or older). Farmers may increase the stocking density according to their classification based on a points system. Farms score points based on a wide range of conditions, including bird and rodent security. A maximum score of 100 points can be achieved, which would allow a stocking density up to 36kg/m2 while a low score of 40 means that the standard bird density of 20kg/m2 applies.

Also included is a score for foot pad dermatitis (pododermatitis) as a measure of bird welfare. Scores have improved greatly since the introduction of the scheme. Initially, 11 per cent of broilers were found to have foot pad dermatitis but this figure had fallen to just three per cent 12 years later. Mr Synnerdahl commented, "Pododermatitis should be seen less in future."

Salmonella legislation begins with recording in the hatchery and continues right through to slaughter, including also sampling during lay. A Voluntary Control Programme includes the need for private insurance, as a salmonella-positive test result will lead to the slaughter of the whole flock. No antibiotics are allowed. The driver for the elimination of salmonella was food safety. A campylobacter monitoring scheme has been in place since 1999 but it has proved more of a challenge to eliminate this food-borne pathogen from poultry than salmonella.

During the following discussion session, a member of the audience commented that there had been success reducing campylobacter in Denmark using fly screens over the doors and ventilation openings in poultry houses.
May 2008