Sherwood Farms Changes from Cage to Free-Range
Free-range egg farmers, Andrew and James Parker, talk about their new free-range egg unit, and their decision to opt for multi-tier housing for rearing and laying.
Investment in a 32,000 bird free-range unit was not taken lightly by both brothers, Andrew and James Parker, who run Sherwood Farms in Nottinghamshire in the UK. The brothers have a thriving egg business based on the production over 60,000 birds in cages all eggs being sold direct from their packing centre to local wholesalers, small shops and catering outlets. However, as with many others with the cage ban of 2012 looming led them to take a long hard look at the business.
The decision to invest in free-range was clearly not the most difficult one they have made but most important has been their approach to setting up their unit. Having taken advice they realised that birds on range should be specifically reared for that purpose and thus the first task they underwent was the conversion of an old cattle shed into a state of the art rearing unit. At the same time, they looked closely at free-range systems and came to the conclusion that to make the best use of land and minimise building costs that they should go for a multi-tier laying system. Having looked at the options available, they decided to go with Vencomatic UK to equip both the rearing and laying house.

Again following advice, they opted for a multi-tier rearing system, the Jump Start which trained the birds to move from the floor to the tiered areas within the rearing shed. "It was clear from all the advice we received that birds destined for a multi-tier system in lay should be reared in a system that encouraged the birds to move between different levels and closely matched the conditions the birds will experience in the laying house," said Andrew Parker.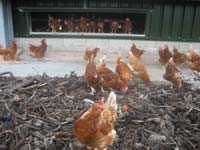 As the pop holes open, the Lohmann birds are keen to range (above); egg packing centre (below)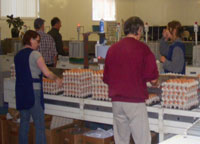 The Jump Start system has adjustable slatted tiers the height of which is increased, as the birds get older. Each tier has a line of drinkers with perches the feed track being at ground level again with a perches. The design encourages movement, gets the pullets used to slats and finding feed and water. By point of lay, pullets tend to be more uniform, bolder, stronger and more active than conventionally reared pullets.

At the time of the visit to the rearing unit, the house was stocked with 16,000 seven-week-old Goldline pullets. As a testament to the system mortality to seven weeks was just 0.64 per cent. The objective throughout the rearing period is to meet breed targets for uniformity and bodyweight.

The decision to rear their own birds was based on previous experience in that there were clear cost savings, more control over the birds throughout the rearing period, the ability to have a tailor made vaccination programme and perhaps most important, less stress at transfer since the pullets would only be moved about 10 miles to the laying unit. Another factor was that the ability to rear three flocks a year, which allows for one flock to be reared for a third party thereby optimising the use of the building. A short distance away, the 32,000-bird laying unit is a steel-clad building designed by Morspan. The house is split into two 16,000-bird units divided by a central partition which runs the length of the house. One half is already operational stocked with 16,000 Lohmann Brown birds reared from six weeks in the Jump Start system. The second half of the building is due to come on stream to house current batch of Goldline pullets being reared in the Jump Start system.

Each half of the house is identical, incorporating a ventilation system with automatically controlled side inlets and four roof and three gable-end extractor fans. Within each half, there are two banks of the Vencomatic Bolegg Terrace multi-tier system incorporating feed lines, drinkers and nests with a Bolegg Perfecta system between them. The multi-tier units incorporate a manure belt allowing manure to be disposed twice a week. The belts despatch the manure to a cross conveyor which takes the manure out of the building. The cross conveyor has been placed in a simple pit at the end of the tiers. The pit has removable covers, which are opened only when the belts are running.

Eggs are collected automatically and transferred to a purpose designed egg room which has a Prinzen packer and OvoPrint egg stamper. Once packed, the eggs are stored in a controlled environment egg store prior to removal to the packing centre.

One of the concerns for Andrew Parker was how the birds would take to the nest boxes once they started to lay. He followed advice from Vencomatic's sales manager, Kevin Howse. The nests were closed for the first two weeks following housing at 17 weeks and then opened in week 19 in anticipation of first egg. In addition, on housing, the birds were placed on the tiers of the Bolegg Terrace where they quickly found feed and water. Mr Parker had expected some floor eggs but has been amazed at how few there has been. In week 26 from the 16,000-bird house, the recorded a total of only 282 floor eggs, 0.26 per cent of all eggs laid in the week! At 26 weeks of age, the flock was peaking at 95.7 per cent, mortality to date is only 18 birds and feed consumption was averaging a meagre 109.5 g/bird.

Although it is early days, Mr Parker is confident the multi-tier system is the way to go to optimise both performance and returns from free-range production. As to the future as 2012 approaches, the cages will be phased out and there will be further expansion in free-range production. However, unlike many producers, he sees there could be a future for barn egg production and the possibility of investing in that system has not yet been ruled out.

Mr Parker has not joined any of the quality assurance schemes such as Lion Code or Freedom Food, pointing out that neither offer him any potential marketing benefits since they can sell every egg produced. In addition, he points out that none of their customers have asked that they should be accredited to any particular marketing scheme. However, he points out that the units meet all the required EU standards and he follows all of the DEFRA requirements regarding production, bird welfare and salmonella control. Another advantage is that he can stock birds on range at current EU levels rather than those imposed by the assurance schemes, which means he can make better use of the range available.

This article was first published in the January 2009 issue of The Ranger.

February 2009