UK Poultry Disease Quarterly Surveillance Report (to June 2006)
By Veterinary Laboratories Agency - This report monitors trends in the major endemic poultry diseases and utilises the farmfile and VIDA (Veterinary Investigation Disease Analysis) databases. The report is compiled using disease data gathered by the network of 15 VLA regional laboratories which carry out disease investigation in the field.

Quarterly Surveillance Report Poultry: Vol. 10 No. 2
April - June 2006
Published July 2006

Contents

OVERVIEW (here)

POULTRY STATISTICS

NOTIFIABLE DISEASES:
- SUBMISSIONS TO THE EU REFERENCE
- AVIAN INFLUENZA H5N1
SURVEILLANCE
- LPAI H7N3 OUTBREAK IN NORFOLK
- APATHOGENIC NEWCASTLE DISEASE
- SUBMISSIONS TO THE EU REFERENCE
- LABORATORY
- IMPORTED CAPTIVE BIRDS
- FOWL CHOLERA

FOOD SAFETY AND ZOONOSES
- FOOD SAFETY
- SALMONELLA REPORT
- SALMONELLA ZO4 VISITS
- SALMONELLA GALLINARUM
- VACCINAL STRAINS OF
S.ENTERITIDIS

ENDEMIC/NEW AND EMERGING DISEASE SURVEILLANCE
- VIROLOGY REPORT
- OTHER AVIAN TOPICS
- BLACKHEAD UPDATE
- MAREK'S DISEASE
- NECROTIC ENTERITIS
- GAMEBIRD TOPICS

Appendix I – VLA Lasswade Histopathology submissions January – June 2006


Highlights
COMMENTS ON THE LPAI H7N3 OUTBREAK IN NORFOLK (P 3)
COMMENTS ON APATHOGENIC NEWCASTLE DISEASE (P 4)
UPDATE ON NECROTIC ENTERITIS INCLUDING RECENT LITERATURE (P 8)
Overview
Avian influenza was unquestionably the foremost avian disease topic at the start of the April-June quarter, following the identification of highly pathogenic H5N1 during the course of routine Wild Bird Die Off (WBDO) surveillance, and then the confirmation of low pathogenicity H7N3 in three poultry flocks in Norfolk. Further comment is provided on page 3 of this report. The UK hosted the 6th International Avian Influenza Symposium in April, and a report of this will follow in a future quarterly report.

This report also gives an overview on page 4 of recent cases of apathogenic Newcastle disease virus in the UK, stressing the need for careful monitoring of these strains for any changes in sequence or pathogenicity. Avian Influenza has had knock-on economic effects in parts of the poultry meat industry, in an environment where competition from European imports is already fierce. Two major poultry processors are reported by Poultry World (June 2006) to have announced job cuts at their plants.

These uncertainties may well underlie the drop in quarterly commercial broiler chick placings compared with the same quarter of last year (page 2 of this report) and this trend is expected to continue. There was also a continued decline in turkey poult placings compared with previous years. Egg prices are reported to have returned to normality after a period of active discounting, but layer chick placings are also down on last year. Poultry World (April 2006) reports that free range eggs accounted for 32% of retail sales by volume and 40% by value.

Poultry Statistics
UK Quarterly figs for female Broiler Parent
Chick Placings (Average Monthly figures)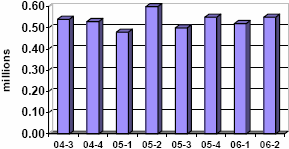 UK Quarterly figs for Commercial Broiler
Chick Placings (Average Monthly figures)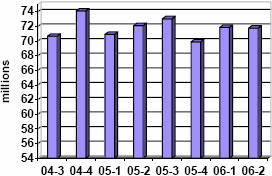 UK Quarterly figs for Turkey Poults Placings
(Average Monthly figures)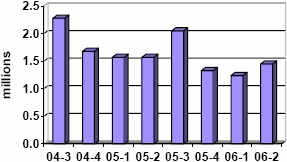 Av UK Quarterly figs for Commercial Layer
Chick Placings (Average Monthly figures)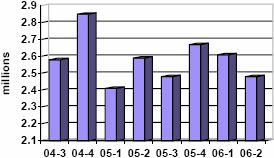 UK Quarterly figs for Broiler Slaughterings
(Average monthly figures)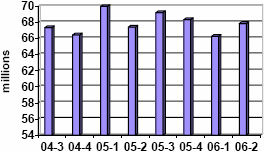 UK Quarterly figs for
Turkey Slaughterings (Average Monthly figures)

Total Poultry Meat Trade
(Average Monthly figures)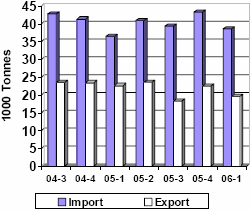 Further Information
To read the full 13 page PDF report please click here

July 2006