UK Poultry Disease Quarterly Surveillance Report (to June 2007)
By Veterinary Laboratories Agency - This report monitors trends in the major endemic poultry diseases and utilises the farmfile and VIDA (Veterinary Investigation Disease Analysis) databases. The report is compiled using disease data gathered by the network of 15 VLA regional laboratories which carry out disease investigation in the field.

Quarterly Surveillance Report Poultry: Vol 11 No 2
April – June 2007
Published August 2007

Contents

OVERVIEW (here)

POULTRY STATISTICS

NOTIFIABLE DISEASES:
- SUBMISSIONS TO THE EU REFERENCE
- LABORATORY
- LOW PATHOGENICITY AVIAN
INFLUENZA H7N2 IN NORTH WALES
- FOWL CHOLERA

FOOD SAFETY AND ZOONOSES
- FOOD SAFETY
- SALMONELLA REPORT
- SALMONELLA ZO4 VISITS
- VACCINAL STRAINS OF
S.ENTERITIDIS

ENDEMIC/NEW AND EMERGING DISEASE SURVEILLANCE
- VIROLOGY REPORT
- BIG LIVER AND SPLEEN SYNDROME

OTHER AVIAN TOPICS
- BLACKHEAD UPDATE
- MAREK'S DISEASE
- SPOTTY LIVER SYNDROME IN LAYER
CHICKENS

APPENDIX I: VLA BURY ST EDMUNDS HISTOPATHOLOGY SUBMISSIONS JAN - JUNE 2006 12

APPENDIX II: VLA LASSWADE POULTRY DIAGNOSTIC PMS APRIL – JUNE 2007


Highlights
SUMMARY OF HIGHLY PATHOGENIC AVIAN INFLUENZA OUTBREAK


BIG LIVER AND SPLEEN SYNDROME: RECENT DEVELOPMENTS
Overview
The importance of veterinary scanning surveillance was well illustrated during the quarter with the detection of Low Pathogenicity Avian Influenza H7N2 in a small poultry flock in North Wales in May, as described on pages 4 and 5 of this report.

Some of the economic consequences of the outbreak of highly pathogenic Avian Influenza H5N1 in turkeys in February can be seen in the statistics on page 2 of this report; in particular there was a drop in monthly turkey slaughterings compared with 2006 of between 22.1 and 27.2% between February and June. This is against a backdrop of a continued decline in UK turkey poult placings. At the same time the pressure on chicken margins is being affected by a continued increase in wheat and other cereal prices resulting in year-on-year poultry feed price increases of up to 13%

In recent months there has been emerging interest in Big Liver and Spleen disease in chickens, and this report describes the findings of a serological survey of the disease, confirming the presence of antibodies in UK flocks.

As described in the virology report, rotavirus has been confirmed in several submissions of young pheasants and partridges during the quarter, and submissions have been ongoing through July. Mortality in young gamebirds resulting from this disease has been compounded by the effects of the adverse weather conditions in June and July, and considerable losses have been recorded on some rearing fields.

Poultry Statistics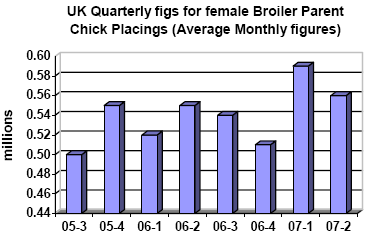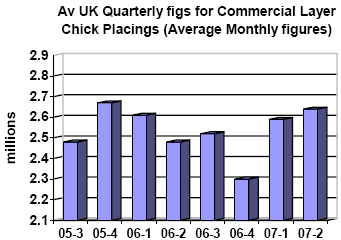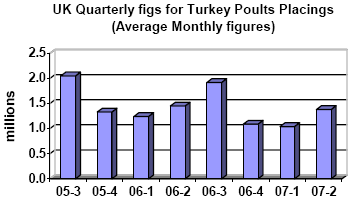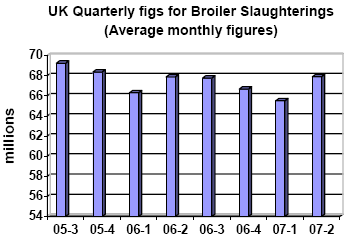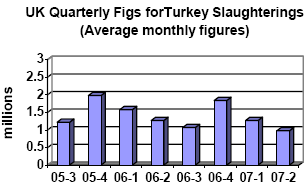 Total UK poultry meat production (Average montly figures)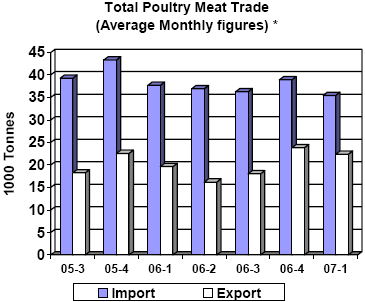 Further Information
To read the full 13 page report, please click here
August 2007