UK Poultry Disease Quarterly Surveillance Report (to March 2007)
By Veterinary Laboratories Agency - This report monitors trends in the major endemic poultry diseases and utilises the farmfile and VIDA (Veterinary Investigation Disease Analysis) databases. The report is compiled using disease data gathered by the network of 15 VLA regional laboratories which carry out disease investigation in the field.

Quarterly Surveillance Report Poultry: Vol. 11 No. 1
January - March 2007
Published May 2007

Contents

OVERVIEW (here)

POULTRY STATISTICS

NOTIFIABLE DISEASES:
- SUBMISSIONS TO THE EU REFERENCE
- LABORATORY
- HIGHLY PATHOGENIC AVIAN
INFLUENZA IN SUFFOLK
- FOWL CHOLERA

FOOD SAFETY AND ZOONOSES
- FOOD SAFETY
- SALMONELLA REPORT
- SALMONELLA ZO4 VISITS
- VACCINAL STRAINS OF
S.ENTERITIDIS

ENDEMIC/NEW AND EMERGING DISEASE SURVEILLANCE
- VIROLOGY REPORT
- BIG LIVER AND SPLEEN SYNDROME

OTHER AVIAN TOPICS
- BLACKHEAD UPDATE
- MAREK'S DISEASE

APPENDIX I: VLA LASSWADE HISTOPATHOLOGY SUBMISSIONS JULY - DECEMBER 2006

APPENDIX II: VLA LASSWADE POULTRY DIAGNOSTIC PMS JANUARY – MARCH 2007


Highlights
SUMMARY OF HIGHLY PATHOGENIC AVIAN INFLUENZA OUTBREAK


BIG LIVER AND SPLEEN SYNDROME: RECENT DEVELOPMENTS
Overview
The final epidemiological report on the outbreak of Highly Pathogenic H5N1 Avian Influenza in Suffolk in February was published by Defra on 19th April 2007. A summary of the outbreak is given on pages 4 to 7 of this Report. The Defra Report notes that despite extensive epidemiological investigations the hypothesis cannot be refuted that infection was introduced to the Suffolk site as a result of turkey meat products from Hungary.

Sales of frozen and fresh turkey meat were reported by Poultry World (March 2007) to have dropped by 30% in the week after the H5N1 outbreak. This is against a background of continuing gradual contraction of the UK turkey industry, which is evident in the statistics on page 2. By comparison, the statistics for the other sectors shown on page 2 show little long-term change.

This Report also gives a summary of the National Control Programme for Salmonella in breeding flocks, which has come into operation this quarter. The figures shown in the Salmonella report (page 7) confirm that the numbers of incidents of S.Enteritidis and S.Typhimurium remain low.

An overview of recent developments in Big Liver and Spleen (BLS) syndrome in chickens is given on page 9-10. There is no evidence to date that the causal agents, Avian Hepatitis E viruses, are transmissible to humans.


Poultry Statistics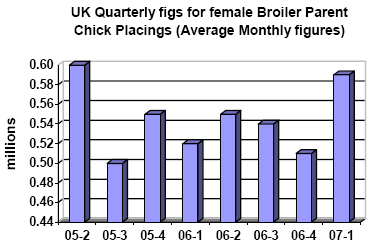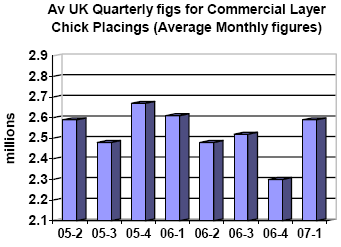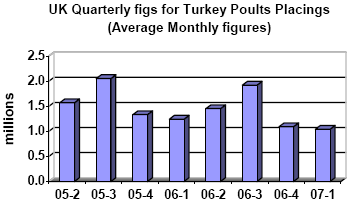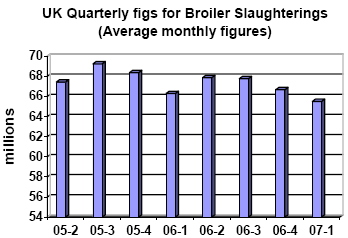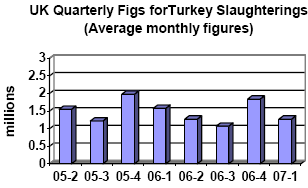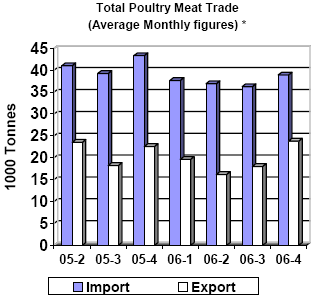 Further Information
To read the full 13 page report, please click here
June 2007