UK Poultry Disease Quarterly Surveillance Report (to September 2007)
By Veterinary Laboratories Agency. The report monitors trends in the major endemic poultry diseases in the UK to September 2007.

Quarterly Surveillance Report Avian: Vol.11 No.3
July-September 2007
Published November 2007

Contents

HIGHLIGHTS

NOTIFIABLE DISEASES

ZOONOSES & FOOD SAFETY

ENDEMIC/NEW AND EMERGING DISEASE SURVEILLANCE

OTHER AVIAN TOPICS


OVERVIEW
During the quarter the profitability of the UK poultry industry has continued to be hit by rising feed prices, particularly of wheat, resulting in year-on-year price increases into double figures. Nevertheless the size of the broiler and layer industries has remained relatively stable in recent years as shown in the statistics on page 2 of this report. There was a seasonal increase in turkey poult placings during the quarter but the numbers placed were down on last year.

Low Pathogenicity Avian Influenza was recorded both in wild and farmed ducks during the quarter. However, Highly Pathogenic Avian Influenza remains a global threat and has affected three European Union Member States since June.

The QX strain of Infectious Bronchitis virus has been reported in several European countries in recent years but so far not confirmed in the UK. However a closely (98%) related virus was isolated from a bantam chicken during the quarter, believed to be the first occasion that it has been detected in this country.

The heavy rainfall and cool weather conditions in July came at a critical time in the Gamebird rearing season and appear to have been linked with increased disease problems, including hexamitiasis (spironucleosis) and staphylococcal tenosynovitis.


STOP PRESS
As this report was being prepared, HPAI H5N1 has been confirmed in turkeys in Suffolk.


STATISTICS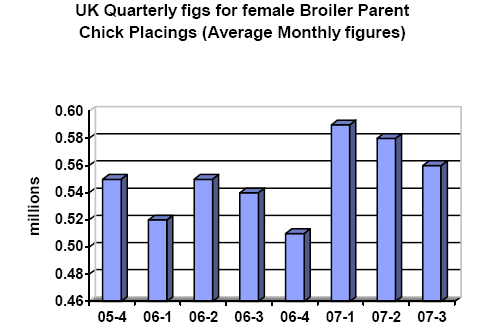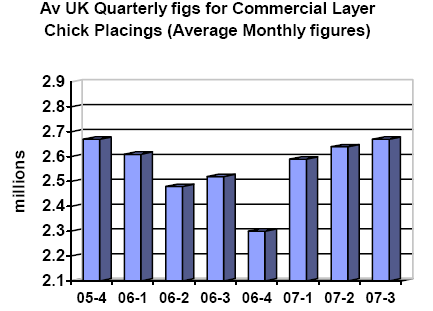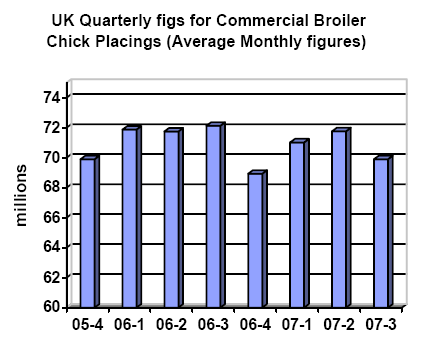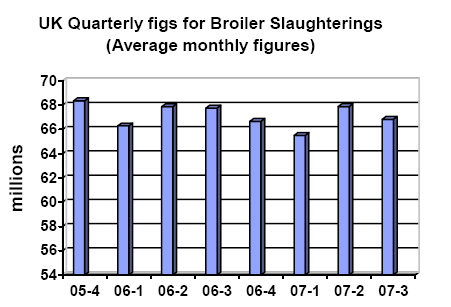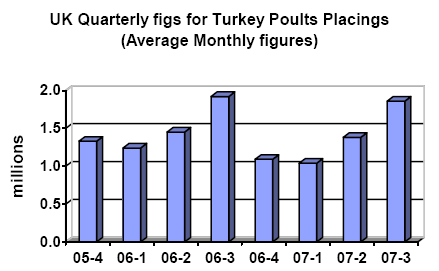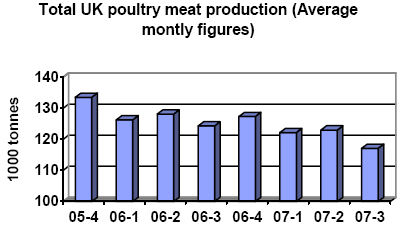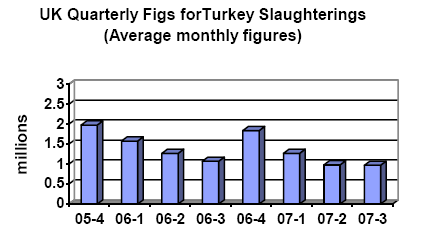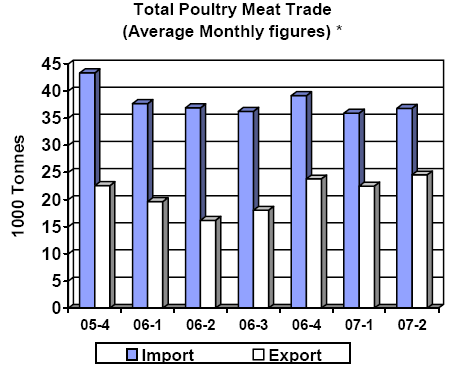 Summary of Current International HPAI H5N1 Asian Lineage Status in Birds and People
Asian lineage Highly Pathogenic Avian Influenza (HPAI) H5N1 remains an everpresent and evolving global animal and public health threat. Within South East Asia, notably Indonesia where AI is endemic in bird populations in most parts, there has been a marked resurgence over recent months in the frequency of reports of disease in both poultry and people. Similarly, confirmed reports of HPAI H5N1 continue in other parts of South East Asia, as far as Myanmar (Burma) and Bangladesh, the Middle East, West and North Africa (notably Egypt, also with linked human cases (WHO, 2007)) and southern parts of China and the Russian Federation.

There is an apparent temporal trend of westward spread of these cases over the period March to September 2007 (FAO, 2007) including confirmed reports in wild birds with the majority in domestic poultry (FAO, 2007). This is indicative of both spread and persistence of the virus in backyard and commercial poultry populations, some of which are vaccinated, as well as in wild birds. However, the true extent of infection is not known.

In people, according to World Health Organization (WHO) data (25 October 2007), there have been 204 deaths and 332 H5N1 cases globally since 2003 the majority of which have occurred in Thailand, Vietnam and Indonesia (WHO, 2007).

Within the European Union (EU) a total of 306 wild bird incursions of Asian lineage HPAI H5N1 have been reported since mid-June 2007 affecting three member states (MS): Germany (298), France (7), and the Czech Republic (1) (European Commission, 2007). This emergent disease situation followed the confirmation of disease in the Czech Republic affecting a 6,000-poult commercial meat-type turkey flock. In addition, domestic duck/goose flocks have also been affected in Germany.

Of the wild bird incidents, only Mute swan (Cygnus olor) mortalities were reported in the Czech Republic and France; the arrival of Pochard (Aytha ferina) from Eastern Europe was suspected as the source of the outbreak in France. The German cases were confirmed in Mute swans, Canada geese (Branta canadensis), Greylag geese (Anser anser), with the vast majority in Black-necked Grebe (Podiceps nigricollis) (Defra, 2007; European Commission, 2007).

HPAI H5N1 virus infection in wild birds from all three EU MS was identified as part of the EU supported active surveillance programme for AI in wild birds, conducted to provide an early warning of the presence of the virus in the EU (European Commission, 2007).

Molecular and epidemiological studies indicated that these incidents were due to a new independent introduction of H5N1 HPAI virus into the EU. The phylogenetic group of this virus comprises a lineage originating from the Middle East and some Russian Federation isolates. It is considered a possibility that it may have been introduced into wild bird populations in a number of discrete pockets and maintained at a very low level that remained unnoticed. Dead wild waterfowl including swans continue to be good "indicator species" for the presence of H5N1 HPAI infection in wild bird populations.

Such large birds are usually more visible than other species, which highlights the importance of AIV surveillance in 'found dead' birds.

During July 2007, Defra in consultation with ornithological experts conducted and published an updated qualitative risk assessment (Defra, 2007) based on these developments in the EU. The analysis concluded that a heightened risk of HPAI H5N1 incursion existed from the continent.

Furthermore, of the wild bird species known to have been infected with HPAI H5N1 at that time, only Pochard (Aythya ferina) were likely to arrive in GB during the Autumn. Clearly seasonal migratory movements of other bird species will also be occurring. In response to these events AI wild bird surveillance activities in patrolled reserves identified as higher risk (those in the East and South East of England) were re-activated in late July 2007 to increase our levels of surveillance, with resumption nationally at the start of September, a month earlier than in 2006.

Therefore, given these developments internationally and the apparent westward dissemination of the virus, the likelihood of the potential introduction of the virus to Great Britain has now increased if infected, migratory wild birds should arrive in Great Britain (Defra, 2007). Furthermore, findings from Germany indicate that domestic ducks and/or geese may act as a 'silent' reservoir of HPAI H5N1 infection in the absence of clinical signs typically associated with disease in other poultry species, a facet of the evolving epidemiology also commented upon by the FAO recently (FAO, 2007).

It should also be noted that aside from the possible risk migratory wild birds present, other pathways by which the virus may be introduced also remain, emphasising the importance of appropriate surveillance in wild bird and domestic poultry populations, enforcement of disease control strategies as required and maintaining high biosecurity standards in domestic poultry flocks.

The most significant international development aside from HPAI H5N1 is the detection of H7N3 HPAI in Canada (detail not yet available on the precise relationship to 2004 outbreak virus).
Further Reading
November 2007