U.S.-Mexico Broiler Trade: A Bird's-Eye View
By U.S.D.A., ERS - This study examines sanitary requirements and regulations currently governing U.S.-Mexico broiler trade.
U.S.-Mexico Broiler Trade: A Bird's-Eye View - By U.S.D.A., ERS - This study examines sanitary requirements and regulations currently governing U.S.-Mexico broiler trade.
Mexico, with its rising middle class, is a growing market for U.S. broilers, especially for dark meat (drumsticks, thighs, deboned leg meat, whole legs, and leg quarters). Broiler trade between the United States and Mexico has been restricted to shipments mainly emanating from the United States, with the United States shipping mostly dark meat to Mexico.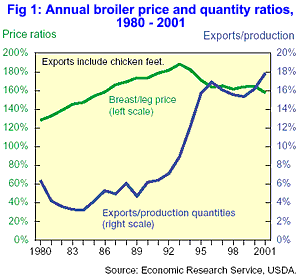 This study examines sanitary requirements and regulations currently governing U.S.-Mexico broiler trade. Sensitivity analysis, using a cost-minimization mathematical programming model, detects minimal economic impact on the U.S. broiler market if Mexico is allowed to ship fresh, chilled, and frozen poultry to the United States.
Domestic broiler consumption in the United States is predominantly of white meat. In contrast, dark meat (drums, thighs, deboned leg meat, whole legs, and leg quarters) is preferred by consumers in most foreign markets, including Mexico.
Foreign demand for dark meat has increased since the early 1990s, narrowing the price difference between white and dark meat (fig. 1). Breast meat, also called white meat, normally sells at a higher price than dark meat in the United States and Canada.
Over the last 5 years, breast-bone-in meat has sold for, on average, about 80 cents per pound more than leg quarters. Chicken breasts represent slightly more than one-third of the bird's dressed weight, but they are worth two-thirds more than leg quarters (figs. 1 and 2).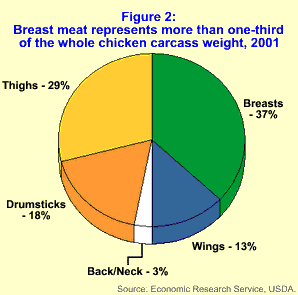 Consumer preference in the United States for white poultry meat has been bolstered by marketing efforts by the poultry industry to convince consumers that white meat is a premium cut with low fat content, in keeping with a healthier diet. In addition, white chicken meat is relatively inexpensive compared with U.S. beef and pork. Moreover, white meat allows versatility in cooking, making it attractive to a population with diverse culinary preferences.
Strong U.S. demand for white meat has enhanced opportunities both in the United States and abroad for value-added products from dark meat, such as ground chicken, chicken hot dogs, chicken sausages, chicken patties, and other fabricated dark meat products.
White and dark meat are produced in naturally fixed proportions in poultry production. This means that in producing and processing white meat, dark meat is generated, sometimes in more abundance than desired, given U.S. preferences.
This has resulted in a condition referred to by T. O'Keefe as the "White-Dark Conundrum." These fixed proportions can differ in a given market from consumer preferences, which influence trade patterns.
Mexico offers a unique market niche for addressing aspects of the white-dark conundrum. Due to its proximity and rising middle class, along with its consumer preference for dark meat, Mexico is an ideal trading partner for the U.S. broiler industry.
Mexico: World's Third Largest Market for Broiler Exports
Since 1997, eight countries have accounted on average for about 76 percent of total U.S. broiler exports,1 in volume and value. In terms of volume, Russia, Latvia, and Estonia combined represent the largest market for U.S. broiler exports (fig. 3), followed by China (including Hong Kong), Mexico, Japan, and Canada.
In 2001, total broiler exports to Mexico amounted to 381 million pounds, valued at $119 million, making it the third largest market for U.S. broiler exports by volume. This is an increase of 9 percent in quantity from the previous year and 88 percent more than in 1995, when the North American Free Trade Agreement (NAFTA) went into effect.
U.S. broiler exports to Mexico are concentrated mostly in lower-valued products such as leg quarters, ground chicken, and mechanically deboned meat (MDM). Fresh parts accounted for 44 percent of total broiler meat exported from the United States to Mexico in 2001 (fig. 4). Because fresh meat has a short shelf life, the United States exports fresh broiler meat mainly to nearby markets in the Western Hemisphere.
Mexico's real GDP in 2000 was almost $372 billion (1990 dollars) and is expected to rise to nearly $545 billion in 2010 (USDA, 2002). The rate of growth of per capita GDP accelerated from just under 2 percent over the last decade to over 3 percent in 2002.
Although Mexico's total population is predicted to reach almost 115 million by 2010, the rate of growth will be slower than in the previous decade (figs. 5 and 6), transforming the age structure of the Mexican population.
In general, as income increases above subsistence levels, consumers diversify their diets and purchase more meat and dairy products along with processed products (USDA, 2001). It is expected that a shift toward a greater proportion of meat protein will occur in Mexican diets as the country's economic development takes place. Mexico shows great potential for further growth in broiler consumption. Geographic location and a liberalization of trade restrictions due to NAFTA, along with strong consumer demand for dark poultry meat products in Mexico, make the Mexican market attractive for U.S. poultry producers.
To read the full report, please click here
(PDF format)
Source: U.S. Department of Agriculture,
Economic Research Service
- December 2002.