Welfare Traits Incorporated in Hubbard Breeding Programmes
A Special Focus in the Autumn-Winter 2010 edition of Hubbard Newsletter offers an overview of the company's selection to improve welfare-related traits of broilers.
It is clear that in the past years, we have seen an increased focus on animal welfare. Several traits can be classified under the term 'animal welfare traits'. These include 'liveability' and 'locomotive system integrity' (condition of legs and toes, foot pad lesions, hock burns, etc.).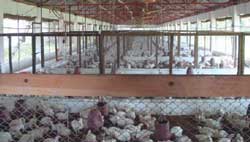 Animal welfare considerations, their consequences for economic performance and health, recently introduced regulations (e.g. welfare regulations and limits on the use of antibiotics as growth promoters) and demands of major retailers are placing these traits among those selection criteria to be given high priority. For many years, welfare traits have been incorporated in Hubbard breeding programmes.
Liveability
Two strategies are implemented to address broiler liveability: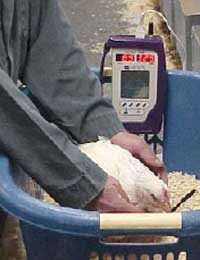 Oximeter
Mortality information is recorded in different environments: on R&D pedigree farms as well as in commercial test farms located in 'Western environments' (Europe, USA) and in 'challenging tropical conditions' (Bangladesh and Thailand). This information is then processed to assess genetic variability for resistance to ascites, sudden death syndrome, heat stress, culling and early mortality.
Blood oxygen saturation, as measured by a 'pulse oximeter', allows the assessment of the ability of the cardio-pulmonary system to supply oxygen to organs and tissues, including muscle tissue.
These breeding methodologies are responsible for the overall improvement in liveability seen under field conditions over the past years. They will continue to be of high importance in a global market requiring high standards of food safety, bird health and animal welfare.
Locomotive system integrity
In addition to liveability, factors influencing locomotion/gait constitute another set of traits affecting bird welfare.

In Hubbard, trained technicians record the condition of legs (varus, valgus, rotated tibia, TD, etc.) and toes (crooked toes) of all pedigree birds at age of selection. In pure lines, elite breeders are selected within the population showing zero defects and with the best family breeding values. In many countries, regulations and discussions concerning the consequences of footpad lesions and hock burns for bird welfare are raising awareness of these two traits within influential supermarket chains and the broiler industry in general. Footpad lesions can also lead to more general health and economic issues, as severe footpad lesions can serve as a gateway to infections.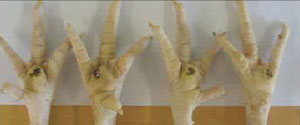 Foot pad lesions
For several years, the Hubbard breeding programmes have already been taking these criteria into account. Drier litter in the broiler houses and a more active behaviour of the broilers finally result in a much lower incidence of hock burn and footpad lesions. The table below shows an example of the incidence (%) of footpad lesions at five weeks of age for Hubbard Flex broilers compared to other commercially available breeds (France, Internal trial, January 2010).

Because of the wide range of consequences (welfare, health, food safety, live performance, product quality), awareness of the issue and the changing demands of producers, major retailers and consumers, in addition to the requirements of current and possible future regulations (both national and international), all these welfare traits will continue to be given high priority in the Hubbard breeding programmes.

Through its long-term focus on quality and welfare, Hubbard is the leader in breeding the best products complying with animal welfare concerns.

October 2010