Dr. Kate Hayes is a Poultry Veterinarian who was recently appointed Vice President of Veterinary Services for Aviagen North America. A Doctorate of Veterinary Medicine (DVM) and Master's in Avian Health and Medicine number among her long list of achievements, and at Aviagen she leads a team that works hard to ensure the safety and security of the world's poultry supply. In this article she talks about her passion for her work, the steps that have led to where she is today, and how she has successfully turned many challenges into opportunities.
Please introduce yourself and describe your current role and responsibilities
My role as Vice President of Veterinary Services offers me the privilege to work with an amazing team of veterinarians, laboratory, biosecurity and animal welfare specialists, overseeing flocks in the US and collaborating with global teams to help customers maximize the health and welfare of their birds.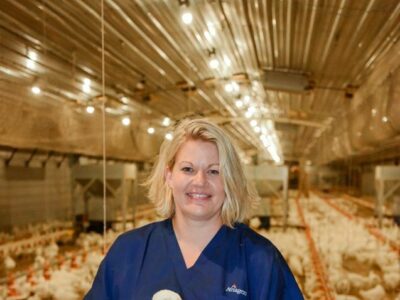 What is your background and how did you come to work in the poultry industry?
I am the gal who always dreamed of becoming a veterinarian. From dressing up as a vet and doctoring our Irish setter Misty at age 4, to doctoring dairy cows while attending college as an undergraduate student working on the university farm, my path was always clear. But what makes life an amazing adventure is that point A to point B is never a straight path, and the curves along the way led me to poultry. I took a job as a small animal veterinarian out of vet school. A few years in, while contemplating my future, my husband persuaded me to apply for a position with a local poultry company, and, fortunately for me, I got the job! I am forever grateful to those who took a chance on this gal, because I immediately fell in love with everything about this industry. The rest is history, as they say.
What was the focus of your PhD and how has it shaped your career?

I earned a DVM from the University of Tennessee's College of Veterinary Medicine in 2006, and later went on to pursue a Master's in Avian Health and Medicine from the University of Melbourne (Australia) in 2012. Vet school was an intense experience without question. But in addition to the vast amount of knowledge we were exposed to, the long hours of studying and clinical rotations, a great take-home was how to work with people from different backgrounds and interests, including interactions with my classmates, our clinicians and clientele and their animals. The human-animal bond is real and unquestionably amazing. I earned my Master's Degree through an online program, which was a different experience that allowed me to sharpen my poultry management and diagnostics skills. Although I was not able to interact with others in person, I walked away from the program having built an amazing relationship with one of my classmates that will be a forever colleague, confidant and friend.
What individuals or organisations in poultry have you found particularly inspirational?
I consider myself fortunate to have been surrounded by great role models who have inspired me along every step of my journey. When I was young, my parents believed in me and encouraged me to pursue my dreams, and to never give up, even when things were difficult. Later on throughout my studies, I will be forever grateful to the teachers and role models whose influence reached far beyond the classroom to help form the person and professional I am today. And since I've become part of the family that is the poultry industry, I've never been at a loss for a source of inspiration. Here, I'm surrounded by passionate, driven, collaborative, and amazing people whom I learn from and with each day. Even in my current role, there is always someone whose stories and experiences inspire me and put a smile on my face every day.

When did you come to Aviagen and what inspired you to work there?
As I mentioned, I was born with a love for animals and always dreamed of becoming a veterinarian. However, 20 years ago I never imagined that my path would lead to poultry. Before coming on board with Aviagen in 2007, I was an associate veterinarian at a local veterinary hospital. I had recently completed my Doctorate of Veterinary Medicine from the University Of Tennessee College of Veterinary Medicine. Although I loved working with my staff and clients and loved all the animals, something was missing. I kept questioning what I wanted long term and knew I had not yet found it. Nothing like having an open mind, because it led me to make a considerable change in my professional career, to take a chance on a major unknown for me, and for that, I am thankful. What inspired me to keep working in the poultry industry…the passion. It is everywhere. From our farmers, production teams, hatchery experts, veterinarians, scientists…everyone. That passion is unbelievable and contagious.
What's unique about your role?
My role is unique in the diversity and complexity of managing a staff of veterinarians and microbiologists, along with all of our US diagnostics laboratories, all working to strengthen the health and welfare of all Aviagen breeding stock generations. My team and I also provide dedicated support to Aviagen's health monitoring, biosecurity, vaccination, animal welfare, export certification, and education and training programs. Each day brings a new adventure, and I feel grateful for the opportunity to brainstorm and share ideas with the industry's brightest minds.
Describe a typical day for you.
My job offers such variety and excitement that I can truly say no day is typical, and that's why I love my job, my company, and my profession. On any given day, my team and I may be in the field with our poultry producers and production experts, inside hatcheries overseeing the process that enables healthy chicks delivered around the world to our customers, teaching students of all ages, or working alongside Aviagen personnel, our customers, our allied industry or regulatory teams. I am passionate about upholding our company's robust health, biosecurity and welfare standards as they serve to strengthen the safety, biosecurity and wellbeing of our birds.
What are the main challenges you face?
Early on in my career, I learned to see "challenges" as opportunities for improvement, problem-solving, and growth. Every day I work toward this growth and am proud to work for a company that has continuous improvement as a core value. One challenge that our industry continually faces is avian disease, and, more recently, we have all been confronted hurdles caused by the Covid-19 pandemic. As a company and as a team, we follow the industry's most rigorous standards for biosecurity and hygiene to protect our people and the birds in our care. Our people are all thoroughly trained in how to effectively implement these standards, and a team of compliance experts routinely conduct biosecurity audits of all of our facilities. And, each day we look for ways to further strengthen our excellent biosecurity and training programs to extend our reach and ensure we protect the health of the birds to ultimately ensure our role in feeding the world.
What outstanding challenge facing the poultry industry would you most like to solve?
Strengthening communication and collaboration is vital to our industry. Not just amongst ourselves but with consumers. We need to continue to engage in the conversations that surround the poultry industry and animal agriculture in general. I am hopeful that together, we can make substantial improvements on this front.
How have you overcome any challenges as a woman in your field?
Many roles in my life have involved being the minority, like working on a dairy farm in college, or being the only women in the room on several company discussions. Rather than feeling isolated as the only woman, I see my position as one of inspiration. I have the influence to be an example and encouragement to other women of the rewarding career opportunities and leadership roles available in the poultry industry. And through the years I've seen a change, as more and more women discover how exciting it is to make a career of making a difference. What could be more rewarding than helping to feed current and future generations with a nutritious and sustainable source of protein?
What advice would you give to women looking to start a career in your field?
Go for it! Being a poultry veterinarian is incredibly rewarding. "Feeding the world" …the chills I get when I think about how we play an amazing role in ensuring the world's people have food on their tables. It does not get much more satisfying than that!
What does the future of poultry genetics look like?
The story of poultry genetics is one of ongoing advancement, and I believe the bird of the future will continue to improve in health, welfare, efficiency, liveability and productivity. At the same time, changing market needs will drive the development of new breeds. At Aviagen, we maintain a large and diverse genetic pool, and we keep our finger on the pulse of the market to stay ahead of changing consumer preferences. That way we can supply our customers with the right bird for the right market at the right time.
What are you most excited about in the next 5-10 years regarding the poultry industry?
Our industry sets the bar high and continues to push it higher all the time. We've come so far in the past decade regarding animal health, welfare and sustainability, and I can't wait to see what innovations will be in place in the next 10 years. I am also eager to see all the changes to ensure we continue to drive sustainability across our industry. We are in for an exciting future.
What keeps you entertained when you're not on the job?

My fellas and our barrage of critters. I am a mother of two amazing boys and time with my family completes me. They have my heart, and together we enjoy many pastimes such as our beekeeping hobby. They really enjoy harvesting the honey to give to friends and family. I also love going horseback riding as a family on our farm on the weekend. I also love embracing nature by gardening, planting flowers or just adventuring outside. My family is my priority, and I am passionate about maintaining a work-life balance.
What's next for you?
I am focused on supporting and continuing to develop my amazing team. But I am also committed to collaboration. Collaboration can look like so many different things -- brainstorming with our internal teams, exchanging ideas with our colleagues around the globe, and working hand-in-hand with customers, with our allied industry, and with our regulatory teams. While I'm not sure where my journey will lead, I look forward to the future and all the opportunities it will bring.
September 2023 - November 2022
---