POULTRY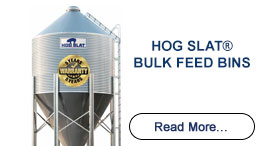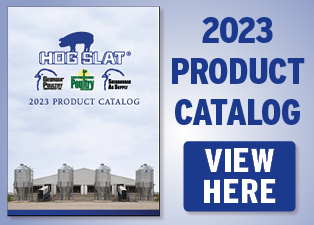 EVAP SYSTEMS

The Hog Slat Evaporative System cools incoming air to reduce heat stress in broiler houses. Adapts to a wide range of building layouts and ventilation systems.
WINDSTORM FANS

The ideal fan for remodeling or adding extra CFMs to increase wind speed in your houses.

GROWER SELECT

Grower Select® is an exclusive brand of Hog Slat Inc and Georgia Poultry designed to bring EXCEPTIONAL VALUE to our customers.
PAN FEEDER

The GrowerSELECT® Classic Flood poultry feed pan is an improved version of an industry staple. Classic Flood feeders are constructed of UV stabilized polypropylene without the use of CADMIUM or LEAD.
TURKEY FEEDER

GrowerSELECT® adult turkey feeders are designed with useful features and built to last in turkey grow-out barns with large birds.

GRO SERIES BROODER

GRO Series Brooder heaters are designed to provide infrared heat in swine and poultry houses the same way the sun heats our earth.
VIDEOS
GrowerSELECT Classic Flood Pan Feeder