Sadia chooses Vencomatic for parent stock housing
THE NETHERLANDS - Recently, Vencomatic signed a large contract with Brazillian food integrator, Sadia. Over the next three years, all Sadia poultry houses will be equipped with Vencomatic automatic nesting systems.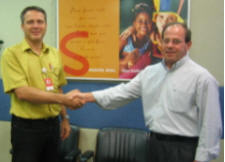 Mr. Alvaro Laydner of Sadia and Mr. Luiz Sergio del Nero of Vencomatic do Brasil
Starting with this years installation, a total of over 3 million broiler breeders will eventually be housed on Vencomatic equipment.

In the past, Sadia hatching eggs were collected manually. The company started looking at automatic nest systems in 1996. Vencomatic nest and slat systems, installed in 1998, provided Sadia with very positive results and proved to them, the value of automatic egg collection. After more extensive testing and comparisons, with other worldwide brand name automated systems, Sadia has again chosen the Vencomatic nest and slats to be installed in all their poultry houses.


Mr. Luiz Sergio del Nero, manager of Vencomatic do Brasil, says: "This contract is the result of a good cooperation between Vencomatic, Casp and Sadia in the last years. Vencomatic do Brasil has given Sadia strong product support and helped them to find ways to make this project possible. This created a good relationship in which this contract could be closed."
Founded in 1983, Vencomatic soon established itself as an innovator in the poultry sector. From its own line of products the Vencomatic group can offer a complete product package for poultry housing and egg collection.

From the start, Vencomatic concentrated, one step at a time, on a world-wide presence. To be able to serve the customers effectively, the company looked for local partners. Set up and maintenance of the distribution network has always been one of our highest priorities. As a result of years of co-operation, Vencomatic has established a presence in more than 45 countries with more than 70 experienced distributors. In addition to setting up the distribution network, Vencomatic has also founded several new companies. To better serve the merging markets of South America, Vencomatic do Brasil, a sales, production and logistics center, was established in Brasil in 1998.
ThePoultrySite News Desk