8th CPC Poultry School In Egypt Highly Appreciated
EGYPT - The 8th Poultry School organised by the Cairo Poultry Company, parent company of CPGP and CMPG, distributors of Hubbard breeding stock in Egypt, took place on 2-8 September 2006 in Egypt at Hurghada on the Red Sea.

Hubbard is a world leader in the development and marketing of improved broiler breeding stock. Hubbard specializes in state-of-the-art methods (both traditional and new technologies) of improving the breeding of their pure lines for broilers, in order to respond to current and future needs of the industry.
This year the school was also attended by 3 participants from HADCO Company, Saudi Arabia complimenting the invitees from Egypt. Dr. Alaa Abdou, Technical Consultant to CPC, introduced the CPC School and its lecturers followed by Dr. Nabil Darwish, Executive Managing Director, who gave his warm welcome address to the attendees.

The school covered all aspects of modern poultry husbandry such as Breeding and Genetics, Physiology, Nutrition, and the Veterinary aspects of Management. Mr. Alastair Lewin, senior technician of Hubbard, gave presentations on "Biosecurity" and "How to manage the Hubbard Flex breeder". Dr. Alaa Abdou completed the presentation with an excellent demonstration of the tough biosecurity practiced by the Cairo Poultry Company.

Again this event was very much appreciated by all attendees as it offers them an excellent transfer of technical knowledge.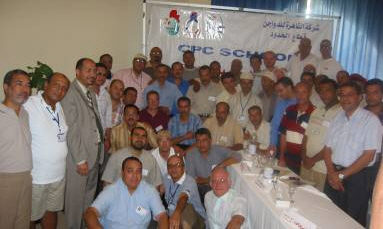 ThePoultrySite News Desk