Cold Snap Troubles Area Farmers, Ranchers
FAYETTEVILLE - Diesel engines don't work so well in cold weather.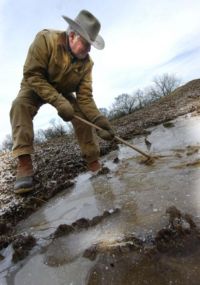 Paul Marinoni breaks ice on a pond so his cattle can get a drink Tuesday, Jan. 16, 2007 at his Fayetteville ranch.
Cattle rancher Paul Marinoni let fly a few curses Tuesday morning when his 6-month-old New Holland tractor failed to start in 14-degree weather. Luckily, the 25 cows pastured at the family's farm near Wedington Drive and Interstate 540 in Fayetteville still had hay to munch.

"During the winter, we usually have to feed them every day," he said. "Hopefully, the tractor will work tomorrow."

The chill winter air brought problems for those in Northwest Arkansas who work with livestock this week, especially in Benton County, where chicken farmers and cattle ranchers struggled with power outages and icy roads.

Doug King raises about 60,000 broiler chickens and some cattle at a farm near Centerton in Benton County. The power to the farm went out Saturday evening. Propane- and coal-fueled generators kicked in as soon as the power went out, he said, keeping his chicken houses at a toasty 88 degrees.

Chickens are more vulnerable to weather than cattle. Cows can survive harsh cold as long as they have ample food and water, King said. Some trees on his property, laden with ice, crashed into a fence, but the losses on the farm were not too severe, he said.


Source: The Morning News