State-of-the-art hatchery places Hubbard SA for superior GP delivery
SOUTH AFRICA - With the hatchery structure starting to take shape and the building project running according to schedule, the future holds great promise for the team at Hubbard SA.
The new 1,178sqm hatchery, which is under construction at Curry's Post in the KwaZulu Natal Midlands, has been developed cooperatively by the Hubbard EU and Pas Reform design teams. The hatchery design incorporates some revolutionary features that will enhance the whole hatchery process, from the setting of eggs to the shipment of day old chicks.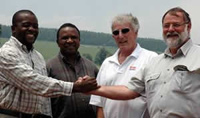 Tizai Faranisi, CEO, Crest Poultry Group (Hubbard Zimbabwe), congratulates Jim Gray, MD, Genetex (Hubbard South Africa) while Steve Kuipa, Group CEO, CFI Holdings Zimbabwe and Mike Walne, Chairman, Genetex look on.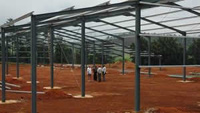 The hatchery at Curry's Post in the KZN Midlands starts taking shape as progress is closely monitored by the SA and Zimbabwe Hubbard teams.
Solving the split placements issue
'During the initial drafting phase, we spent a lot of time identifying our specific needs with both the local and international design teams," explains Jim Gray, MD Hubbard SA. "One of the key challenges for us was to solve the issue of split placements'.

'We know that historically, local producers really battle when forced to take split placements - as this creates stress not only for the birds but also for the producer who is forced to manage different ages within a house. We wanted to design a hatchery that could somehow accommodate the variations in a producer's house/flock sizes - without disrupting other customers' placement schedules. Quite a tall order'.
Managing fluctuating order sizes
Traditionally, hatcheries install equal setting capacity for each week of the three week cycle. This has not worked well in the past, as there's no flexibility in these old hatchery systems for fulfilling larger placements without disrupting either the previous or following weeks' capacities.

'We've always understood the challenges of differing customer requirements, but until now, there has never been an alternative. By working closely with the Hubbard and Pas Reform design teams, we've found a solution that we believe will be welcomed by the industry", Gray continues. "We're installing a fourth "week" of single stage machines, to provide us with greater capacity to handle extraordinary placements, without affecting our usual production schedule'.

This provides the producer with:
Flexibility in order size
Elimination of split placements
Peace of mind.
Partnerships that add real value
'We chose Pas Reform as our equipment partners, not only because they have worked extensively with Hubbard worldwide, but also because they have a thorough understanding of the hatchery environment, practical industry experience - and an in-depth understanding of the processes and integration economies. These, we felt, were critical, non-negotiable elements when building a hatchery that must be able to deal with both current and future hatching challenges'.

'Pas Reform's single stage SmartSet™ machines are', says Gray, 'perfect for Hubbard SA's requirements'. 'Homogenous temperature distribution and advanced pre-heat functions mean that eggs can be brought on temperature for an even start, so narrowing the hatch window. And by installing different sizes, Hubbard SA is able to mix and match settings to meet customer demands. Pas Reform's experience and highly competitive pricing has enabled us to build within budget and achieve a first rate result', concludes Gray.
Designed for expansion
The new hatchery has been designed with the capacity to double in size at phase two, even before phase one is completed. This phase two expansion can be completed without interrupting phase one production in any way - and without compromising hatchery biosecurity.

Strict adherence to hygiene procedures has been planned into the design and layout of the hatchery, with four sections of egg handling, setters, hatchers and chick processing located in individual, self contained units – each with its own individually controlled air conditioning system.
Focus at the GP level
With controversy around the practice of hatcheries competing with their own customers, Hubbard SA's strategy is to remain focused solely on delivery at GP level.

'There are plenty of producers already operating at parent stock and broiler levels', says Gray, 'but we believe the gap exists in delivering superior parent stock to the poultry industry - and we are not looking at any other aspect'.

'We've learned that to establish a loyal and supportive client base, you need to build credibility and trust – and that's what we're after'.

If you would like to discuss the Hubbard Hatchery operation or Hubbard's plans in South Africa, please contact Jim Gray on [email protected] or 033 330 6381.