Easy Nest optimises hatching egg collection
THE NETHERLANDS - Vencomatic have launched a new product which it hopes will revolutionise the collection of hatching eggs.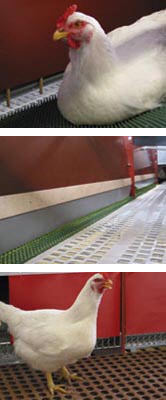 Vencomatic aims to optimise the result of breeders stock through automated egg collection
The €asy Nest is designed to automate the collection of these eggs with utmost care, by utilising a moveable back wall and perforated egg belt. Vencomatic claim that this "helps to deliver clean and hygienic eggs, for an optimised result of breeders stock."
The €asy Nest offers the birds a comfortable and attractive place to lay an egg. The eggs then roll away onto an egg belt, located in the center of the nest, which transports the eggs to a central collection unit. Additionally the nest closes automatically by means of a maintenance free gear rack system, and has been protected against overloading.

Vencomatic are the innovators behind the Classic Sidebelt Nest and Centrebelt nest, specialising in slats and egg transport systems, designed to handle the eggs with care and precision.

This new edition to the Vencomatic product range promises easy installation and a good price/performance comparison, but aims primarily, to reduce the hours of manual labour.