Fancom gives MTT presentation in China
CHINA - Patrick van Dijk, Product Manager Poultry and Mr Lim, Fancom's distributor in China, gave a presentation during a 2-day symposium on the invitation of Beijing Dafaun Poultry Breeder.
Dafaun is an extremely large mother animal company with grand parent animals, which can produce a staggering 3.8 million mother animals annually. 60 leading managers of companies producing mother animals, but also from broiler companies, were invited to attend this presentation. Representatives from Aviagen (Ross) accounted for the major part of the symposium content, but consultancies from the UK were also present.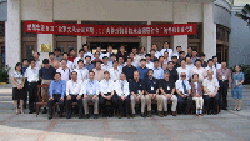 On the 2nd day it was the turn of Fancom to attract attention for the MTT in China. The Fancom MTT ventilation system guarantees perfectly controllable ventilation under all weather conditions and provides impressive production results all over the world. Patrick also spoke about automatic animal weighing, FarmManager farm management using the PC and the Weblinkbox, a system that gives users 24/7 access to the control computers in their houses from any location. It was a successful presentation to a highly interested audience, although it has to be noted that computerisation is still in a very early phase in China. However, this means there are plenty of opportunities ahead for Fancom to gain a successful share of the market in China.