Meriden launch Orego-Stim® Aqua VIV Asia 2007
Meriden launch Orego-Stim® Aqua VIV Asia 2007
Orego-Stim® Aqua was launched at VIV Asia 2007. Orego-Stim® is a result of many years of research and was launched in 2000, since when it has been used, around the world, not only in mainstream agricultural species such as pigs and chickens, but also ostrich, geese, ducks, quail, pheasants, pigeons caged birds and now aquatic animals.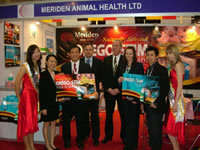 Orego-Stim® is our benchmark Phytobiotic feed additive available in powder or liquid form. Orego-Stim® is unique and is derived from Origanum aetheroleum from our exclusive natural oregano plantations. This unique oil of oregano contains two very powerful natural phenols which have medicinal properties that benefit livestock.
Trials have proven that Orego-Stim Aqua® can provide many benefits that lead to supreme productivity and animal health, which in turn spells better profit and a higher return on investment for the aquaculture producer. For further information on Orego-Stim® Aqua please contact the head office for further details.