IFC Supports Women Farmers and Poultry Entrepreneurs in Bangladesh
DHAKA - IFC Advisory Services for South Asia—the SouthAsia Enterprise Development Facility—and the Women Entrepreneurs Association of Bangladesh today signed an agreement to provide support for women farmers and entrepreneurs in the poultry sector.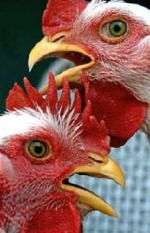 The project includes a series of training workshops that are designed to enhance technical and business management skills. There are also guidance sessions to help women entrepreneurs improve their businesses. The initiative will increase productivity and generate income for women in the sector.

The poultry sector in Bangladesh is growing rapidly. The current market size is $1 billion with about 150,000 small and medium enterprises. The sector employs some 5 million people, yet there still is a strong, unmet demand for poultry products. To help women benefit from opportunities in the sector, IFC will organize workshops at key locations across the country. The project will also provide training and develop a training curriculum that will help people become independent trainers.

"There is a lot of interest from women to invest in the poultry sector, but they lack the necessary skills. I hope that by delivering both technical and business management training, this project will address this issue and encourage women to set up poultry-related enterprises," said Nasreen A. Mintoo, President of the Women Entrepreneurs Association.

"Our aim is to help women entrepreneurs develop the necessary skills to scale up and remain competitive in a commercially viable, sustainable way," said Deepak Adhikary, Deputy General Manager and Head of IFC-SEDF Bangladesh. IFC's role is to help address the needs and market gaps in the private sector to promote economic growth. This initiative is part of a larger strategy to develop Bangladesh's agribusiness sector.