Egg, Chicken Prices Go Up Due To Bird Flu
MUMBAI - Egg and chicken meat prices are rising in India on production shortfall due to last year's bird flu outbreak, when farmers had not placed layer chicks, industry officials said.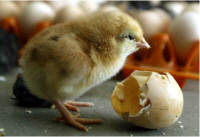 India reported a bird flu outbreak in February 2006, when thousands of birds were found dead in Navapur in Maharashtra.

Immediately after the outbreak, demand for chicken meat fell drastically and prices fell to 10 rupees per kg, forcing some poultry farmers to commit suicide while a few others had to exit the business, industry officials said.

"In bird flu period and after that for next two-three months the rate of birds placed for laying decreased. Ultimately, egg output went down and now we are feeling that effect," Vasant Kumar, member of the National Egg Coordination Committee (NECC) and managing director of Balkrishna Hatcheries, told Reuters.

The placed layer birds took more than five months to hatch eggs.

"Many farmers could not cope with last year's bird flu losses and decided to leave the industry. That's why overall egg production fell," said a senior industry official who declined to be named.