FDA: No Threat From Tainted Chicken Feed
US - Almost 3 million chickens may have eaten feed containing small amounts of pet food contaminated with melamine, but the health risk to consumers is minimal, federal officials said Tuesday.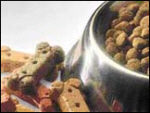 Almost 3 million chickens may have been contaminated
The chickens, most of which were likely slaughtered in March and have been consumed, were raised at poultry farms in Indiana. They are a tiny fraction of the 9 billion broiler chickens slaughtered every year in the U.S., the Agriculture Department said.

There may be more, according to the Food and Drug Administration, as the government's investigation continues into where salvaged pet food contaminated with melamine went after it left pet-food makers. They have recalled products from about 150 brands since mid-March. advertisement

But David Acheson, FDA assistant commissioner for food protection, said there is little threat to human health because the proportion of melamine in the original pet food was less than 6 percent, and the repurposed pet food made up less than 5 percent of the chicken feed.

The FDA has received unconfirmed reports of approximately 1,950 cats and 2,200 dogs dying after eating contaminated pet food. Pets typically eat only one food, day after day, which increases their exposure to toxins in foods, he said.

The probe's widening to chicken farms is the latest development in the story of the ingredients that contaminated pet food: melamine-tainted wheat gluten and rice protein concentrate from China.
Source: Azcentral


For previous news on this storyline, click here.