Hubbard Enters New Zealand With Flex GP
NEW ZEALAND - Hubbard is very pleased to announce that it has reached agreement with Country Pride Group ltd. to handle the sales and distribution of Hubbard Flex parent stock in New Zealand.
This agreement means a major breakthrough for Hubbard as this is the first time that Hubbard products will be available in New Zealand.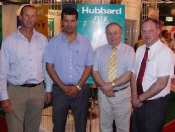 Mr. Eric van Tiel, Director Country Pride and Mr. Said Abuawad, Executive Director Country Pride Group ltd together with Mr. Jim Hunnable, Business Development Hubbard, and Mr. David Fyfe, Hubbard's Asia Business Director..
Country Pride has already invested in state-of-the-art quarantine and production facilities to assure the highest quality of the Hubbard breeding stock that will become available to the market by early 2008.