International Egg and Poultry Review
By the USDA's Agricultural Marketing Service - This is a weekly report looking at international developments concerning the poultry industry.
Chile
On February 26, 2007 the Food Safety and Inspection Service (FSIS) published in the Federal Register a proposal to add Chile to the list of countries eligible to export poultry and poultry products to the United States (U.S.). Under the proposal, poultry and poultry products processed in certified Chilean establishments may be exported to the U.S. All such products would be subject to re-inspection at U.S. ports of entry by FSIS inspectors. Although a foreign country may be listed as eligible to export poultry to the United States, the exporting country's products must also comply with all applicable U.S. requirements. The requirements include any restrictions imposed under U.S. animal health laws. Comments were to be received on or before April 27, 2007.

In the May 10, 2007 Federal Register the FSIS submitted a "Proposed Rule Comment Period Extension and Notice of New Information" in relation to the eligibility of Chile to export poultry and poultry products to the U.S. The comment period was extended to May 25, 2007. Even though the FSIS had reviewed Chile's poultry inspection system and found the requirements equivalent to the relevant provisions of the PPIA and the regulations that implement that statute, an on-site review by FSIS of Chile's poultry inspection system in August, 2005 found that Chile was not conducting species verification testing as required. Chile has committed to remedying the deficiency and has documented the steps taken to implement species verification.

The rule was designated as non-significant because it is expected that approximately 5 establishments in Chile will be exporting poultry and poultry products to the U.S. Currently, an approximate 8 companies operate at the industrial level across the country. However, it is unknown at this time the exact number of poultry establishments Chile will certify to export poultry and poultry products to the U.S. If Chile is approved to export poultry and poultry products to the U.S. they are anticipated to export 5,000 metric tons (MT) of chicken de-boned breast products to the U.S. in 2007 and reaching an estimated 12,000 MT in 2010. Chile's exports to the U.S. represent about .003% of the U.S. domestic production of raw young chicken de-boned breast products in 2005.

Entrance into the U.S. market is being greatly anticipated by some poultry companies in Chile. Some in Chile are anticipating the U.S. to be open for imports in June of 2007 with some companies anticipating sending up to 50% of their export shipments to the U.S. Another thing that will help Chilean poultry exporters is that tariffs on poultry for both the U.S. and Chile will be completely liberalized over 10 years starting from January 1, 2004 when the U.S. began implementing the U.S.-Chile Free trade Agreement. If the rule is finalized, Chile would also be allowed to compete for state procurement contracts.

Chile has been growing their exports into other countries where the U.S. also competes. Mexico, where the U.S. is the main supplier of chicken meat, has seen Chile's presence increase to where they currently supply about 28% of their frozen cuts and increased their exports of whole turkeys to Mexico from supplying 35% of the market in 2004 to 50% in 2005. Over the last 5 years poultry exports have also increased to countries such as China and Japan to name a few.

Some problems still exist in the ability of the U.S. to export poultry to Chile. Chile still requires salmonella testing on all imports and has the authority to reject and destroy cargos. Some in the U.S. poultry industry make a claim as long as Chile has zero salmonella requirement the agreement is not bilateral. Effective August 11, 2006, the only poultry products eligible for export to Chile are fully cooked and canned products while fresh/frozen raw poultry is not eligible according to FSIS's Export requirements for Chile.

Sources: USDA/FAS and various news sources.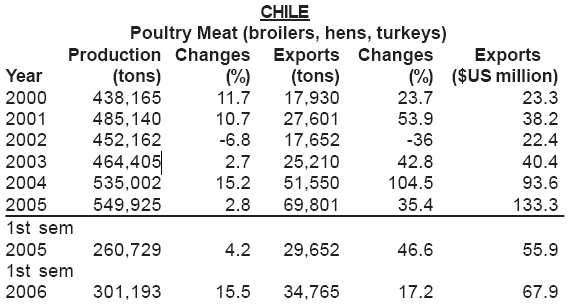 Source: ODEPA - Office of Agricultural Studies and Policies.
To view the full report, including tables, please click here
(PDF Format)