Afgri May Seek Poultry Merger
SOUTH AFRICA - Afgri is considering the combination with rivals, including Country Bird Holdings and Sovereign Foods, to help lure investors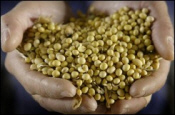 Afgri, which trades about a quarter of South Africa's grain, said it's in talks to merge its animal feed and chicken unit with a rival before spinning it off to shareholders later this year.

Afgri is considering the combination with rivals, including Country Bird Holdings and Sovereign Foods, to help lure investors, CEO Jeff Wright said on Tuesday. It will make a decision on whether to spin the unit off within a month, he added.

Wright wants to attract investors who may sell their shares in Rainbow Chicken, South Africa's largest poultry producer, which is being acquired by Remgro. South Africa's economy is growing close to the fastest pace in two decades, enabling people to switch from staple corn porridge to more expensive chicken.
Source: MoneyWeb