Incubation Farms Need More Gov't Support
VietNam - Duck egg incubation farms in the Mekong Delta need further support from all levels of government as only 10% of them are legally qualified to operate, the Ministry of Agriculture and Rural Development says in a report.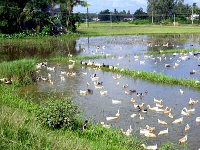 In Bac Lieu province, the local veterinary department says only three of the 34 incubation farms meet the hygiene standards. Six are located in residential areas, 22 have been fined for not meeting hygiene standards, and a dozen farmers have agreed to move their operations to less crowded areas yet are still incubating duck eggs on their existing farms.

In Vinh Long, 15 of the 82 incubating farms have already closed down, and another 15 have been told to move to more suitable places. Vinh Long is a major exporter of salted duck eggs, which is why most of its incubating farms abide by the hygiene regulations.

In An Giang, there are 120 incubating farms but only 16 are qualified to operate. On average, these 120 farms produce more than 2.5 million baluts a month.

According to the farmers, the fertilized eggs they incubate come from various sources but no one knows their origin. However, they point out, the fertilized eggs are checked and fumigated by veterinary officials before incubation.

A senior official of the An Giang Department of Agriculture and Rural Development says the provincial government now has a policy of supporting these farmers by giving them a 50% interest rate deduction on their bank loans.

In Tra Vinh, all its 72 incubating farms are located in residential areas. And in Kien Giang to the southwest, none of its 60 incubating farms has been issued with a business license due to the poor facilities and unhygienic environment.

Veterinary officials in all the Mekong Delta provinces say the production of baluts is now strictly controlled. As far as they know, there has not been one case of a fertilized egg brooding and hatching a duckling.

They add that veterinary officials at the provincial level can only advise the owners of incubating farms regarding brooding techniques and environmental hygiene.

Just because many of these farmers have been told to move their operations doesn't mean they can, since often they have insufficient capital for such an expensive undertaking. That's why they need more government assistance.